DirectMoney eyes $32bn card debt as it targets $100m in loans
Recently-listed marketplace lender DirectMoney is targeting $100 million in loans a year as it goes after the banks' $32 billion in revolving credit card debt.
Chief executive Peter Beaumont said it was surprising that so many people were paying up to 20 per cent interest rates on credit card balances when there are much lower personal loan rates available, including DirectMoney's, which averages 13.2 per cent. The firm's lending rates range from 8.5 per cent to 18.5 per cent based on the risk of the borrower.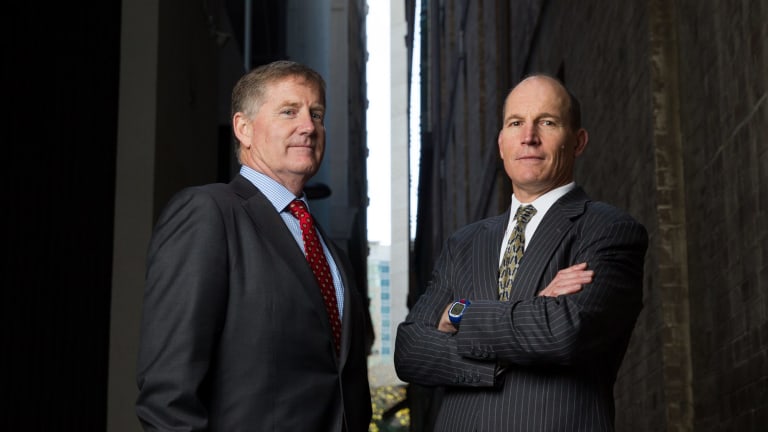 "The age of rolling balances on credit cards is coming to an end," he told Fairfax Media. "There's about $32 billion being rolled over on credit cards. That's an enormous number. And that's at an average yield of 15 to 18 per cent, so there is some savings to be had for borrowers."
He said banks in Australia had not promoted personal loans because credit cards are more profitable.
But there are now at least five marketplace lenders including DirectMoney offering personal loans, usually at rates below the banks. As well as car loans, many people are using the new lenders to consolidate their credit card bills at lower rates.
"The new entrants in the market are not stuck with that legacy choice, we are not defending our credit card business," Mr Beaumont said.
Reserve Bank figures show people have been reducing debt on their credit cards since the financial crisis, but it still accounts for close to two thirds of the total $51.3 billion in outstanding credit card balances as of November.
In a second quarter update released on Friday evening ahead of its full year 2015 results due out at the end of February, the only ASX-listed marketplace lender said it had $8.49 million of loans to 491 borrowers on its books.
In total it has loaned $10.94 million to 591 borrowers at an average interest rate of 13.2 per cent since it began lending in October 2014.
Loan volumes up
Its loan volumes were up 127 per cent in the December quarter at $3.18 million.
The company floated on July 13, 2015, raising just over $11 million via a back-door listing in exhaust parts manufacturer Basper Limited. The stock closed at 9.9c a share on Friday, down 43 per cent since it began trading at 17.5c. The ASX All Ordinaries fell 6.85 per cent in the same period.
DirectMoney has received $520,000 of principle and interest on the loans. Unlike other marketplace or P2P lenders, the company makes some money from interest while it holds the loans on its balance sheet. This is usually only for periods of a month for each loan.
It has a personal loan fund which it sells the loans to and these are on-sold to investors. The investors then receive the interest payments as their returns.
It also sells loans directly to institutions.
The company has sold $1 million worth of loans so far at an average return on the investment so far of about 7.2 per cent.
The model is akin to other non-bank lenders which securitise their loans to raise money to lend. But DirectMoney securitises very small amounts rapidly.
The company said it will shortly make its first significant sale of loans to institutions and will re-issue its product disclosure statement for its personal loan fund, which sells loans to retail investors.
DirectMoney withdrew its PDS in October. It was originally issued in May and Mr Beaumont said it needed to update it to reflect its float and to improve disclosures in the document.
Morning & Afternoon Newsletter
Delivered Mon–Fri.