Lump sum superannuation payments for retirees could end
Australians entering retirement will most likely be stopped from taking their superannuation as a lump sum and will have to access it through a structured self-funded pension, a top Treasury official says.
Treasury executive director and chief operating officer John Lonsdale signalled that recommendations from the financial system inquiry put forward to overhaul superannuation are likely to be adopted.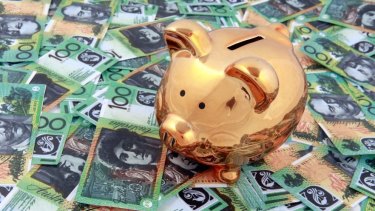 "Superannuation trustees should be cautiously optimistic that the framework will go towards something like what is outlined by the inquiry. That said there are still a lot of details that need to be understood," Mr Lonsdale said at the Australian Securities and Investments Commission annual conference in Sydney on Tuesday.
A key finding of the wide-ranging inquiry, which chairman David Murray handed to government for their consideration in December, was that people should no longer be given access to their superannuation savings as a lump sum at the end of their working life.
Instead, when people retire their superannuation savings would automatically be transferred to a default fund designed to manage it in the paydown phase and provide a stream of retirement income.
This default allocation would be more consistent with the default settings used to manage compulsory superannuation contributions during the accumulation phase.
Earlier this month, Treasury released its 2015 intergenerational report, which forecast that in 2055 Australia will have a population of 39.7 million, with an average life expectancy of 96 years old, and relatively fewer young people.
The findings of the five-yearly report point to mounting pressure on the government funded aged pension system as well as other public costs associated with supporting an ageing population.
Under current rules, lump sum payments are tax-free for those aged over 60.
Foreign Investment Review Board chairman Brian Wilson, who was a member of the 2010 Super System Review chaired by Jeremy Cooper, also threw his support behind the move to a default pension fund system.
"The importance of reforming the rules governing the payout phase of superannuation was clear when we did the Cooper review but the government of the time wasn't ready to make changes so we squibbed it," Mr Wilson said.
Superannuation Consumers Centre chairwoman Jenni Mack also backed the development of a default option for managing the retirement phase of superannuation as in the best interest of consumers.
"Expecting a 65-year-old who has never managed a bucket of money before to suddenly know how to do so is exposing them to too much risk," Ms Mack said.
She hopes a default pension fund would provide a better outcome for people who don't have access to good quality financial advice.
"The current system is forcing consumers to seek out financial advice in a very immature market that has well known shortcomings," she said.
The financial system inquiry also recognised that a more structured pension industry would create demand for a wider range of financial products, such as annuity and insurance products – known as a "comprehensive income product for retirement" or "CIPR".
Mr Lonsdale said there would need to be a true collaboration between industry and government to get the design of both the new system and the products needed to service it right.
Ms Mack called on industry to consult more with consumer groups in the product development stage to come up with solutions that are flexible but not so complicated people can't understand them.
Another consumer protection issue Ms Mack flagged was the need for a strong government framework on fees, to keep costs down and make it easier to compare products and providers.
Sally is a Melbourne-based reporter, who covers superannuation, financial services and business