Become a master negotiator
AFL player agent Dan Richardson negotiates for a living, hammering out deals between clubs and players.
But Richardson, of Elite Sports Properties, says successful negotiation doesn't involve the shouting, table thumping and storming out often depicted in films.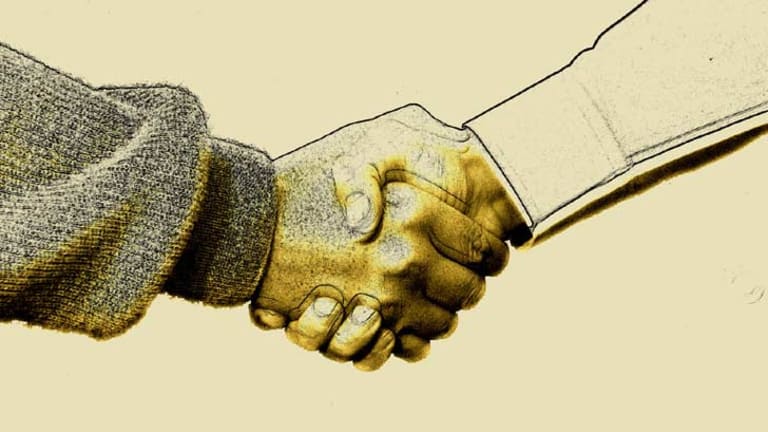 "Negotiations are built on a foundation of building trust and building relationships that then facilitate future dealings," says Richardson, who represents players including the Sydney Swans' Dan Hannebery, Matthew Pavlich of the Fremantle Dockers and the Geelong Cats' Steve Johnson. Richardson says it's important to look at negotiations from the other party's perspective. "Rather than assuming that you know what they're thinking, actually ask questions and take the time to listen to their views and the important issues to them," he says.
"Then what you should be able to do is negotiate around the issues and look at how you can negotiate from a position where both parties can gain something out of it."
The principles espoused by Richardson apply not only to sports contracts, but other forms of business negotiation, be they with a landlord over a lease, a supplier or an employee.
Michael Klug, a negotiation specialist at lawyers Clayton Utz, says there are significant gains to be made through effective negotiation, describing it as "the last of the low-hanging fruit in business".
"People who become competent in negotiation extract much more value in the business climate than those who don't," he says. "Negotiation is the core skill of the business person over and above what they do for a living, whether it's making Mars Bars, delivering medical services or selling motor cars."
Klug says studies show that good negotiators can increase their efficiency in the workplace by between 8 per cent to 13 per cent, without employing extra staff or deploying additional resources.
Be ethical
Klug says all negotiators should be ethical and trustworthy, and quotes a maxim: "Be completely trustworthy yourself but not completely trusting."
Dodgy and sneaky businesspeople suffer reputational damage once they're found out, with the result that others won't be inclined to deal with them in future. "If you get a reputation for being firm but fair and principled and ethical, there's strong evidence that that enhances your negotiating position," says Klug.
Don't talk too much
Don't talk more than half the time when you're negotiating. "If you talk more than 50 per cent of the time, you look as if you're trying too hard, you're weak," says Klug.
Be prepared
Tyla Locke, a senior consultant at CMA Learning Group, which teaches negotiation and influential communication skills, espouses "the Seven Elements of Negotiation".
These include setting goals and preparing ahead of the actual negotiations. "Preparation is key," says Locke. The Seven Elements of Negotiation can serve as a preparation checklist.
See the other point of view
Negotiation is essentially trying to influence the other person's decision making, says Locke, and to do that you need to know what they want, so ask lots of questions in the negotiation.
"If you're seeking to influence their decision making, to be persuasive you need to take into account the other person's perspective, otherwise they're unlikely to agree to any solution you're putting forward," says Locke. "You need to know their concerns, their fears and their goals."
Don't be too adversarial
Locke describes adversarial negotiation as being like a tug of war – who can pull the hardest? "But what ends up happening is that parties end up leaving a whole lot of unexplored value on the table because they're been so adversarial and so fixed on their original positions."
CMA Learning group tries to teach people to come up with "high value, low cost" options, which Locke describes as being of high value to one party, but low cost to the other party.
But don't be too collaborative either
Of the different negotiating styles, some 52 per cent of Australians are collaborators, that is, people who focus both on outcomes and relationships. Clayton Utz's Michael Klug says collaborators are very susceptible to being taken advantage of, because they might sacrifice too much in the deal to try to preserve the relationship. "Where the collaborator gets exploited is they're much more giving than taking," he says.
To stop being taken advantage of, collaborators need to decide how much to sacrifice by weighing up the two variables involved in every in negotiation: how important is the outcome of the negotiation and how important is the relationship? "Every negotiation you do in your life ever has got its own DNA. No two negotiations you do will look the same, which is quite alarming for people who always want to negotiate the same way."
Take a good deal
Elite Sports Properties' Dan Richardson says it's important to be able to recognise when you've got a good deal and to take it, rather than prolong the negotiations.
Morning & Afternoon Newsletter
Delivered Mon–Fri.