Buyout could revive Billabong's fortunes
FOUR trading halts and three aborted takeovers later, Billabong shareholders will be praying that this time around the board of the ailing surfwear group can do the deed.
Billabong's latest trading halt is based on a ''possible change of control proposal'', which is code for saying that senior executive and company director Paul Naude has approached the company with a $1.10 a share leveraged buyout proposal, pending certain conditions.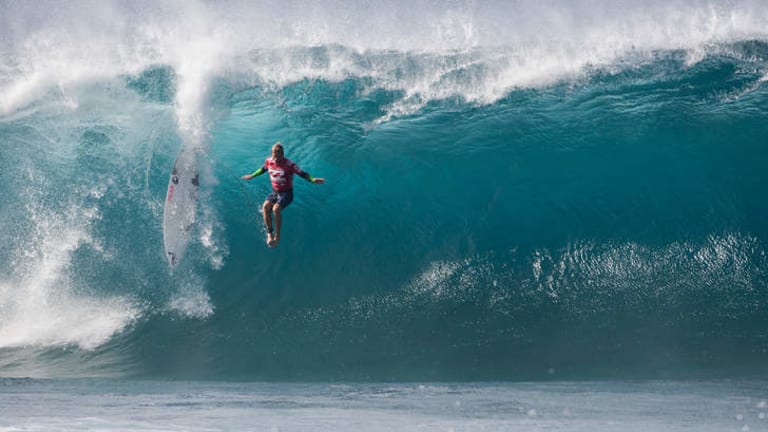 It will be an interesting test of the board's mettle, including that of new chairman Ian Pollard, who is in a situation of not wanting to keep the market in the dark too long, not wanting to appear too supine given the proposal comes from an insider, yet not wanting to scare him away given the company's previous track record with takeover proposals.
While $1.10 might seem a tad on the light side - a 12 per cent premium to its latest closing price before it was placed in a trading halt - the dilemma for the board is that it is a 48 per cent premium to the price the shares were trading at before Naude announced he was investigating a management buyout.
Until the company put the company into a trading halt on Monday and speculation emerged in the AFR that Naude had lined up a private equity firm, Sycamore Partners, along with debt financing, the company is believed to have been sceptical that an acceptable offer would emerge before the end of the year. Instead, it emerged at the close of trade on Friday, two weeks earlier than anticipated.
Given the roller-coaster ride Billabong has been on in the past two years, including profit downgrades, a capital raising and two private equity firms walking away after conducting due diligence, it seems the best hope to re-energise the business is to take it off the bourse and fix it outside of the public gaze.
The upshot is pressure will be on the board to think long and hard about any offer, given a number of shareholders would welcome the opportunity to get shot of the company at a half-decent premium.
The board did the right thing to put the company into a trading halt but it could be argued that it should have done it on Friday night, when it was first approached with an offer, rather than wait until it leaked out to the market on Monday and the shares started to rise. Billabong's share price has fallen from a high of $17 five years ago, to $6.50 two years ago and 98¢ at its latest close.
It was trading at 74¢ the day before Naude declared his interest in investigating a leveraged buyout on November 19.
For long-term shareholders, including Billabong's founder, major shareholder and director Gordon Merchant, it has been a wild ride. In Merchant's case, his wealth hit a high of $630 million in 2007 and is currently sitting at just under $40 million.
While all listed retail stocks have taken a pounding in the past two years due to various economic and structural issues, Billabong's fall has been one of the worst. This is largely due to a loss of confidence and credibility in the company, its management, the board and the brands.
The battering of the stock stemmed from an ill-judged strategy, before new chief executive Launa Inman, liquidity and debt fears, and a dysfunctional board. The board has been revamped in the past few months but the jury is out on Inman, who is an admired retailer, but her four-year turnaround strategy for the company is seen as taking too long and not guaranteed of being successful.
Confidence in the company wasn't helped when private equity group Bain Capital walked away from a non-binding conditional $695 million takeover proposal at $1.45 a share in October, followed a week later by US-based private equity group TPG, after two months of due diligence of Billabong's accounts, and nine months after it made its first merger proposal at $3 a share.
At the time TPG and Billabong kept shareholders in the dark about why TPG decided to pull out. Indeed Billabong's Inman told a press conference: ''They gave no indication.''
The market thought differently, particularly given the company issued a statement the week before suggesting otherwise: ''As part of the due diligence investigations TPG and its advisers have expressed concerns in relation to some issues. However, decisions in relation to these matters are continuing.''
Speculation about the concerns ranged from sizeable aged inventory issues, the valuation of its retail business and possible onerous leases in the US and the value of its core Billabong brand. Whether this is right or not, the lack of transparency has added to lack of confidence in the company and where it is heading.
Naude knows the business well and is believed to be quite close to Merchant, who controls 14.5 per cent of the shares on issue. Merchant will be critical to any deal going ahead. Naude is also believed to have been working with some former senior executives to help stitch together a deal.
Whether this becomes another proposal that ends up on the scrap heap, only time will tell, but one thing is certain: this company has a better chance of a revival in private hands.

Adele Ferguson comments on companies, markets and the economy.
Morning & Afternoon Newsletter
Delivered Mon–Fri.