Bourke Street Mall's oldest shop sells
A retail trophy and the oldest building in Melbourne's Bourke Street Mall has sold for a benchmark price speculated to be well above its $40 million expected price tag.
The three-storey property near the corner of Swanston Street at 274-278 Bourke Street is leased to Austrian jewellery maker Swarovski and local shoe brand Windsor Smith.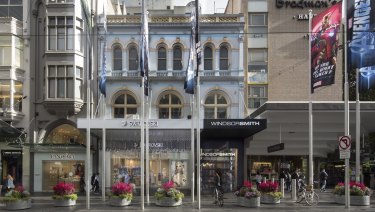 The mall, the city's main pedestrian shopping thoroughfare, has some of Melbourne's most sought-after retail real estate - commanding correspondingly steep rents - and is home to flagship department stores Myer and David Jones and international retailers Zara and H&M.
Retail rents on the street have been struck between $10,000 and $12,000 per square metre net, on a par with Sydney's Pitt Street Mall, as international retailers chase space in one of the city's tightest held precincts.
A Cushman & Wakefield Main Streets Across the World report released last year rated Pitt Street at No.7 globally, with Bourke Street Mall at No.17 and Brisbane's Queen Street Mall 32nd in the world.
Danish jewellery giant Pandora was the latest in a string of international brands to open a flagship store in Bourke Street Mall, last year signing a million-dollar lease on a four-storey gothic-style brick building next door.
The Copenhagen headquartered jewellery brand is understood to have taken a lease at 280-282 Bourke Street for nearly $1 million in annual rent.
The property at 278 Bourke, constructed in 1859, was traded through Colliers International's Oliver Hay, Matt Stagg, David Sia and Daniel Wolman.
It is owned by a family who have held it since 1955 when it was purchased for $402,000.
Mr Hay said the mall had a deserved reputation as one of the most exclusive and valuable retail precincts in Australia.
"With only 13 freehold properties in the Bourke Street Mall, such properties are highly coveted by specialist retail investors and major tenants. The mall is very tightly held with only one other asset trading within the last decade," he said.
The Bradman's Building, at No. 270-272, traded in 2010 to a Malaysian investor for $17 million.
Although neither agent would be drawn on an exact price, Mr Stagg said the building exceeded the $40 million-plus quoted range.
Rental growth was driving up underlying land values in the mall above $200,000 per sq m.
"Yields are also very sharp at between 3.00 per cent to 4.00 per cent," he said.
Fairfax Media has learnt the property set a new benchmark rate closer to $240,000 per square metre. That would price the building around $47 million and continue a trend of accelerating values in the city's core.
Investors and vendors have been particularly active in Bourke Street with $160 million worth changing hands this year.
In May, restaurateur Guy Grossi sold the Bottega Restaurant at No. 72-74 for an estimated $7.2 million. A month earlier, a marathon two-hour bidding war at auction saw the historic four-level art-deco building at 220 Bourke purchased for $15,205,000 after 661 bids.
Property Editor at The Age and BusinessDay journalist for Fairfax's theage.com.au, smh.com.au, watoday.com.au and brisbanetimes.com.au.