Matagarup bridge builder York Civil halts operations and sheds staff
Almost 200 employees across the country have been left jobless on Monday morning after ailing construction company York Civil was forced to cease operations.
Administrator Ferrier Hodgson announced it was unable to find a buyer for the South Australia-based York. The company was building several infrastructure projects, including Perth's $91.5 million Matagarup pedestrian bridge in a joint venture with Italian firm Rizzani de Eccher.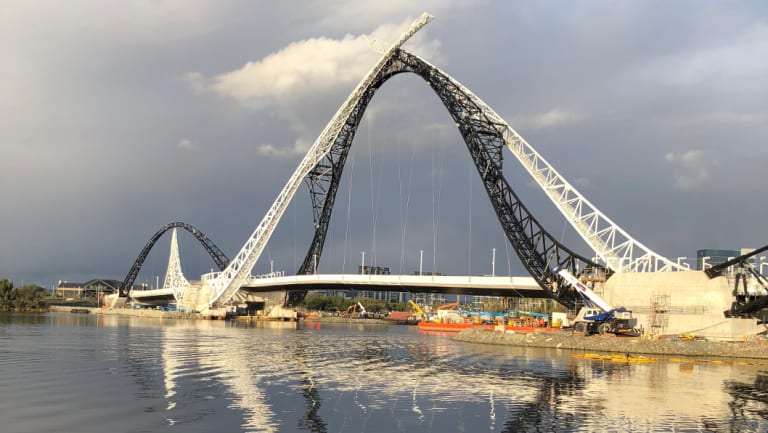 York had insufficient cash to continue operating and the inability to sell the business and transition the employees meant it had to "cease trading with immediate effect," the administrator said.
Employees and contractors of York Civil were told the news this morning. WAtoday understands the closure will impact 188 employees in total; 18 from WA, 136 from SA, 31 from NSW and three from Queensland.
It was unclear how many contractors would be impacted.
A creditors' meeting, managed by Ferrier Hodgson Partners Martin Lewis and Tim Mableson,
was arranged for August 16, 2018.
The announcement impacts several of York's infrastructure projects across the country but Mr Lewis said arrangements had been made with the respective joint venture partners to keep work going on the Matagarup pedestrian bridge and two other projects.
Mr Lewis said it was regrettable the business could not continue to operate and it was too early to determine how likely it was unsecured creditors would be paid.
"We expect any shortfall of employee entitlements will be met through the Fair Entitlements
Guarantee Scheme (should the company be placed into liquidation at the second meeting of
creditors), however it is too early to form a view on the likelihood of payment to unsecured
creditors," he said.
Main Roads WA, the lead government agency behind the Matagarup bridge, said York's woes did not impact its ability to pay subcontractors, or complete the construction of the bridge.
Hamish Hastie is WAtoday's business reporter.