Default fears on court ruling
ARGENTINIAN politicians and global debt campaigners have responded with fury to a US court judgment that risks plunging the country back into default.
Elliott Capital Management and Aurelius Capital Management, regarded as ''vulture funds'' by Buenos Aires, won a ruling in a New York court on Wednesday that could force Argentina to hand over $US1.3 billion in repayments and interest to the small minority of bondholders who refused to sign up to a hard-fought write-down of its debts after the country defaulted in 2001.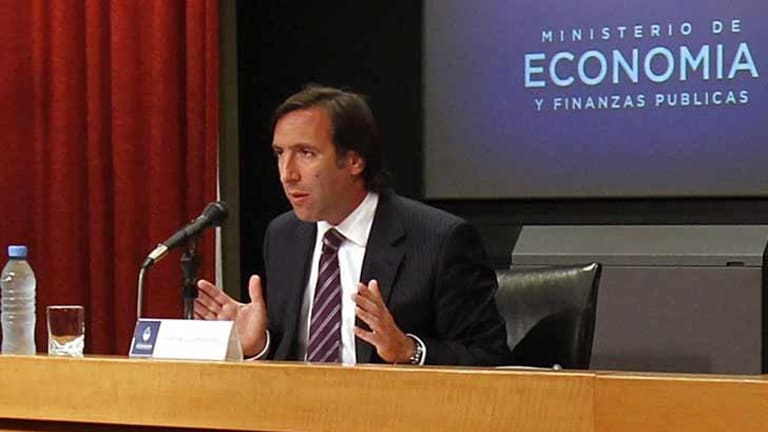 Judge Thomas Griesa upheld his ruling of last month backing Elliott Associates, and said: ''Argentina owes this and owes it now.''
In a strongly worded statement, Judge Griesa said Argentina should make repayments to the holdouts at the same pace that it is repaying the majority of bondholders who did agree to a debt-swap. He also warned that US-based bank BNY Mellon, which handles Argentina's debt payments to US-based bondholders, would be acting ''in active concert'' with the republic if it failed to comply with the ruling.
If some of the country's repayments were diverted to the vulture funds, it could reduce the amount available for Argentina's other lenders, pushing it into a technical default on more than $US60 billion in outstanding debts. Buenos Aires has repeatedly made clear that it has no intention of paying anything to the plaintiffs.
Agustin Rossi, leader of President Cristina Fernandez de Kirchner's bloc in the lower house of Congress, described the ruling as ''despicable''.
A spokesman for BNY Mellon said: ''As we indicated in our filing with the court, in our role as trustee we do not believe we should be bound by the injunction.''
Investors pushed up the price of insuring against a fresh default by Argentina, with short-dated credit default swaps putting the probability at 60 per cent.
Argentina's $US95 billion default more than a decade ago came amid a wrenching financial and political crisis, after the International Monetary Fund withdrew support and the government decided it could no longer afford to prop up the value of the peso, which was pegged to the US dollar.
After years of fraught talks with investors, more than 90 per cent signed up to a drastic write-down of more than 70 per cent on the value of their debts in two separate deals in 2005 and 2010, which cleared the way for Argentina to return to international financial markets.
But with no agreed international process for handling the bankruptcy of a state, the consequences of Argentina's default have played out over more than a decade, through scores of separate court rulings.
Before the New York judge's latest ruling, Ms Fernandez had already made it clear that her government did not intend to negotiate with the holdouts.
GUARDIAN
Morning & Afternoon Newsletter
Delivered Mon–Fri.