Downgrade in the mail for Post
AUSTRALIA POST'S credit rating has been downgraded and is unlikely to increase again as fewer letters are posted every year and it has more competitors for parcel and express deliveries.
Its rating was downgraded from AA+ to AA with a stable outlook, but this is unlikely to affect borrowing costs. This rating is higher than Australia's banks and largest companies because S&P builds into its calculations an assumption that the federal government, which owns Australia Post, would step in to help repay debt if needed.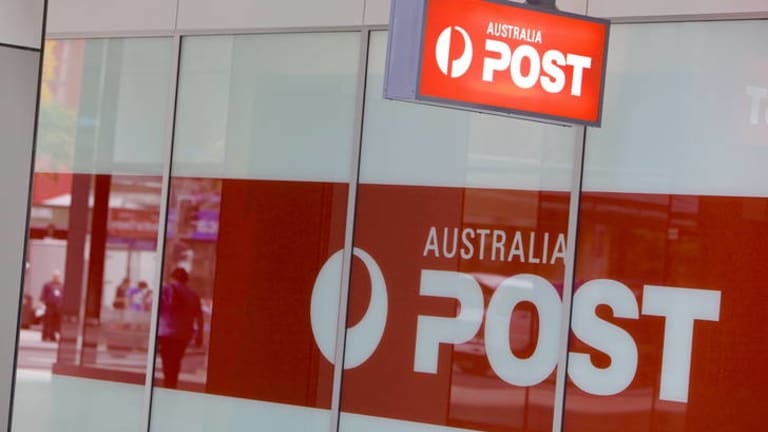 However, S&P expects the lower rating to stay.
''Upward ratings momentum is considered unlikely given the company's exposure to structurally eroding mail volumes, strong competitive pressures in the parcel and express delivery businesses, and some execution risks associated with the group's investment program over the next few years,'' its report states.
''We expect Australia Post's reliance on the competitive parcels and express delivery businesses to increase in the next few years as the group embarks on its $2 billion investment program.''
A spokeswoman for Australia Post said the rating ''recognises Post's increasing role as a commercial parcels company''.
''In comparison to international parcels companies, Australia Post remains the highest rated. The change in credit rating will not have a significant impact on the business,'' she said.
Australia Post has $605 million worth of fixed rate bonds in the market, of which $325 million matures in March 2014 and the remaining $280 million in June 2017.
A corporate bond market analyst, Philip Bayley of ADCM Services, said the downgrade was unlikely to impact Australia Post's interest payments because AA is ''still an extremely high credit quality''.
''Even the banks are lower rated. The banks are AA-'', he said.
Meanwhile, the US mail service has hit its $US15 billion ($14.5 billion) borrowing limit for the first time in history. It lost $US15.9 billion in year to September 30, tripling its $US5.1 billion loss last year.
The US Postal Service, which relies on the sale of stamps and other products rather than taxpayer dollars, has been grappling with high costs and falling mail volumes as consumers communicate more online.
Much of the Postal Service's loss this year came from two defaults on a total of more than $US11 billion in payments that Congress had directed USPS to pay into a fund for future retiree health benefits. The agency was unable to make the payments, but still must account for them in financial statements.
Postal officials want Congress to pass legislation that would allow the agency to end Saturday deliveries and run their own health plan rather than enrolling USPS employees in federal health programs.
Lawmakers have been working for more than a year on legislation to overhaul the service, but have been unable to agree on how to do it.
The US Senate passed a bill in April that would eventually let the agency move to five-day delivery. Leaders in the House of Representatives have said that bill would not solve USPS's problems, but they have been unable to pass their own bill.
''The Postal Service is facing a fiscal cliff of its own and any unanticipated drop in mail volumes could send the agency over the edge,'' said Art Sackler, of the Coalition for a 21st Century Postal Service, which represents business mailers.
''If Congress fails to act, there could be postal slowdowns or shutdowns that would have catastrophic consequences for the 8 million private sector workers whose jobs depend on the mail.''

Lucy Battersby has covered trends, technology and telecommunications since joining The Age in 2008.
Morning & Afternoon Newsletter
Delivered Mon–Fri.