End of the kangaroo route for BA?
British Airways has given the strongest indication yet that it is considering pulling off the London-Australia route after Qantas favoured Emirates as an alliance partner.
In a submission to Australia's competition regulator, British Airways said its 17-year alliance with Qantas had been a ''vital aspect of BA's ability to offer services and operate in the aviation sector'' between Australia and Europe.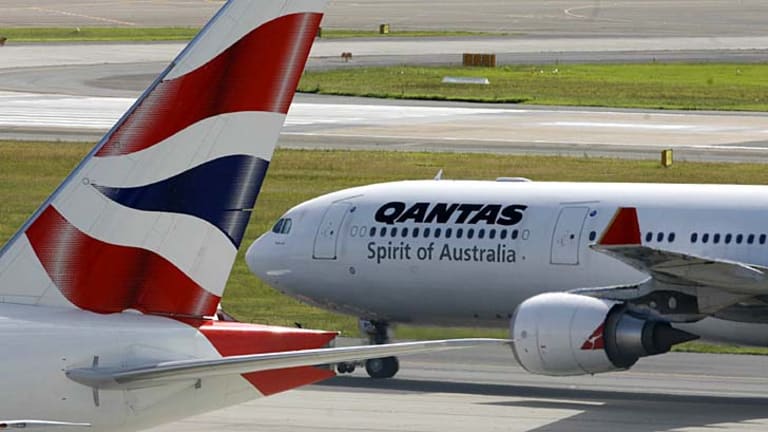 ''BA considers that it is increasingly challenging for an international airline to operate services on long-haul routes between the United Kingdom/Europe and Australia in the absence of such an alliance due to persistent excess capacity and the nature off the substantial fixed costs involved in their operation,'' it said.
The flag carrier has daily services between Sydney and London's Heathrow Airport.
Portions of British Airways' submission to the Australian Competition and Consumer Commission, which is deciding whether to approve the proposed Qantas-Emirates alliance, have been blacked out for commercial reasons.
The redacted parts include the end of a sentence which details what impact ''the termination of the [Qantas-BA alliance] in favour of the proposed venture [with Emirates] will'' have on British Airways.
British Airways said it had relied on the revenue-sharing agreement with Qantas to gain better scheduling of flights and a more efficient use of aircraft time, as well as improved access to the high-yielding Australian corporate travel market and better connections in Singapore, Hong Kong and Bangkok.
The airline also said in the submission that the ''combination of Emirates, Qantas and Jetstar'' would give the Middle Eastern airline ''significant leverage'' on trans-Tasman routes and ''will minimise BA's ability to provide competing services into and out of New Zealand''.
British Airways and Richard Branson's Virgin Atlantic have retained a presence on the Australia-Europe route, despite most of their European rivals pulling out years ago.
Virgin Atlantic flies daily between Sydney and London via Hong Kong.
As well as ending the alliance with British Airways, Qantas has pulled out of code-share arrangements with Air France and Cathay Pacific, and will also be giving up landing slots in Singapore.

Matt O'Sullivan is the Transport Reporter for The Sydney Morning Herald.
Morning & Afternoon Newsletter
Delivered Mon–Fri.