Investors must prepare for a new world order
GOLDMAN Sachs Asset Management has $US824 billion invested around the world on behalf of its clients, so when one of its senior executives comes here to tell us we've got our investment sights set wrong, it's worth listening.
Katie Koch is a London-based senior strategist for the asset manager. She's also chief of staff to GSAM's chairman, Jim O'Neill, the person who in 2001 released one of the most influential pieces of market analysis in history. In it, he identified Brazil, Russia, India and China as emerging economic superpowers, gave them a nifty nickname - the BRICs - and told investors to get on board. We all should have.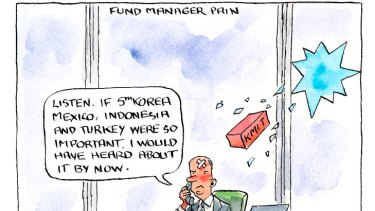 Brazil's sharemarket is 27 per cent below its May 2008 high and down 10.2 per cent in the past year. Sentiment has shifted against the miners in Brazil as it has everywhere, evidenced here yesterday by the decision of investors to ignore solid June quarter production numbers from Rio Tinto and sell in response to modest cuts in forecast coal and copper production.
The Brazilian sharemarket is however still 3½ times higher than it was on January 1, 2001. Russia's resources-heavy market is down 17 per cent in the past year, but is still 8.8 times higher than it was at the end of the '90s, and India's market is more than four times higher. Our market is up a lousy 28 per cent.
China is an investing oddity, as I mentioned last week. It has been the fastest growing BRIC, but its sharemarket is back at levels first reached in 2006, partly because Beijing is dragging return on capital down as it invests aggressively for longer term economic growth and job creation.
Still, three out of four isn't bad, and GSAM is now promoting an expanded play within the 168-nation emerging markets sector that the four BRICs dominate: eight high-growth economies in all, comprising the original BRICs, plus Mexico, Indonesia, Korea and Turkey.
GSAM underestimated how quickly the four BRICs would grow in its first BRIC report. It expected them to roughly triple their gross domestic product to a bit more than $US6 trillion by 2010, and their GDP actually topped $US10 trillion in that year.
Now, GSAM predicts that its expanded eight-nation ''Growth Markets'' group - the BRIMTICKs perhaps? - will account for more than 55 per cent of global growth in the next 10 years, almost three times as much as the United States and Europe combined.
They already account for 22 per cent of the $US43 trillion value of the world's sharemarkets. GSAM expects them to have a 35 per cent share of an $US83 trillion global sharemarket by 2020, and a 45 per cent share of a $US145 trillion market by 2030. It predicts that the United States' share of global market value will fall from 32 per cent to 23 per cent in the same time, and that the share of other developed markets including Australia's will fall from 37 per cent to 22 per cent.
It is not an original notion that slabs of the Western world have succumbed to demographics, industrial age and an overdose of debt and gone ex-growth, of course. The migration from the West into overseas markets including emerging markets began in earnest about the time O'Neill came up with the BRIC theory, and Australian fund managers and brokers have participated. Evans and Partners, a house launched by former Goldman-JBWere executives, has for example been steadily increasing its recommended exposure to overseas equities for three years, giving its clients exposure to emerging markets primarily through investments in Western multinationals.
The migration has slowed of late, however. The $US15 billion that has flowed into emerging markets so far this year doesn't cover the $US50 billion that was taken out last year - and GSAM is arguing for a much heavier commitment, by value and investing style.
The powerful gains that three of the four BRIC markets have posted since 2001 are matched by returns in the four new markets that GSAM has identified. Korea's sharemarket is 3.5 times higher than it was in January 2001, Mexico's market is 7.4 times higher, Turkey's market is 6.6 times higher, and the Jakarta market is 9.9 times higher.
It believes gains will be harder to achieve in future, and believes the BRIMTICKs are also now well on the way to becoming consumer driven economies, just like economies in the West.
GSAM is not running a BRIMTICK fund, or at least not yet. Koch says, however, the best returns in coming years are likely to come not from unfiltered exposure to BRIMTICK sharemarkets that have already risen strongly or exposure that is limited to Western world companies active in the emerging economies, but from the bottom-up construction of portfolios that focus on BRIMTICK companies that serve expanding local consumer demand.
The emerging markets are valued at close to all-time lows with the exception of the depths of the 2008-09 global crisis, at 9.3 times expected earnings compared with a long time average of 13 times, she says.
She agrees however that caution is needed, because emerging markets would fall heavily again if the Western markets sell off, and Australian investors including fund managers won't be rushing in. The paths that firms such as Evans and Partners and funds such as Magellan and Platinum have taken are alternatives, and the role that Australia's currency plays is always an issue.
GSAM and most managers investing in the emerging markets do not hedge their exposure for currency movements, in the belief that the long-term growth of the target markets will be reflected in currency appreciation that magnifies returns when funds are brought back home.
The Australian dollar is a volatile conveyance, however. It was worth half as much in US dollar terms in early 2001 as it is now. US dollar denominated investments needed to double over that time merely to stand still in $A terms. Future returns on offshore assets that are unhedged depend on where it now goes.
GSAM's gang of eight is another marker of the new world order, however. A historic shift in economic power and wealth generation is occurring. The long-term question is not whether to buy the BRIMTICKs. It's how best to do so.