The Australian sharemarket narrowly avoided falling into a bear market, staging a mid-morning recovery off its lows, but still posted its 10th loss out 11 trading days this year as energy stocks suffer the bottomless oil rout.
The benchmark S&P/ASX 200 index fell almost 2 per cent in early trade on Monday, placing it perilously close to its 4786.2 threshold to enter a bear market, defined as a 20 per cent fall from its most recent high.
At close of trade the index ended 0.7 per cent lower at 4859 points, trimming losses on gains in consumer and telecommunications stocks including Woolworths, which jumped 4.4 per cent to $23.65 after the company revealed plans to jettison its loss-making Masters hardware chain.
Romano Sala Tenna, portfolio manager at Katana Asset Management said a bear scenario was likely just a matter of time.
"There are some quite concerning macro storm clouds," Mr Sala Tenna said.
Those included the oil price, China, global growth and Wall Street. The Dow Jones is now sitting below 16,000, a number seen by traders as a critical support level, meaning it is poised for deeper falls.
The gloomy mood on Monday was set by Wall Street which fell more than 2 per cent on Friday. The market sell off was spurred by energy companies on the falling oil price and compounded by disappointing US data including retail sales. Local energy companies too came under selling pressure, including Santos which fell 8.4 per cent to $2.63 and sitting at two-decade lows.
Amid the turmoil the Australian dollar dropped 2.4 per cent to low of US68.31¢, a level not seen since March 2009.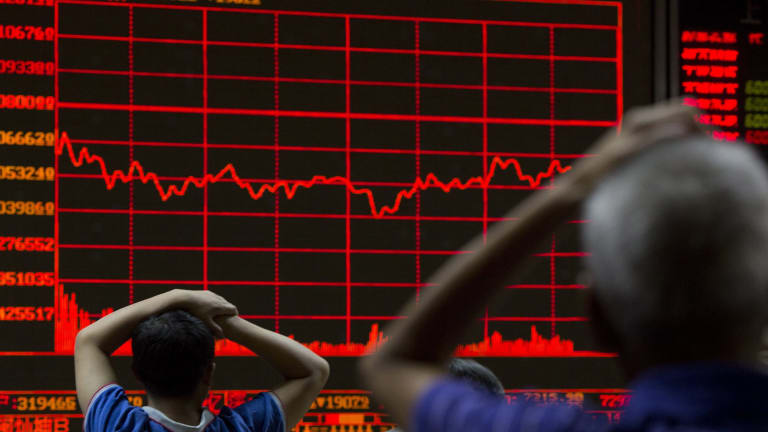 On Monday the currency steadied, buying US69.11¢ in late trade. The dollar has fallen almost 6 per cent since December 31, a victim beside fellow commodity-linked currencies the New Zealand and Canadian dollars due to major commodities, including oil and iron ore teetering at or near multi-year lows.
The most affected commodity this year, crude oil, dropped to a 12-year low of $US27.74 a barrel in Asian trade, before following a similar path to major markets in trimming early losses.
The commodity has come under fresh pressure as the lift in decade-long sanctions against oil-producing nation Iran over the weekend means more oil may be delivered into an already saturated market.
The Persian Gulf nation has targeted a daily increase in oil shipments to 500,000 barrels a day immediately and said it could reach its 3.4 million barrel per day output it generated before the nuclear weapons-related sanctions were imposed.
China remains the key driver of market volatility and key data due from China on Tuesday, including its gross domestic product may spark further turmoil this week.
Federal Treasurer Scott Morrison however called for people to keep a "cool head" about China's faltering economy and reinforced Australia's ability to withstand the volatility.
"Globally there is volatility. But the fundamentals of the Australian domestic economy I think are very sound," he told Sky News.
with Judith Ireland
Morning & Afternoon Newsletter
Delivered Mon–Fri.