Markets Live: $A drops, ASX climbs
Morgan Stanley's equity strategy team have taken a look at the weaker dollar and possible impact on the equity market. Here's what they had to say:
Our global FX team is calling for a correction in the AUD to 0.67 over the course of 2018 as subdued commodity prices, weaker relative rate expectations and ultimately inverse carry combine with negative housing correlations.
The ASX 200 has a meaningful basket of stocks that offer leverage to a weaker AUD.
We estimate in Industrials the market weight of these names is circa 20 per cent and recommend an overweight exposure to this theme. The trade has worked since 2013 and we see an extension of this performance into 2018.
Indeed Australian dollar spot now appears to be below what we assume is embedded in consensus forecasts for earnings and as such a tailwind is building for the direction of earnings revisions from the first half of 2018.
Notwithstanding muted expected ASX 200 Index returns over the next 12 months, we see good alpha opportunity around positioning in stocks that will benefit from a forecast decline in the AUD. These can be true global growers, US centric, largely translators or domestic beneficiaries.
We also see merit in holding resource and energy exposures given the sustained momentum forecast in global growth as well as improved quantum and quality of earnings for key names.
There will be a continuing build in both fiscal response and infrastructure offset to the housing and consumer headwinds – finding exposure here is key, as will be a preference for non-bank financial stocks.
An adjustment downward in the AUD is required to balance the economy. For the market it adds a tailwind to many stocks that already have stronger growth outlooks in offshore markets. Closer to home domestic beneficiaries around education and tourism are in focus as well as the prospect of an increase in inbound M&A activity.
The one sector where it looms as a negative is retail where COGS would ultimately increase at a time where consumers' willingness to accept higher prices is limited.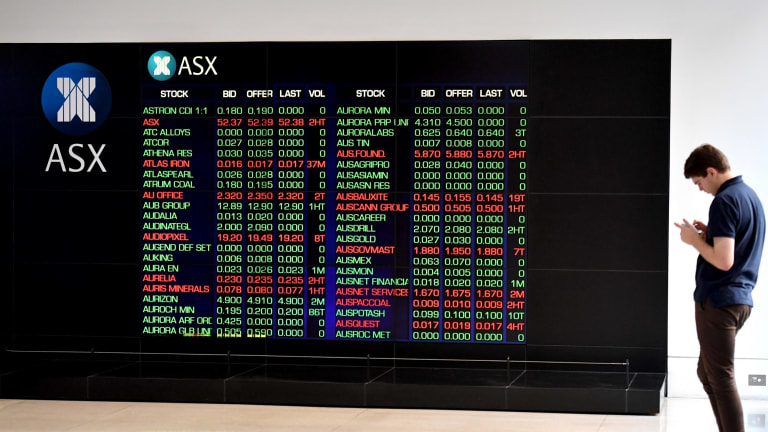 The Australian dollar dropped 0.3 per cent to US75.44 cents after the release of trade data for October and is now trading back at mid-June levels, after hitting a peak of more than US80 cents back in September.
The country's trade surplus narrowed to $105 million in October, from a revised $1.6 billion surplus in September.
Exports fell 3.0 per cent in the month while imports were up 2.0 per cent, the Australian Bureau of Statistics said.
"The slump in the international trade surplus, to $0.1bn in October from $1.6bn in September (consensus $1.4bn) is due to the reduction in demand for iron ore and coal exports linked to the pollution crackdown in China and a rise in the cost of imported oil.," said Paul Dales at Capital Economics.
"Australia has still managed to notch up 12 consecutive months of a trade surplus for the first time since 2011, but only just.
"The 2.8% m/m fall in export values was mainly due to a 10% m/m decline in iron ore exports and partly due to a 3% m/m drop in coal exports. Both were driven by lower prices and lower quantities, the latter as China's demand for polluting commodities has been reduced by the authorities.
"Overall, it's possible that the total trade surplus will turn into a deficit in the coming months, at least for a short while. And while it is early days yet, after making a neutral contribution to GDP growth in the third quarter, net exports may be a small drag on GDP growth in the fourth quarter."