Markets Live: Shares fly high
The market recorded their best day in 2014, led by miners and the banks, and the dollar gained after the US Fed reconfirmed rates would stay low.
Loading Chart...
That's it for Markets Live today.
Thanks for reading and your comments.
See you all again tomorrow morning from 9.
Australian shares posted their biggest daily jump in seven months amid a rally in global equities after the United States Federal Reserve provided reassurance it plans to keep its monetary policy supportive for many months to come.
The benchmark S&P/ASX 200 Index jumped 85.5 points, or 1.6 per cent, on Thursday to 5468.2, while the broader All Ordinaries Index added 1.5 per cent to 5446.4, as the Australian market also received a boost from a lift in the iron price. It was the biggest daily jump on the ASX since December 19.
Local shares followed equity markets in the United States, Europe and the United Kingdom higher as investors turned their attention away from the ongoing geo-political risks in Iraq and toward the US Fed and the Bank of England, which both kept interest rates on hold.
As expected, the US Federal Reserve Open Market Committee kept US interest rates on hold and tapered its monthly program of asset purchases from $US45 billion to $US35 billion. A statement accompanying the decision indicated that despite recent signs the US economy is improving, including higher inflation and stronger jobs data, rates will remain on hold till late next year.
"Investor sentiment was bolstered by the June FOMC meeting outcomes, as well as a speech delivered in London on Wednesday by Chinese premier Li, in which he confidently stated that the globe's number-two economy would avoid a hard landing," Patersons Securties chief strategist Tony Farnhamsaid.
On the local bourse, mining was the best-performing sector, up 2.7 per cent after the spot price for iron ore, landed in China, lifted 1.1 per cent to $US90.30 a tonne. It was the second session in a row the iron ore price lifted after starting the week at a 21-month low.
David Jones has postponed tomorrow's shareholder meeting - to vote on Woolworth's takeover bid -  until July 14.
In the ASX announcement the company said:
"The scheme meeting has been postponed following lodgement of a substantial shareholder notice by Australian Retail Investments (ARI) yesterday, confirming that entities associated with Solomon Lew hold 9.89% of David Jones shares.  
"David Jones, with the agreement of [Woolworths], applied to the Federal Court seeking the two week postponement of the scheme meeting. The Court has granted this postponement to allow sufficient time for the David Jones Board to assess the implications of ARI's shareholding in David Jones for shareholders."
And here are the best and worst performers today.
As has been mentioned, Ten is the worst performer after some gloomy comments around TV advertising revenue.
A couple of gold miners top the list, while the market cheered Asciano's announcement it would cut jobs and costs.
The Reject Shop enjoyed a nice rally, too.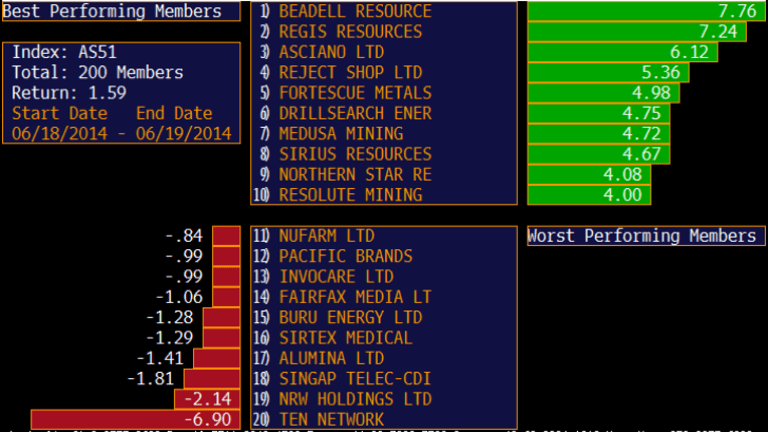 So this is what it sounds like when hawks cry (sorry, we couldn't help it): confirmation that the US Fed will continue to keep rates low sparked a rally in local shares.
The ASX 200 recorded its best day in seven months, climbing 1.6 per cent, or by 86 points, to 5468.2, while the All Ords climbed 83 points to 5446.4.
Miners led the way early but banks soon joined the party, with BHP jumping 3.3 per cent, Rio 2.3 per cent and Fortescue 5 per cent.
The big four banks all gained between 1.6 and 1.8 per cent.
Only 27 names among the top 200 fell.
Among them was Woolworths, which eased 0.2 per cent, and Ten Network, which dropped 6.9 per cent after it warned of a slide in advertising revenue.
The subpar share price performance of Transpacific Industries Group looks set for a recovery.
According to Morgans, the company's value should rise soon as concerns about an overhang from options owned by private equity firm Warburg Pincus are removed and the stock transitions into the S&P/ASX 100 Index.
Investors should also be buoyed by the imminent completion of the sale of Transpacific's New Zealand business to Beijing Capital. Analysts Nathan Lead and Roger Leaning say this deal, scheduled to be completed at the end of the month, will significantly lower gearing, and leave the balance sheet capacity to fund growth at a relatively robust level of between $325 million and $600 million.
Earlier this year the waste management company indicated it intends to build market share and will tee up "tuck-in" acquisitions where route infrastructure is already in place.
But Morgans argues the market has been unable to focus on these positive aspects because of lingering concerns such as the equity warrants. Warburg Pincus exited its one-third holding of Transpacific last year, but its stake came with 77 million equity warrants – effectively a call option – that were due to convert in June at a strike price of $1.12.
Then in the run-up to this month, the company's stock price started to flag, which according to Morgans reflected "concerns regarding potential dilution from conversion". Had the warrants been exercised the shares on issue would have increased by 4.9 per cent.
Now that the company is free from this overhang, the market can start to concentrate on the "reinvestment strategy, revenue growth and vertical integration".
Morgans reaffirmed its "add" ranking but cut its target price on Transpacific by 5¢ to $1.22, saying the stock looks "cheap and under-geared" compared with its international peer group.
Citi's retail analysts have weighed into the debate around Solomon Lew's intentions for David Jones, telling clients that while they doubted Lew would block the takeover, the offer could be changed slightly to release franking credits.
The broker came up with a list of four possible motivations on Lew's part:
1. Solomon Lew is protecting his retail interests. Solomon Lew's ARI [Australian Retail Investments] owns 11.9 per cent of Country Road (worth $165 million). He and his family have other wholesale and retail interests that sell to David Jones;
2. Release franking credits. We estimate David Jones will have excess franking credits of $50 million if the deal proceeds. These are worth $0.10 per share and could be distributed;
3. Block the deal now to takeover later. Premier Investments, 37.6 per cent owned by Solomon Lew, has strong retail management that may add value to David Jones; or
4. Launch a rival offer. At an EV/EBIT [enterprise value to earnings before interest and tax multiple] of 15.5 times [2015-16 earnings], we very much doubt Solomon Lew will be a higher bidder.
Lew revealed his 9.9 per cent stake in David Jones on Wednesday, putting the retailer's $2.2 billion takeover in doubt.
NIB Holdings has crashed 6.9 per cent to $3.10 per share after announcing at a strategy day that the company's latest forecast indicates that FY14 consolidated operating profit will be at lower end of the previously published range of A$73m-A$80m.
Australian Real Estate Investment Trusts have had a stellar 2014 – at least so far.
While all the focus has been on the Westfield tussle and the bidding for the Australand Property Group, the sector as a whole has risen strongly.
This year the ASX/S&P Property Index, which covers the top 17 REITs, is up over 9 per cent. Broader equity indices are up less than 1 per cent.
Both sectors wound back on Wednesday but for the six months, the A-REITs have delivered massive outperformance. And it is largely due to interest rates.
Credit Suisse REIT analyst John Richmond says the main reason for the REIT surge is the bond rally.
Sure there are other reasons.
Richmond says the M&A activity in the sector has been the second driver. For Richmond the third reason is the fundamentals. They're OK.
The risk for the REITs is a turn in the bonds – as happened in May 2013.
Credit Suisse predicts bond yields will stay low for some time, even rally further. On that basis, the REIT sector is trading at small, 1.4 per cent, discount to net asset value.
AMP Capital's head of investment strategy, Shane Oliver, says this year's global bond rally is due to a combination of soft growth readings, dovish central banks, short-covering and increasing belief in "secular stagnation".
But AMP's Oliver is cautious. "It's likely that the (bond) rally has gone too far and that sooner or later the focus will shift to when the Fed will start to raise interest rates," he says.
"This could cause a resumption of the gradual rising trend in bond yields and volatility in shares."
And yes, it would also bring some volatility to the A-REITs.
Vodafone users across the country are unable to make or take phone calls after a huge network outage.
In a statement Vodafone said the outage had been caused by a failed transmission link and that engineers were working hard to restore coverage.
Some customers are unable to make or receive phone calls while others are experiencing poor quality, a spokeswoman for the telco said.
It is unknown exactly how many people have been affected but there are reports of disruption in all states.
The spokeswoman said the outage was "intermittently" affecting customers but could not say when it would be fixed.
"We're aware that we do have a network outage. We're just trying to understand where it is exactly," she said. 
It's understood the network first failed in Western Australia this morning. The spokeswoman said customers on the east coast started to experience problems about 12.40pm.