The Reserve Bank of Australia reinstated a reference to a strong local dollar in this month's policy statement, prompting BlackRock to speculate that the intentions of Governor Glenn Stevens had been misread.
The local currency, which rallied the most since September last month, weakened as much as 0.3 per cent to 89.10 U.S. cents in Sydney yesterday following the RBA decision to keep interest rates unchanged at a record low.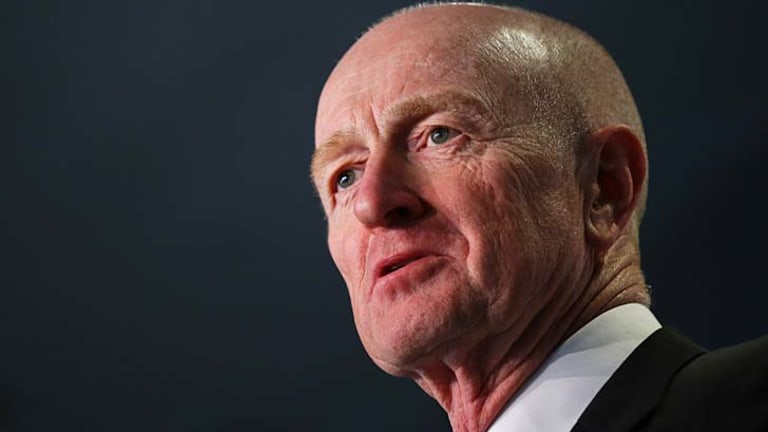 Stevens said in a statement the Aussie remained "high by historical standards," reintroducing language on its strength left out in February.
"The market misread what the RBA's intention was last time and interpreted it as 'We've gone to neutral on the way to tightening,'" said Stephen Miller, a fund manager at BlackRock, the world's biggest asset manager.
"The RBA noted that and tempered its statement.
The RBA's decision follows data indicating a plunge inresources investment and a decade-high jobless rate that will curb inflation. While a report today is forecast in a Bloomberg News survey to show gross domestic product quickened in the final quarter of 2013, Miller says a cooling economy will probably drive the Aussie toward 80 cents this year.
Fair Value
Fair value for the currency is between 80 and 85 cents given the prospects for Australia's commodity export prices, the high cost structure of the economy and reduced stimulus in the US, he said. Miller expects the RBA to maintain the 2.5 per cent benchmark rate for the rest of this year, in line with the median prediction from economists surveyed by Bloomberg.The Australian dollar dropped 1.1 percent over the past week, the worst performance among 10 developed-nation currencies tracked by Bloomberg Correlation Weighted Indexes. It fell to a 3 1/2 year low of 86.60 cents on January 24 before recovering to as high as 90.81 on February 18. It is currently hovering around 89.50 US cents.
Prices for iron ore delivered to China's port of Tianjin dropped in February to the lowest in more than seven months,data from The Steel Index Ltd. show, dimming prospects for earnings from the South Pacific nation's chief export.
The Aussie's declines "will assist in achieving balanced growth in the economy, though the exchange rate remains high by historical standards," Stevens said in yesterday's statement. His remarks contrast with those made February 4, when the central bank head refrained from referring to the currency's strength and also signaled a shift to a neutral policy bias.
Mining Hole
He had referred to the Aussie as "uncomfortably high" in statements following the RBA's November 5 and December 3 gatherings. Yesterday's statement also noted "only tentative," signs of investment spending outside mining.
Citigroup estimated February 27 that mining companies may slash spending by as much as 30 per cent in the financial year starting July 1, based on a statistics bureau report. The decline in manufacturing investment may be as much as 35 per cent with the services sector increasing its outlays by up to 8 per cent over the same period, the bank said.
The RBA said yesterday inflation is expected to be consistent with the bank's 2 to 3 per cent target, omitting a reference to higher-than-expected prices in last month's remarks that followed data showing the consumer-price index had increased in the fourth quarter by the most in two years.
"I still harbor a suspicion that, later this year, the RBA will come back to an easing strategy," said Tim Fox, Dubai-based chief economist at Emirates NBD.
"Growth is still underperforming overall, and the inflation push-up we've seen recently will probably dissipate and reverse."
Most Accurate
Fox, who was the most accurate at predicting the Aussie in 2013 in data compiled by Bloomberg, sees the currency falling to 80 cents by December 31. That's below the median estimate of 86 cents. There's a 28 per cent chance the central bank will lower its benchmark rate by end-August, according to swaps data. That's up from an 18 per cent probability on February 26.
Australia's 10-year government bond yield closed at 4.01 per cent yesterday after falling to a one-month low of 3.96 per cent the previous day. Yields on debt due in three years,among the most sensitive to interest-rate expectations, were at 2.83 per cent after reaching a trough of 2.76 per cent on March 3,the least since September.
The statistics bureau may say today gross domestic product rose 0.7 percent in the three months ended December from the previous period, when it climbed 0.6 per cent, according to a Bloomberg survey. If confirmed, that would be the seventh-straight quarter of gains below 1 per cent, the longest stretch for more than 20 years.
"It wasn't a very long pause in the RBA's jawboning,"said Sean Callow, a currency strategist at Westpac.
"They certainly don't want to give any encouragement to the notion that we should be buying dips in the Aussie."
Bloomberg
Morning & Afternoon Newsletter
Delivered Mon–Fri.