Masters 'a couple of years' away from profit
MASTERS, the hardware joint venture between Woolworths and US company Lowe's, will be a ''modest'' drag on earnings for at least another three years as the partners continue to tweak the loss-making retail format.
Lowe's also revealed it had invested $US500 million as a one-third partner in the Masters business to date, suggesting majority shareholder Woolworths had injected $1 billion since the partnership began in 2009.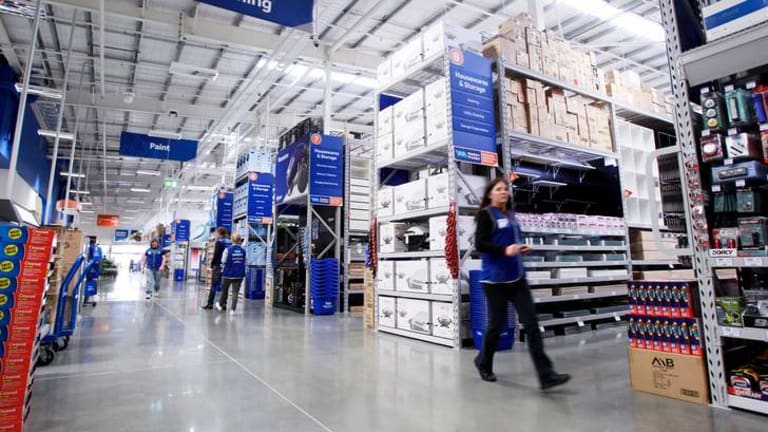 Lowe's chairman and CEO Robert Niblock said during an earnings update for Lowe's that Masters was a few years away from being a positive contribution to its bottom line.
''It's another couple of years before they'll get into a profitable stage,'' Mr Niblock said during US-based Lowe's fourth-quarter earnings update. Lowe's has a market capitalisation of $US40 billion,
During the briefing, Lowe's CFO Robert Hull revealed details of Masters' financial performance.
''[2012] was a modest earnings drag. We expect, as Robert [Niblock] said, to migrate to a break-even in 2015, 2016. So it'll be a modest earnings drag in 2013 as well.''
Australian retail analysts fielded calls from fund managers on Tuesday asking if commentary from Lowe's matched Woolworths' forecasts for Masters' eventual shift to break even. They told BusinessDay it was in line with Woolworths' previous guidance.
Woolworths has forecast Masters would break even after the fourth anniversary of the opening of its first store - making it 2015-16.
It has been reported that Woolworths chief executive Grant O'Brien believed the business would break even or make a small profit at group level in 2015.
Profit forecasts and timing among analysts vary. Goldman Sachs is tipping that Masters will record a loss of $10 million in 2015 and a maiden profit of roughly $30 million the following year. Macquarie Equities expects profits in 2015. A cluster of bullish analysts have pencilled in a profit of nearly $100 million in 2016. CBA believes Masters, at an EBITDA level, will break even in calendar 2015.
Still in its start-up phase, the Masters joint venture made a full-year net loss of $62.157 million for 2012, up from the loss of $7.821 million in 2011.
Mr Niblock, who sits on the Masters board alongside Mr O'Brien, said he was pleased with Masters' progress with the current 25 stores to grow to 31 by June 30.
''We feel really good about the way that joint venture is ramping [up], the quality of the people that they're able to get in and hire in the stores, the experience that they're delivering.''
Masters has another 115 store sites in the pipeline. At the end of 2011-12 it was sitting on a landbank valued at $850 million.
Mr Niblock said changes were being made to the store format as management gained insight from earlier openings. ''And then they're continuing to learn and make necessary adjustments along the way.''
Woolworths will release its half-year earnings results on Thursday.
Morning & Afternoon Newsletter
Delivered Mon–Fri.