And here we were thinking the corporate ref had finally blown the whistle on Kupang Resources, the Indonesian explorer previously run by our favourite cross-code fans - rugby league legend Benny Elias and Perth Glory owner Tony Sage.
Well, the good news is that Elias's tribulations with Kupang ended in 2015 when the corporate paramedics were called in, but not so for Sage.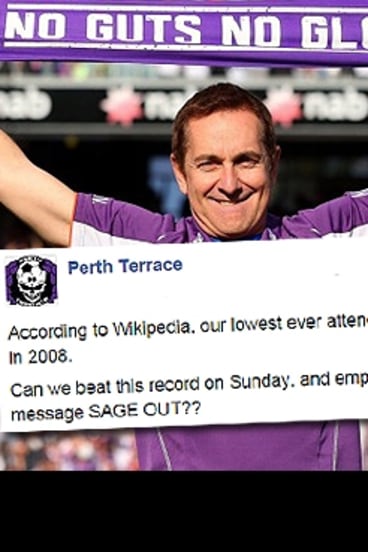 According to documents filed with the Federal Court, Sage faces a public examination on December 8 - just one day before his Glory take on the Newcastle Jets.
It relates to his role as a director of the failed Kupang.
The man responsible for dragging Sage under the spotlight is Kupang's deed administrator, Damien Hodgkinson.
Kupang is effectively a shell company with less than $90,000 in funds for Hodgkinson to finish his administration.
It makes the examination of Sage all the more interesting.
Your columnist Googled up a Kupang shareholder update from last year which declared there will be insufficient funds to pay creditors in full. But it added that Hodgkinson's investigations revealed that "there may be sources of recovery available for the benefit of creditors".
The Kupang woes date back to 2012 and a bitter legal battle with spurned litigation funder Paul Lindholm.
The High Court awarded Lindholm's International Litigation Partners (ILP) a $10 million payday against Kupang – then known as Chameleon Mining – after the Elias-controlled company dispensed with Lindholm's litigation funding services and got into bed with Sage.
The settlement included $5 million up front and another $5.5 million payable in monthly instalments, plus interest.
Kupang threw in the towel two years ago after a court decision found it was in default because the company, low on cash, could not meet the payment schedule.
Lindholm now owns what remains of the Kupang business after all the shares in the group were transferred to Lindholm's ILP in January this year.
Pokie man
"As the former chairman of the National Commission of Audit, [that] there's not a cent of government money in there makes me really happy. Truly happy," said Tony Abbott's favourite former adviser, Tony Shepherd.
He was speaking of the $100 million performing arts centre planned for Sydney's west which is being funded out of the poker machine profits at the Rooty Hill RSL.
Not that the inaugural chairman of AFL club Greater Western Sydney, is against a bit of government funding now and then.
After all, that is how Shepherd made his way into the corporate world.
Shepherd cut his corporate teeth at the company formerly known as Transfield Services which prospered on the back of government projects including a multibillion-dollar contract in 2012 to manage Australia's detention centres on Manus Island and Nauru, a report has found.
He was also the inaugural chairman of WestConnex, the 33-kilometre underground motorway in Western Sydney that could now cost its federal and NSW government pay masters as much as $20 billion.
Chops 'n' gravy
You can't have a gala without the galahs it seems.
Malcolm Turnbull's decision to give the House of Reps a break next week has meant the highlight of Canberra's spring social season - the Pharmacy Guild's parliamentary dinner in the Great Hall of Parliament - has got the chop.
This is a big deal. Last year, both Mal and Bill Shorten showed up and pledged allegiance to the status quo which keeps the pharmacy business in the hands of pharmacists - such as the bankrupt Rohan Aujard and his collapsed chain Pulse - and away from the likes of Brad Banducci's Woolworths.
Next Tuesday's dinner is not the only the only event being cancelled in the wake of Turnbull's tactical desperation.
National Mining and Related Industries Day has also cancelled its big gathering in Canberra, which will deprive the pollies of Gina Rinehart's modest views on how to run the country.
At least Mrs Rinehart will still get her chance to celebrate the resource sector's big day on Wednesday, with her headlining gig at the Sydney Mining Club's gala dinner for National Mining and Related Industries Day - alongside former Rio Tinto boss, Tom Albanese.
The club says Albanese is still a show despite facing fraud charges from the US Securities and Exchange Commission over that multi-billion fiasco in Mozambique.
Follow CBD on Twitter. Got a tip? ckruger@fairfaxmedia.com.au
Colin Kruger is a business reporter. He joined the Sydney Morning Herald in 1999 as its technology editor. Other roles have included the Herald's deputy business editor and online business editor.
Morning & Afternoon Newsletter
Delivered Mon–Fri.