Radio prank fallout hits owner's wallet
THE fallout from the 2Day FM prank call tragedy has hit the wallet of owner Southern Cross Austereo, with losses in advertising revenue for the station estimated at $1 million a week.
Shares in Southern Cross Austereo fell sharply on Monday, dropping as much as 8.1 per cent in early trade before closing 6.5¢ lower at $1.04.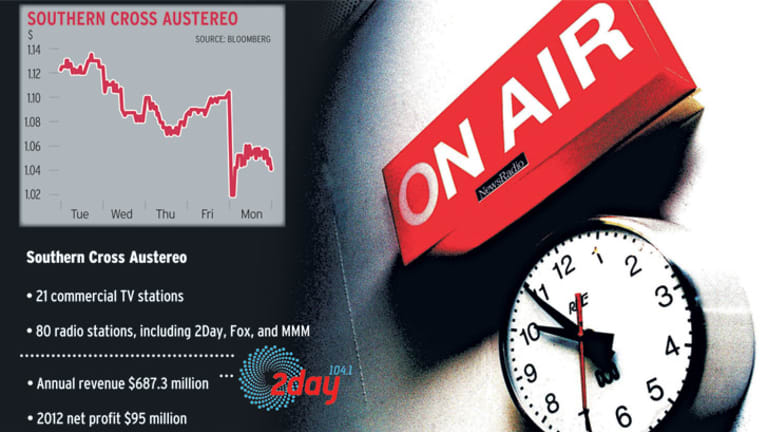 2Day FM suspended advertising ''indefinitely'' on Saturday afternoon amid a public backlash after the apparent suicide of a nurse following a prank call by two of its DJs to a hospital where the pregnant Duchess of Cambridge was a patient.
Earlier, Telstra and Coles pulled their advertising from the Sydney station. Woolworths and Optus were also reportedly considering withdrawing their advertising.
Ben Willee, the general manager of Spinach advertising agency and a former media buyer, estimated 2Day FM would be losing about $150,000 per day. He said the lucrative breakfast segment would pull in about $70,000 a day. ''It's definitely a bad thing [that] it's happening at this time of the year. They'll be running it pretty close to full [advertising in the run up to Christmas].
''If it was to happen in January, you would argue that the effect would probably be half of what it is now.''
Federal Communications Minister Stephen Conroy said yesterday the Australian Communications and Media Authority had taken the rare step of talking directly to 2Day FM to work out if an inquiry was needed into the station. Usually consumers make complaints first and ACMA becomes involved only if the issue is unresolved.
Mr Willee said advertisers would return to the station after the furore died down, but the impact on 2Day FM could be larger than the Alan Jones saga in October, when the shock jock said Prime Minister
Julia Gillard's father died of shame.
''From an advertisers' point of view it's an incredibly unfortunate situation. Most advertisers will come back. The question is, when is it safe for them to do so without them being targeted on social media?'' he said. 2Day FM could be looking at losses of about $1.5 million for the crisis, the amount Macquarie Radio Network said it lost after the Jones saga, but it would depend on how long the turmoil lasted, he said.
In 2009, it was estimated 2Day FM's breakfast show pulled in about $15 million in ad revenue a year.
BBY media analyst Mark McDonnell said the fall in the company's share price also reflected concern about any findings on a possible breach of standards.
Southern Cross Austereo said in its 2012 results presentation that 2Day FM underperformed after the ''Kyle Sandilands incident'' in November, when the shock jock abused a journalist on air after she reported on the falling ratings of his television show. Revenue loss combined with increased compliance costs affected the company's results.
Southern Cross Austereo, which also owns regional television channels, reported revenue of $687 million last year, up from $493 million the year before.
In May, ACMA found 2Day FM breached the broadcasting code's ''decency provision'' after Mr Sandilands' 2011 attack.
Morning & Afternoon Newsletter
Delivered Mon–Fri.