Slower grind forecast for big banks
BANK stocks enjoyed a stellar year in 2012, but the slowing economy and debt-shy consumers are threatening to take some wind out of the sector's sails.
To be sure, more profit records are likely to tumble as the big four rack ever bigger earnings, with the Commonwealth Bank next week tipped to hand down a $3.65 billion half-year profit.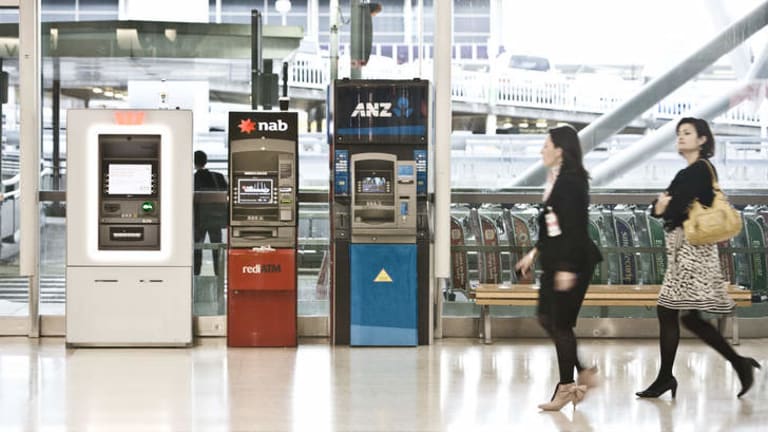 But according to analysts, it is likely to be a slower grind for the big banks, as they look to shore up their bottom lines by paring back costs and flexing their market muscle.
After a 28 per cent surge in bank stocks in the last year, which has pushed the Commonwealth Bank's market value through $100 billion, there are also questions over whether the share price gains are justified by earnings.
NAB this week surprised the market with better-than-expected December quarter cash earnings of $1.45 billion, helped by lower charges for bad debts.
Investors expect the other majors handing down results this month, CommBank and ANZ, will also post solid profit growth, while Westpac no longer reports profits every quarter.
However, analysts stress it is not a return to the boom days of credit growth. In the year to December, the lucrative market for owner-occupied housing loans grew at its slowest pace on record, at 4.1 per cent.
Despite sluggish credit growth, bank bottom lines are benefiting because investors' fears of rising bad debts caused by an end to the mining boom have failed to eventuate, at least for now.
The managing director at White Funds Management, Angus Gluskie, said the upcoming earnings season would be characterised by slower growth for banks, but also diminishing risks. ''The prospect of a sharp rise in bad debts and a meltdown in unemployment is looking more remote,'' Mr Gluskie said.
Jobs figures this week tended to support this view. While the labour market still looks fragile, the unemployment rate remained steady at 5.4 per cent, once again defying predictions it would rise.
Also bolstering bank profits have been the fall in funding costs in recent months.
The Reserve Bank's governor, Glenn Stevens, this week pointed out bank access to funding had improved significantly, and borrowing conditions for large corporations were ''very attractive''.
With the big four banks also declining to pass on in full the 0.5 percentage points in interest rate cuts in October and December, analysts think the industry's margins from lending have probably widened. NAB reported wider margins across its customer base during the December quarter, a likely reflection of its decision to not pass on interest rate cuts in full.
Bell Potter analyst T. S. Lim says all big four lenders have probably managed to sustain their profit margins in recent months, despite competition for deposits continuing to put upward pressure on costs.
''I think for the big four we will probably see stable margins coming through, as wholesale funding has improved in the last few months,'' Mr Lim says.
None of this, however, points to a dramatic improvement in the banking industry, which shed significant numbers of staff last year. Instead, analysts are tipping solid, if not spectacular, results.
Macquarie Private Wealth this week predicted the upcoming reporting season for Australia's banks would be a ''stay of execution … for now'', because investors' worst fears for a jump in bad debts were unlikely to be realised.
While the broker expects the Commonwealth Bank's margins to benefit from its failure to pass on RBA rate cuts in full, it also stressed growing concern about the risk of loan impairment after the mining investment boom peaks.
Mr Gluskie describes the earnings outlook as reasonable, but cautions that much of the good news has already been factored into the rising share prices of banks.

Clancy Yeates writes on business specialising in financial services. Clancy is based in our Sydney newsroom.
Morning & Afternoon Newsletter
Delivered Mon–Fri.