'We didn't know what we were doing': How social media took skateboard firm global
Evolve Skateboards was a global business from day one.
Jeff Anning built a prototype electric skateboard from leftover parts then he and his wife Fleur sold their house to raise the $60,000 to manufacture the first run.
"It was a bit of a Frankenstein creation," Ms Anning said. "But when we put our website up and put the first 50 boards online they sold out in two weeks and shipped around the world, so straight away we knew it would be an international business not a local one."
The pair created a Facebook page and learnt through trial and error how to market their business.
"I don't even know how people were finding us," Ms Anning said. "We didn't even know what we were doing but it started to take off."
Evolve now has over 120,000 followers on Facebook and a turnover of more than $15 million with 70 per cent of its total sales now from approximately 30 international markets.
International revenue within two years
According to research published by Facebook and PwC on Friday, "born global" businesses like Evolve, which are  local businesses pursuing international sales at an early stage, are growing.
The Connecting Benefits survey of 1,000 small and medium businesses found 35 per cent of Australian globally active businesses now earn international revenue within two years of establishment.
"This is a momentous shift in export dynamics and a long way from traditional business models where a business would only venture into foreign markets once it had established itself domestically," the report found. "In 2017, 35 per cent of Australian small and medium businessses exported to foreign markets, and 80 per cent of these had a Facebook Page."
The research found 58 per cent of Australian small and medium businesses (excluding sole traders), or approximately 480,000 have a Facebook page.
Around 120,000 employees were hired by SMBs in Australia due to their growth from using Facebook in 2017 and approximately $16.8 billion in additional economic value was generated by these employees in 2017.
Australians spent an estimated $2.1 billion in 2017 on purchases from a business of any size after seeing an advert or promotion on Facebook with an estimated 8.2 million Australians purchasing from, or visiting, a small to medium business after seeing content relevant to the business on Facebook.
'A great equaliser'
Mia Garlick, director of policy at Facebook, told Fairfax Media businesses are using Facebook in a host of  different ways.
"Digital platforms are providing a great equaliser particularly for people in regional areas because they are free to set up and to update," she said.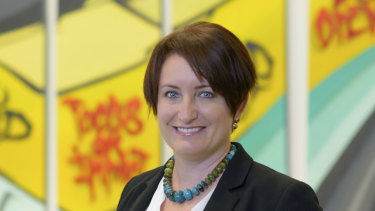 While Facebook has come under scrutiny recently over privacy concerns Ms Garlick said this was not an issue for small and medium business users.
"For business owners that we are talking to, their focus is on how they can add this channel to the suite of methods they use to reach customers."
Ms Garlick said Facebook is seeing a shift in how businesses use Facebook.
"The big shift that we are seeing at the moment is around stories, we are seeing a big uptake on stories and on Instagram as well," she said.
More businesses are putting money into their Facebook campaigns as well to boost posts and advertise.
Ms Anning said while Evolve started out just using organic reach last year it spent $60,000 on paid Facebook advertising.
"We are trying to further develop into other markets, we have always got our eye on what's happening in the future in terms of technology," she said.
Cara is the small business editor for The Age and The Sydney Morning Herald based in Melbourne