Clever dads create kid's app empire
Two dads from Newcastle have created an app empire in their spare time without writing a single line of code.
John McCann and Jude Novak, both 34, were among the early hordes pioneering the iPhone app store gold rush, releasing dozens of cheap and cheeky apps such as The Love Calculator, which cost $120 to make but still generates $50 a day in advertising revenue.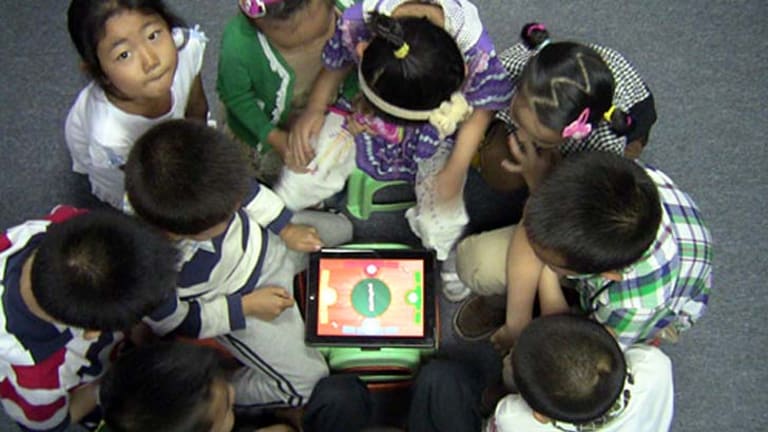 They now make high quality apps for children - and all their software has been built by overseas coders they have never met. Mr McCann estimates they've made about half a million dollars from apps in the last few years.
INKids makes iPhone and iPad apps for children including language app Flashcards (funded by a $90,000 NSW government grant), Futaba Classroom Games, Math Champ and Puzzle Land. Some are free but the full version Flashcards iPad app is $4.49 and the Classroom Games app is $5.49.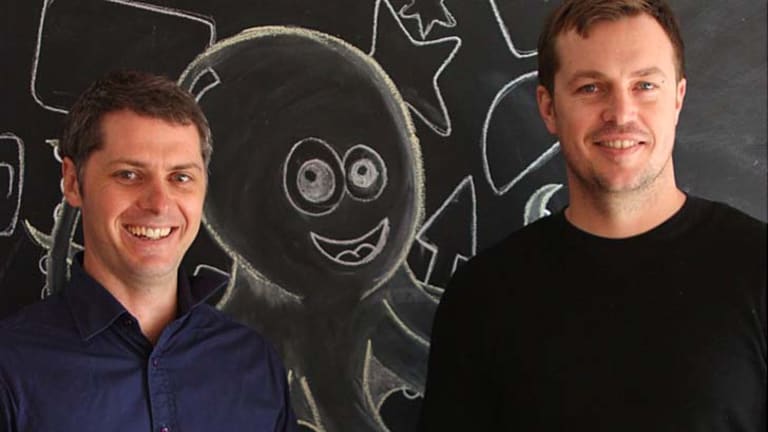 "To date we've had around half a million downloads for our Flashcards product alone [including free and paid versions]," said Mr McCann.
Mr McCann, who moved to Newcastle from Sydney after "getting sick of sitting in traffic", now runs the projects full time but Mr Novak, a designer, still holds down a full-time job.
"Newcastle is a much nicer place to live overall," said Mr McCann. "You can afford to buy a house here, you don't have to pay for parking when you go to the beach."
Before INKids, they made about 45 apps in their first year and a half as "developers" but "didn't write a single line of code," he said.
They hired online "virtual workers" on vWorker.com and managed any full-time staff using the service timedoctor.com.
Today, with INKids, 90 per cent of their work is still farmed out to Russia to developers they now have a relationship with.
"Our entire business model has been made possible in part by the world of outsourcing," said Mr McCann.
He said the outsourcing was working well for the most part because high quality work was delivered quickly, and because when it is night time here - when the pair do most of their work - it is morning in Russia.
Our entire business model has been made possible in part by the world of outsourcing.
But he said the relationship was trying at times - "particularly when something goes wrong" - and the pair churned through about 20 different developers before finding the right team to work with.
"We couldn't possibly afford to pay ourselves, along with a local developer, so for the time being, this is the model we'll probably stick with, unless we can find someone who wants to work for equity," said Mr McCann.
Not everyone is so excited about the online outsourcing trend - particularly Australian software makers who charge tens or hundreds of thousands of dollars for work that online freelancers offer to do for a fraction of that amount. Australian app developer b2cloud recently put out a press release saying it had been approached by many businesses asking for help to fix their app that was "botched" by an offshore developer.
Mr Novak and Mr McCann have been working together on a part-time basis since around 2005, when they were building "made for AdSense websites" - information sites about niche topics such as kitchen benchtops, awnings and bathrooms, which have low competition but high value on Google's advertising system.
"I think we made more than half a million dollars out of Adsense over three or four years, and this was something we were doing in our spare time while we were working full time," said Mr McCann.
Then Mr Novak got an iPhone and the pair immediately realised the potential of the App Store to provide "another means of generating passive income". They switched completely from making websites to apps and used a similar strategy - finding niche markets with high search volume and little competition.
Their early iPhone apps ranged from $0.99 to $5.49 and included Quit Smoking - Cold Turkey, All in One Unit Converter, Period & Fertility Calendar, Hollywood Gossip - Trivia, Six Pack Secrets, The Detox Bible, Hypnosis & NLD Handbook, Weight Loss Diary & Tracker, Stain Fighter and The Practical Tarot.
They started releasing iPad apps in 2010 including The Love Calculator, Cure Acne, Puppy & Dog Trainer and Australian Learner Drivers Test.
Some of the apps were "re-hashed e-books" while others were designed to a higher standard.
Love Calculator alone, one of their only free apps, has had over 1.5 million downloads and at one stage was the second most popular free app on the App Store.
Mr McCann said it had been "dead easy" to make money in the early days of the App Store but "Jude is now embarrassed somewhat to have many of these titles associated with his name".
They started INKids because they weren't particularly proud of any of the apps they had created and "there was a hollow feeling that lingered in the success we had so far".
That hollow feeling is fast disappearing. Futaba Classroom Games, made in partnership with a teacher in Japan, is doing well now that US students are back at school. Earlier this month it received an Editor's Choice award from Children's Technology Review.
On their website McCann and Novak recently published an interview with an English teacher in Mongolia who was raving about their iPad apps.
The pair recently showcased their apps at the Tots and Technology conference in the US, and they claim that while their apps are used in hundreds if not thousands of US classrooms, they have yet to gain traction in Australia.
Last week Mr McCann and Mr Novak had discussions with Pearson Education about a partnership, but nothing has been signed off yet.
They believe Newcastle can become a high-tech hub - the city's growing tech scene was recently covered in the Newcastle Herald - and have just set up a co-working space for entrepreneurs called Start House.
"We're trying to replicate something like Fishburners in Newy," Mr McCann said.
Another Australian start-up creating apps for kids is Broccol-E-Games, which recently released the iPad app Maths with Springbird. Founder David Truong, who has had seven years experience in education, moved from Adelaide to Melbourne to build the start-up full time as part of the AngelCube accelerator.
"Lots of people are trying to 'fix' schools and put technology in the classroom, but not many people are trying to compete with Angry Birds for the attention of students," said Truong.
"The vision for the company is to disrupt the way education is delivered, measured and accredited around the world. Similar to what Khan Academy is doing, but for K-12 education."

Asher Moses is the Technology Editor for Fairfax Media. He started his own gadget review website more than a decade ago at age 14 and has since written for most of Australia's leading technology publications. He has twice been named Young Australian Online Journalist of the Year by the Walkley Foundation.
Morning & Afternoon Newsletter
Delivered Mon–Fri.