Designer gave branding its flying start by thinking big
With CEOs desperate to market their companies, Hans Hulsbosch's work has 'gone berserk'.
WHEN Hans Hulsbosch started his branding and design agency in the 1980s, he didn't dabble long with small fry. One of his first major projects was for Qantas, where he faced a marketer's ultimate challenge: how do you fit out a plane for the Pope and brand the Holy See?
The Dutch-born designer was charged with converting the first-class cabin of a plane for John Paul II's visit to Australia, replacing seats with one single throne in the middle, a luxurious bed and changing area, and designing a regal-looking menu for the papal palate.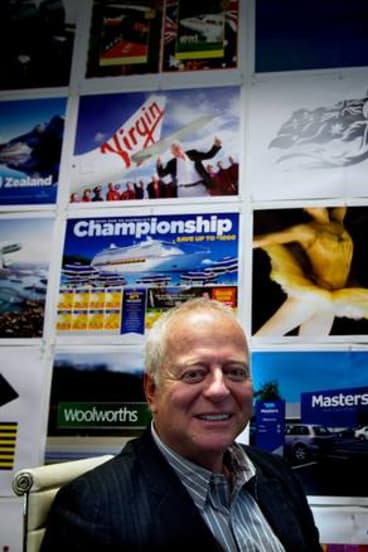 It was a big fish to land for the entrepreneur, who advises corporates on how to shape their brands and public image. His next big assignment for the airline came two years later, when he went to Rome to produce a documentary on the Vatican's artefacts for the Qantas-sponsored pavilion of the church state at the Brisbane World Expo.
''What I have seen there turns you off religion for the rest of your life,'' he laughs, referring to the many treasures kings and heads of state gave to the Vatican over the centuries to secure favours.
But it was those jobs that helped build a more than 20-year association with the national carrier, which culminated in his redesign of the Flying Roo's brand in 2007. He had come a long way from early days when he kicked his youngest son Jaid out of his bedroom to make it an office.
Today, the North Sydney company bearing his name employs 40, and Jaid, now 35, is increasingly looking after day-to-day dealings to let his father concentrate on the creative side of the business.
Clients include some of the nation's biggest companies. The 60-year-old is the brains behind the apple logo for Woolworths, the launch of its Masters home improvement chain and the brand overhaul of Virgin Australia last year.
But the first decade was a hard slog. Hulsbosch, who created the famous Tia Maria Golden Brown TV ad for agency Clemenger, says he was the first in Australia to combine strategic corporate advice with brand design and advertising. ''The first 10, 15 years all I did was walk into brick walls. Branding wasn't taken seriously, it was just that thing that had to be done on the side and there was never any money in it.''
Qantas was an early convert, realising it had to stand out to compete with global airlines. Demand gradually picked up as companies took note of powerful brands such as Nike.
And then came Apple, turning computers and music players into emotional objects of desire and chief executives into branding addicts.
''Now, every CEO is trying to picture and work out what it is, what does it take to become that brand,'' Hulsbosch says. ''The designers are called in first, and then, once the branding is sorted the advertising agency comes in.''
Over the past year, business has ''just gone berserk,'' boosting turnover by 250 per cent, he says. And that could be surpassed this year.
As big US and British agencies push into Australia, Hulsbosch is looking at options to further expand, which could include going public or seeking a buy-out by a global agency to tap international markets.
''We need to change, we need to grow,'' he says. ''I'm always the biggest advocate for change [because] as a matter of fact, that's what we do for companies - we change them.''
Hans Hulsbosch's tips for successful brands
Have a unique product or service that people will want.
Create a perfect brand around that product or service. This means understanding its values and personality, and being able to communicate these to consumers to create a consistent and meaningful dialogue. Branding is a process that builds relationships with us as consumers. Create the desire to belong, and your customer base will grow.
Keep it simple, in everything you do. From the moment we wake up until we go to sleep we're bombarded with marketing messages, so therefore simplicity is absolutely key. Your brand needs to resonate on an emotional level.
Have a highly specialised and professional team of committed people to make the above happen.
Relationships with your clients should be passionate, professional, intelligent, transparent and engaging. Be driven by the fact that you're only as good as your last project. Celebrate your wins but then get back down to earth, two feet on the ground, and start again.
Morning & Afternoon Newsletter
Delivered Mon–Fri.