Entrepreneurial incubator heats up
Entrepreneurs unite.
Canberra may be the meeting place of politicians and public servants, but the first community-run shared work space is set to give the city's start-ups a home.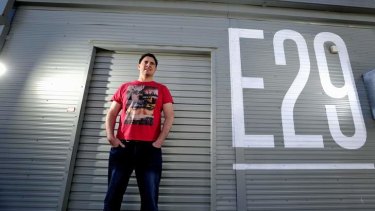 Entry 29 in Acton will be launched today and promises to be a hub of collaboration, innovative ideas and business growth.
Interim board member and ''business enabler'' Anna Pino said the co-working space would help diversify the city's economy and bring together like-minded people.
''I think what really drove me to do this is that over the last six months, we've realised there is this incredible entrepreneurial spirit in Canberra, but it's all underground,'' she said.
''There are some incredibly talented people in Canberra, and we want somewhere where all [these] people can [be] seen.''
Ms Pino, the Lighthouse Business Innovation Centre chief executive, said discussions for the new workspace began about 18 months ago and were inspired by the Fishburners workspace in Sydney.
She said Entry 29 - named after Walter Burley Griffin's winning design for the national capital - would improve Canberra's reputation as a business incubator.
''Canberra itself is a really good incubator - there's a lot of companies that start here - but they don't necessarily stay here when they get big, [although] they leave a big footprint,'' she said.
The Childers Street workspace has been leased for an initial 12 months from the Australian National University for a nominal $1 rent, and has space for 32 ventures.
Entry 29 chairman and tech-entrepreneur Rory Ford said the space already had more than 20 members and would be a meeting place for start-ups to share business ideas, including on investment and technology, as well as a central site for community events.
''Being able to create a permanent facility that allows people to come and connect with entrepreneurs, innovators, designers, developers, that's incredible, and I understand that is something that Canberra hasn't had before - the opportunities that extend from that are endless,'' he said.
Entry 29 event co-ordinator Johanna Jansen said the main working space would include lounge furniture to encourage open chatting, desk-based work centres for collaboration and ''concentration'' areas for those not looking to be disturbed.
Asanka Warusevitane has helped create the new co-working site and hopes to spend about one day per week there on a new data start-up.
He said the venue would provide support for those at different stages of their career.
''[It is] for students when they finish uni, rather than going straight into joining the workforce [they can] start a company and have the support network behind them to be able to do so, and even for those more experienced technical or business people who want to get out of the 9-5 and jump in, and know that there is a network here.''
Tenants pay from $22 for a day pass to $220 for unlimited monthly use of the venue, which includes 170 square metres of working space, plus an event space for about 30 people.
The ACT government provided $15,000 to the not-for-profit Entry 29 company, which enabled a security system and Wi-Fi to be fitted out. Minister for Economic Development Andrew Barr said the venue, which he will launch this morning, would help encourage technology development and innovation.
Reporter at The Canberra Times