What's the world's most popular tool?
It can stop a bullet and save you from a whale and one in five of us has one.
Imagine designing a product that can stop a bullet, save you from being drowned by a whale - one man used it to cut away the anchor from his boat after one caught the line - and can cut your toenails as well.
Believe it or not, the Leatherman, a multitool device used by millions of people around the world, has done all these, according to the founder and creator of the product, Tim Leatherman. But, he adds, the pocket tool is generally favoured for the fact it incorporates a set of pliers.
The US-based Leatherman first got the idea for such a device when he was travelling through Europe with his wife in the 1970s and his car kept breaking down. With only a pocketknife to help him fix it, he wondered about the possibility of designing a tool that incorporated a pair of pliers and screwdriver.
"After I returned to the US, I initially approached some knife companies with my idea but they said it was too much of a tool and not enough of a knife," Leatherman says. "That's when I decided to set up my own business. I spent years refining my ideas and eventually took on a business partner, Steve Berliner. Then eight years after I started out, we got our first order, from a catalogue company."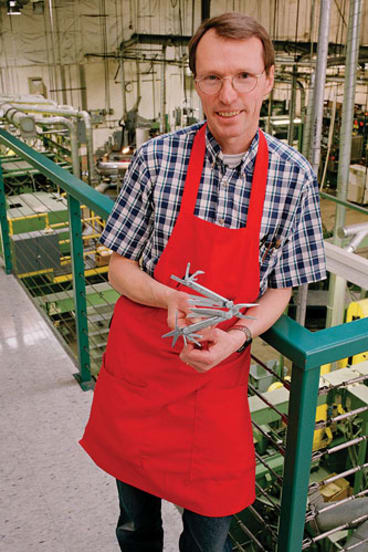 Today, one in five Australians owns a Leatherman and the country is the company's No. 2 export market after Germany. More than 100,000 of the tools are sold each year in Australia, while many millions are sold around the world.
Tim Leatherman is out in Australia this month to help celebrate the company's 30th anniversary. He says he found the main challenges with building his business was inventing the tool, selling it and inventing a way to make it, especially after the orders began to come in.
"We were growing so fast at the start that it was hard to meet demand," he says. "This gave our competitors time to come in but we just kept on going. In the first 12 years we had 50 per cent compound growth a year. I think this is because in the public's mind we were a quality product that offered innovation and functionality – there are a lot of features in a lot of space. And these are features that work."
Leatherman says he believes the product sells well, particularly in the US, largely because it is made in the US. (The company is based in Portland, Oregon, where every tool is handmade. It's privately owned and Leatherman says it will always remain that way.)
"There is a lot patriotism associated with the product," he says. "Our major competition are the copies that come in from China, which are inferior, and then our competitors."
Innovation is key to staying competitive, Leatherman says. This year, a new product designed for children, called Leap, is being launched, which features blades that aren't as sharp. Several other products have also been recently launched that target action sports such as surfing and skateboarding.
Leatherman says he expects these products to do well in Australia. "This country is an excellent market for the multitool product," he says. "There are higher sales per capita than the US and I think that has a lot to do with the lifestyle here. When you're in the outback somewhere and find yourself in trouble, then you need something to get you out of trouble."
It was a Leatherman copy that Aron Ralston, whose story was turned into a book and movie, used to cut his arm off to free himself when he was trapped in a canyon. Ralston has since toured the Leatherman factory and now owns an original.
While innovation is key for success and for survival, Leatherman has some additional words of advice for today's entrepreneurs wanting to create an iconic product.
Self-educate. Learn what you need to learn.
File for a patent before you go to a company. Companies often won't talk to you unless you've done this. They want the intellectual property established before they see you.
When you do go and visit a company, go with a prototype, not a drawing.
Don't get what is known as inventors' paranoia – the feeling that if you show your idea to someone, they will steal it. It is more likely you will be begging for someone to have a look at it.
Expect the time taken to be successful to be twice as long as you expect, and the cost to be four times as much.
If you're not getting anywhere attracting companies to take an interest in what you've got, start your own company – if you can.
Morning & Afternoon Newsletter
Delivered Mon–Fri.