Still room for discussion at GrainCorp
HEDGE funds that bought about 15 per cent of GrainCorp's shares after US agribusiness group Archer Daniels Midland informally proposed an $11.75 a share, $2.7 billion cash takeover in October will be reading between the lines of this week's exchange between the groups for signs that the bid they need for a profitable exit has not evaporated.
They should not be too dispirited. GrainCorp has rejected ADM a second time, but it still is offering to negotiate, and informal communication lines that were set up earlier appear to be intact.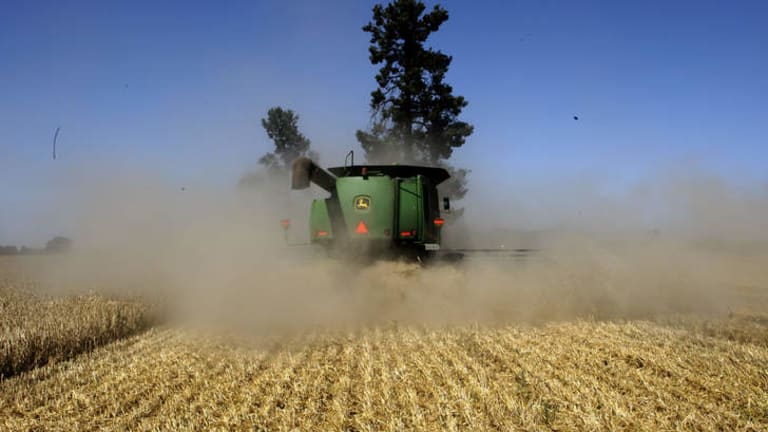 GrainCorp rejected ADM's first informal takeover proposal in mid-November at the same time as it announced record annual earnings of $205 million. ADM responded early this month by boosting its beachhead stake in GrainCorp from 14.9 per cent to 19.9 per cent, and lifting its proposed takeover price to $12.20 a share, or almost $2.8 billion.
GrainCorp's board said on Thursday that the 4 per cent bid bump had not changed its opinion that ADM was materially undervaluing GrainCorp. Its key comment, however, was that GrainCorp's board ''will be constructive in any dealings in relation to proposals that have the potential to be in the best interests of shareholders''.
ADM's response was also carefully constructed so as not to close out any options. It said that it believed its informal offer ''properly values'' GrainCorp, and that, of course, is the point of contention.
It said its $12.20 offer represented a substantial premium to GrainCorp's share price ahead of the first approach in October, which is correct. The premium is close to 40 per cent, satisfying a rule of thumb in the mergers and acquisitions game that a premium of at least 30 per cent is needed to get the target's board talking.
ADM is, however, also valuing GrainCorp at about 8.5 times expected gross earnings. Canadian groups Viterra and Agrium paid about 9.5 times in their respective takeovers of Australian grain groups ABB (2009) and AWB (2010), and Viterra is now being acquired by Swiss-based Glencore at a ratio of about 10.4 times.
That suggests there is room for ADM to go higher, but the US group is under pressure in its home market, where ratings agencies S&P, Moody's and Fitch have flagged possible downgrades. It will also be arguing that confidence in global growth has deteriorated since 2009 and 2010, and that takeover prices for Australian agricultural groups should reflect weather-related volatility in cash flow compared with more geographically diversified agribusiness groups, including itself.
ADM said it would consider all its options. They include raising the proposed offer again in an attempt to secure a friendly deal, bypassing GrainCorp's board and launching a hostile offer, waiting and retaining its 19.9 per cent stake in the knowledge that it is a barrier to counter bids, and selling the stake and retiring.
ADM is tacitly acknowledging that it has not ruled out the possibility of an accord with GrainCorp, however, and it is understood that informal communication lines have not been severed by GrainCorp's rejection of the sweetened proposal.
Earlier background talks are believed to have involved not only the investment banking advisers to both companies, but GrainCorp's chief executive, Alison Watkins, and ADM's chief operating officer, Juan Luciano. ADM is, as it says, examining all options. There seems to be willingness on both sides to search for common ground, however, as there should be, and after building a 19.9 per cent stake in GrainCorp, ADM has an incentive to hang in.
Bonus vote gets nod
SHAREHOLDER votes on remuneration reports and the ''two strikes'' rule that underpins them are not working as some expected, but there is no convincing evidence to support complaints from directors that remuneration report votes are a ''destabilising force'', to use Australian Institute of Company Directors chief executive John Colvin's recent description.
As the solid vote against NAB's remuneration report this week underlined, the remuneration vote is morphing into a more general vote of confidence.
NAB's statutory net profit fell by 21.8 per cent in the year to September, and total pay for key managers, including chief executive Cameron Clyne, fell by 23 per cent. Executives in NAB's British banking unit received no bonuses at all as it continued to be a problem child.
Pay at the top of the banking group, in other words, did what it was supposed to do, but at NAB's annual meeting in Perth on Thursday, the no vote on the remuneration report was 21 per cent.
Clearly this was a not a vote against remuneration itself. It was a vote expressing more general unhappiness on the part of some institutional shareholders: about the UK, where NAB cannot get the price it needs to exit, doesn't want to wade in deeper and is holding banking assets that are underperforming; about NAB's sharemarket underperformance (its shares are up 4 per cent this year compared with 18 per cent for the ASX 200 banks index); about what some analysts believe is inconsistent loan provisioning; and about chairman Michael Chaney's perceived disinterest in their complaints, aired in meetings ahead of the AGM.
NAB escaped a first strike. It takes a 25 per cent no vote to produce that, and another 25 per cent-plus at the next meeting before the process kicks in.
Suggestions that the remuneration vote is being used to pursue destabilising agendas need to be considered against the entire two strikes voting framework.
It is true that a large unhappy shareholder can vote against a remuneration report and create a strike. Gina Rinehart did so at Fairfax Media's annual meeting this year, for example.
But there has to be two consecutive votes of 25 per cent-plus against the remuneration report before there is even a vote on whether to subject directors to a confirmatory vote or spill, and the spill will only go ahead if the vote in favour of it is 50 per cent-plus. It is a high hurdle in its entirety, and cannot be cleared unless there is significant shareholder unrest.
The two strikes rule is an important shareholder plebiscite, and boards know it. Chairmen are engaging with key shareholders more frequently before annual meetings where the REM vote occurs, and institutions are responding. It is hard to see this as anything other than positive over the long term.
mmaiden@fairfaxmedia.com.au
Morning & Afternoon Newsletter
Delivered Mon–Fri.