The bold and the successful - Charlies awards honour 11 great women
WE HAVE established a tradition in this column of recognising some of our country's boldest achievers at the end of the year with a set of awards. We call them The Charlies, in honour of our resident economic oracle.
So in this second-last column for the year, we will pay tribute to some special leaders.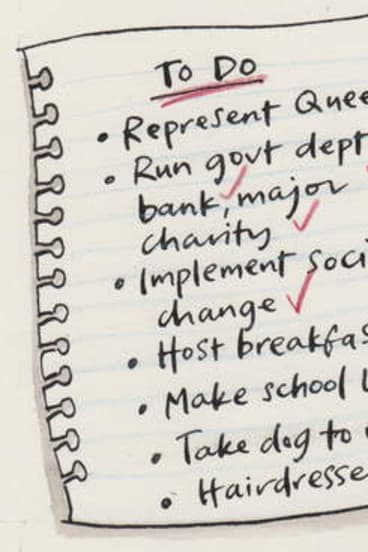 ''You mean 'penultimate column', don't you?'' corrects Louise. Of course, silly me. And I also mean to recognise the contribution of our Louise and all her gender, because the time has well and truly come for us all to do much more in clearing the way for the power of women to improve our world at every level.
Boston Consulting Group reckons the global earning power of women will increase from $US13 trillion to $US18 trillion in the next few years. Most new income growth over the next 10 years will come from women. And interestingly, World Bank research shows that the more female parliamentarians a country has, the lower the rate of corruption.
It's not that we haven't recognised women before. But this year we go a whole lot further and all the winners are women:
1. Ita Buttrose
Ita is the New South Wales nominee for Australian of the year. She has shown the way personally and professionally all her life, and deserves the highest recognition.
2. Quentin Bryce
While some would still like to argue about the relevance of the role she performs and its relationship with one of the other great women of the world, I think everyone feels there has been no finer Governor-General.
3. Kirsty Sword Gusmao
The first lady of East Timor, who is from Melbourne, is a deeply loved heroine of her country. She is admired for her grace and her power to change the futures of women and children in her adopted country.
4. Gail Kelly
It's tough at the top, but as they said of Ginger Rogers, ''you think Fred Astaire's good, try doing it backwards in high heels''.
5. Kate Lundy
You would normally look at the government with a female PM and say ''she's the one'', but Julia Gillard picked Kate Lundy to take on more ministries than an outback parson, and she has been outstanding. She is just brilliant as the Minister for Sport, Minister for Multicultural Affairs, Minister Assisting for Industry and Innovation, and senator for the ACT. Lundy has achieved a level of excellence that makes other women, and all Australians, proud.
6. Virginia Trioli
Trioli has been a leading ABC journalist and presenter for years. She launched the ABC News Breakfast program and has excelled at occasional stand-in jobs such as compering Q&A. More importantly, she took a year off at the age of 47 to begin a family. She teaches us all a lesson about work-life balance.
7. Julia Newton-Howes
The head of CARE in Australia turned her back on an outstanding career in academia and industry to make Australia a world leader in helping women in the developing world become their country's most important economic and social force for positive change.
8. Jane Halton
The long-term head of the Department of Health, the biggest department in the federal government, is young and the best is still ahead of her. She is a national asset and a beacon for all other women. Many are tipping her as our country's next top public servant.
9. Melissa Doyle & Lisa Wilkinson
A dead heat, because they are talented, charming and start the day for millions of us. Mel is the host of Sunrise, who makes Kochie [David Koch] look good, and Nine's Lisa Wilkinson shines with intelligence. And they are both terrific mothers.
10. Dame Elisabeth Murdoch
An example to us all of how to really live a life. A great Australian and what a woman!
Harold Mitchell is an executive director of Aegis.
Harold is the founder of Mitchell & Partners and a former executive chairman of Aegis Media Pacific. He is founder of the Harold Mitchell Foundation.
Morning & Afternoon Newsletter
Delivered Mon–Fri.