Three chords and a Sheppard, all Star City needs
WE'RE always being told to work harder because labour productivity is holding Australia back. And now the appointment of Richard Sheppard to the Echo board gives the casino group a chance to turn rhetoric into action.
While he's best known for a stellar career at millionaire's factory Macquarie Group, where he ran the banking arm, Sheppard moonlights as a guitarist in the Financial Instruments.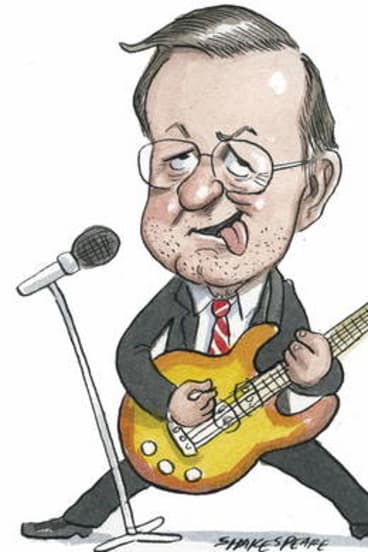 They've mostly done charity gigs in the past, but CBD reckons that they'd make a dandy replacement for some of the entertainment Echo puts on at its Star City casino, which will finish off its $1 billion reno when it opens a brand new events centre at the end of January.
After all, who wants to see Legally Blonde the Musical, starring Australian Idol reject and one-time Paris Hilton hook-up Rob ''Millsy'' Mills, ''TV Presenter/Model/Actor/Recording Artist/MC/Computer Game Character'' Erika Heynatz and one of the ever-interchangeable Daddo brothers?
All fine performers, but surely they pale into insignificance when the alternative is a merchant banker rocking out.
Diminishing trust
MORE bits are falling off the Equititrust bandwagon set up by Gold Coast financier Mark McIvor.
Next to go from the failed venture is a ginormous tourist development in South Australia, which the receiver of Equititrust's failed $203 million Income Fund, David Whyte, is putting up for sale this week.
Wirrina Cove has an 18-hole golf course, an 89-room hotel and a 500-person convention centre and is expected to fetch as much as $20 million.
Oh, and there are also 200 marina berths and 76 residential lots, which are to be sold separately.
McIvor has moved on to a new venture, with his new financial services outfit Mi Guardian trying to raise money from ''sophisticated investors'' while at the same time eulogising late Apple chief executive Steve Jobs.
Explaining - at length - how the Mi Guardian name came into being in October last year, the group's offer document explains that ''extraordinarily, and serendipitous [sic], the 5th October 2011, was the day the 'I' died''.
''He [Steve Jobs] was a true ideas genius and iconoclast, who shaped the world's view regarding a truly timeless and iconic brand.''
However, it appears some previously associated with Mi Guardian have had second thoughts.
CBD understands Father Richard Pascoe didn't realise he was a director of the company into which investors' money is to be tipped, Mi Citizens Union, and has resigned.
A lot of wind
FREE fall is usually a condition to be avoided by listed companies but simulating it is the stated aim of a sharemarket hopeful fronted by a pair of former special forces soldiers.
Former SAS sergeants Wayne Jones and Danny Hogan hope to raise $12 million to build a vertical wind tunnel at the Penrith Panthers complex in Sydney.
Up to eight skydivers at a time will be able to enjoy - if that's the right word - simulated free fall in the 11-metre tall tunnel.
The pair have appointed former chief of army Ken Gillespie as chairman of the company, ISA Group.
A final push for investors in the group is under way this week, with ASX listing slated for early next month.
A little bit too late
THERE'S cutting it fine, and there's cutting it too fine. As debts have mounted across his sprawling empire of more than 100 private companies, Nathan Tinkler's penchant for late payment seems to have caught up with him.
Someone forgot to mail a measly $17,000 cheque owed by the Singapore -based bogannaire's Patinack Farm Administration to South Australia's WorkCover.
On Wednesday, the Federal Court - having no reason not to - promptly appointed Anthony Matthews to liquidate the company, which is linked to Tinkler's horse racing operation.
Obviously, it's not Tinkler's fault, he's been busy.
And a few thousand bucks pales into insignificance next to $28.4 million. That's how much his Mulsanne Resources failed to pay to coal group Blackwood Corporation, resulting in it being put into liquidation on Tuesday.
Morning & Afternoon Newsletter
Delivered Mon–Fri.