EDUCATION
It was a case of all aboard when six Victorian teachers recently set sail on an expedition in Queensland's Moreton Bay.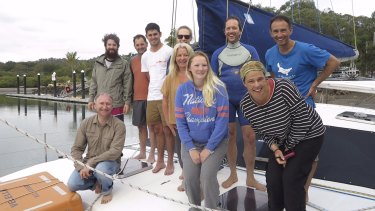 The teachers were rolling their sleeves up and researching the health of the bay's marine life as part of Earthwatch TeachLive, in conjunction with Healthy Waterways and the Geography Teachers Association of Victoria (GTAV).
Selected from hundreds of applicants across Victoria, the educators worked side by side scientists from Healthy Waterways, a not-for-profit organisation that conducts research into the health of south-east Queensland's waterways. Dr James Udy and Dr Paul Maxwell led the expedition. Data was collected on seagrass meadows, a vital habitat for dugongs, sea turtles and other marine life.
"The scientists are now using the data collected by the teachers and other Earthwatch volunteers to produce the Healthy Waterways Report Card," says Bruce Paton, program manager. "This is an annual snapshot that we use to educate the community and decision-makers about the ecological benefits of the bay." Paton says teachers made good use of technology to assist their research and to spread the word of what they found.
"GoPro video cameras were used to record species of seagrass on the ​sea floor," he says. "Teachers posted blogs, photos and videos on the TeachLive website to share the experience with their students and the school communities." Asked what was the most enjoyable aspect of the experience, the teachers reported that it was undertaking real scientific research with meaningful results. The opportunity to collaborate with other educators who are passionate about science and the environment was also highly regarded.
"I enjoyed actually undertaking research and collecting meaningful data," says Jemma Chaplin from John Monash Science School. "Instead of standing back and teaching students from afar about what scientists do, I was able to be a scientist and show them firsthand. Being surrounded by a herd of 30 dugongs has to be up there as well." Supported by funding from the Victorian government, the Sailing for Seagrass expedition will continue through until 2017, giving six teachers each year the opportunity to sail and serve.
"We're keen for more teachers and students to share in the experience using the TeachLive website... GTAV have created education resources, which teachers can download and use to teach students," Paton says. "It's great fun to read what the teachers have posted and watch their video blogs." See earthwatch.org.au for teaching resources and more information about the application process, which will re-open in 2016.