Canberra is a city where the car is king but its residents like to walk. And walk.
On weekends, they are over mounts Taylor, Ainslie and Majura like ants.  Around lakes Burley Griffin, Tuggeranong and Ginninderra in singles and packs. Huffing and puffing with iPods on, Fitbits charged, dragged along by dogs, pushing babies ahead in prams.
Living Streets Canberra (formerly the Canberra Pedestrian Forum) says Canberra varies in its walkability, but "has always been built for car travel''
It estimates 30 per cent of Canberra's streets do not have footpaths, making it difficult to walk them safely. But it was heartened by a variation  to the Territory Plan five years ago which meant all new suburbs must have a footpath on at least one side of every street.
"It's a combination of having paths, having them designed and built and maintained well and also being able to cross roads easily and feeling comfortable and welcome in walking those streets,'' chair Gillian King said, of walking in Canberra.
The group points to the website walkscore.com where every suburb in Canberra can be rated for its walkability. Suburbs such as Kingston and Civic are rated "a walker's paradise'' where "daily errands do not require a car'' . Others such as Barton get a respectable "very walkable'' - "most errands can be accomplished on foot''.
And other more far-flung suburbs such as Banks and Crace get a low "car-dependent'' rating where "most errands require a car''.
So it's against this background that Canberrans, perhaps frustrated that they might not have that Holy Grail of being able to walk easily to work or school or the shops, are getting their walk on in other ways. And sometimes taking on huge distances, whether for charity or spiritual enlightenment or simple adventure.
Walking is on the mind of at least 7710 people in the ACT who have signed up for Steptember in aid of the Cerebral Palsy Alliance.
The alliance's ACT fundraising manager Nathalie Maconachie said 142 organisations had also signed up for the challenge of walking at least 10,000 steps a day for 28 days. All the money raised in the ACT helps local people, particularly children, with cerebral palsy. The ACT had responded to the walking challenge with gusto, with more people signing up every day.
"We are doing incredibly well with fundraising this year,'' she said. "We hope to raise $400,000 in the ACT this year, compared to just under $200,000 last year.''
James Buckley, a former sports writer with The Canberra Times and The Sydney Morning Herald, knows a bit about walking, currently undertaking a trek from one end of Great Britain to the other on foot.
He disagrees that Canberra is a not a good place to walk.
"I think Canberra is a great walking city, with lots of great trails,'' he said, before adding laconically:
"Although, you're not going to walk from Civic to Belconnen up the parkway.''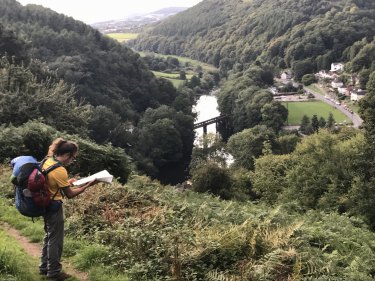 Buckley, who turns 33 on Monday, got a taste for long distance walking going part-way along the Camino de Santiago trails across northern Spain four years ago.
He is now walking from Land's End at the bottom of England to John o' Groats at the top of Scotland.
"The way I'm going is about 1200 miles or 1900-odd  kilometres,'' he said, giving himself 80 days to complete the feat in time for a flight back to Australia.
And he's doing the walk the hard way.
"I'm not taking the most direct route and I'm also not allowing any mechanical assistance in terms of the walking. Which is why there's been a couple of rivers where I've had to walk inland and find a bridge to get across,'' he said.
"I wanted to walk from one end of the country to the other and I figured if I'm allowed to take a ferry or jump on a bike or stick out my thumb and hitch-hike, then I'm not doing it properly. But, to be honest with you, I just think I'm really stubborn.''
For Buckley, the walk is about adventure, seeing the UK from a different perspective and satisfying a quest for the ultimate sense of satisfaction.
"It's an incredibly freeing thing to do and there's something very primal, I think, as a human being. It's something we're designed to do,'' he said.
"When you've got all your gear on your back and all you're using is your own two feet to get from point A to point B, that's what you're doing day on day, it really simplifies things.
"It gives you a chance to see the world properly and to organise your thoughts and just escape the typical rat race and the nine-to-five and all that stuff. Because, all of a sudden, what's important to me is getting to this next point on the map. Or me looking into the distance and thinking, 'Right, I've got to get to that hill' and taking the best part of a day to do it.
"Then it's looking to a new horizon. There's something incredibly rewarding about doing that. Getting from point A to point B is great but it's what happens along the way that stays with you.''
And, for the record, the sports boys at The Canberra Times have recruited Buckley for their Steptember team. He expects to average about 40,000 steps per day, blowing away any potential competition.
"I'm going to have to be pretty disciplined with it from now on, I'm going to need to average between now and the end 27 or 28 kilometres per day,'' he said.
Father Richard Thompson, the parish priest for the south Woden area, is currently walking the Camino de Santiago, a system of routes leading to the cathedral of Santiago de Compostela in northern Spain, and a shrine to James the Apostle.
He is doing the "full Camino'', 840kms from Saint Jean Pied De Port in France to Santiago de Compostela in Spain.
"I have wanted to do the Camino for some years, especially while my body can cope,'' he said.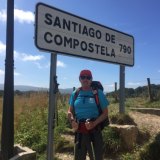 "Mainly to unclutter my mind, test my physical resolve and share the spiritual experience with like-minded people from all over the world.
"I have prepared by reading a lot, talking to those who have been here, physically training a bit and praying a lot.''
Father Richard started his trek on August 30 and plans to finish by October 3.
"Highlights include the people and their stories, the history and culture, the views, the times of solitude and my personal achievement each day,'' he said.
And for many, once the bug bites, it's hard to stop walking. James Buckley's next challenge may include the 3500km Appalachian Trail or 4279km Pacific Crest Trail, both in the United States.
"I thought this Great Britain walk would be a good little starter and I'll go from there,'' he said.
Megan Doherty is a reporter for The Canberra Times