There's a lot to keep you awake at night when you're the director of a national institution.
For National Archives of Australia director David Fricker, it's the thought of what parts of Australia's story might be lost if funding for collecting institutions continues to be cut.
The national collection of government records includes hundreds of thousands of audio-visual items, most of which will become inaccessible within the next 10 years, if not sooner, Mr Fricker says.
The types of records at risk include motion picture film, video and audio records created by Commonwealth broadcasting authorities and other agencies.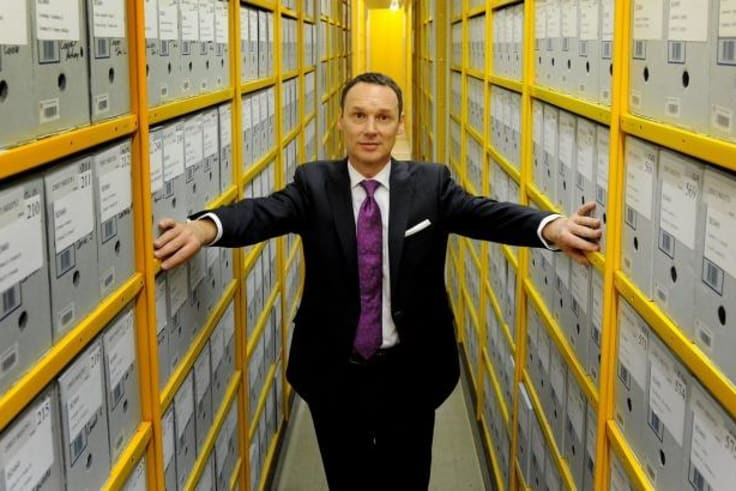 "By 2025, the international consensus is that if we haven't rescued all of our magnetic tape-based material, so that's audio and audio-visual, which is on magnetic tape, then either the tape will have deteriorated beyond use, or the technology to play back that tape will be unsourceable in any marketplace anywhere in the world," he said.
"None of the expertise to maintain that equipment or replacement parts will be available, so all of those factors seem to be converging to say that if you haven't got it off magnetic tape by the year 2025, the material is pretty much inaccessible."
Sister institution the National Film and Sound Archive has also announced plans relating to the 2025 deadline, to have digitised around half of its audiovisual analogue material - around 200,000 items.
The two institutions have several similar dilemmas at the moment, as Mr Fricker is preparing to move the institution from its temporary digs in Old Parliament House into its old East Block premises in the Parliamentary Triangle later this year.
The building was recently sold to the private sector, and will be leased back to the archives for the next eight years.
But Mr Fricker has bolder plans when it comes to how the institution should be housed.
"In the longer term, I've always thought that the public face of the archives could be better served by a building which is more designed to facilitate engagement with the public, to allow the people to come in and use new and emerging technologies, and get as much access and engagement with the collection as possible," he said.
In this, he has much in common with the recently appointed director of the NFSA, Jan Muller, who is also agitating for a new building to house the national audio-visual collection.
But while Mr Muller has his eye on a site on the New Acton Peninsula, near the National Museum of Australia, Mr Fricker says the archives should remain in the triangle, potentially using one of the greenfield sites close to the lake.
"The National Archives is about the documentary evidence of the Commonwealth of Australia, so it should be in the heart of the national capital in the parliamentary triangle," he said.
"I think that's the most, if you like, faithful position when you think about the overall concept and design of Canberra."
He said he hadn't ruled out the possibility of co-locating with the National Film and Sound Archive, but that there were "no plans on the table".
"The key thing is we're all prepared to collaborate across institutions, but what worries me is if you say, 'Well, why don't you all just be accommodated in one building?', you then lose the institutions," he said.
"What you end up with is just one kind of general service counter, and it doesn't work, because collections have quite different cultural significance, and they need to be treated in different ways."
Meanwhile, with recent staff cuts and no guarantee of any funding increases soon, Mr Fricker is not confident the archive will be able to meet the digitisation deadline by 2025.
"It's mainly a budget issue," he said.
"We have hundreds of thousands of hours of material on audio-visual media, and the last financial year we located $3 million, so we did make a significant investment. But we're going to need another $10-15 million to make sure that we've properly got that material out, and it's been described and it's been put in an accessible format, and then of course it needs to be on a digital delivery platform so that people can actually access it and use the material."
"It keeps me awake at night, and that's why we really need to keep driving and pushing as hard as we can to rescue that material."
Sally Pryor is a reporter at The Canberra Times.