A shot at the improbable dream
The day before the Canberra Repertory Society holds auditions for its staging of Alan Ayckbourn's Improbable Fiction, a snap decision is made in the In the City office: why not only cover the audition phase, but attempt to land a role as well?
It's an open casting call, after all. It's got to be worth a shot. It's only been 14 years since I took those after-school drama classes.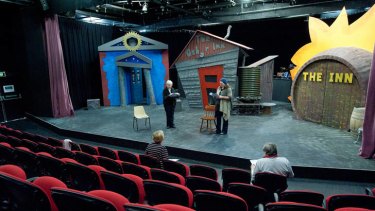 I pick up the script on Friday afternoon and highlight the designated lines for my character, Clem Pepp, an arrogant 25-35 year old science fiction writer who is presenting his hackneyed work to a small group of aspiring authors.
The afternoon is spent rehearsing lines with the valiant assistance of staff writer Rachel Packham, who then leads me astray by encouraging a festive evening at Questacon.
Though suffering no ill-effects the following morning, several cups of strong coffee are required. The mental fog lifts, but clouds of doubt about my readiness soon descend as I stand in the backyard, regaling my pet rabbit Digweed with my rendition of Clem.
It's an interrogation scene in act two, with Clem's character-within-a-character playing a humourless 1930s detective. I emphasise, enunciate and pause dramatically with the compelling force of Sir Ian McKellen. More or less.
"'Later on, having disposed of her, in your haste, instead of picking up those glasses, your own glasses, you picked up these glasses, her glasses,'" I accuse Digweed, who hops away to find another patch of grass.
It's difficult to tell if he's intimidated by this tour-de-force, or simply bewildered. But with only an hour left until the audition, there's no time to dwell on this silent feedback.
Arriving at Theatre 3, I'm greeted by Improbable Fiction's production manager, Mal Houston. I fill out a form asking for personal specifics, including previous theatre experience. Those after-school drama classes seem even more feeble when committed to paper.
I smile awkwardly for a casting photo and then Mal explains the ubiquitous role of production manager, which entails everything from OH&S, to assisting the director with casting, to managing the production's budget.
"[Canberra Rep] Council at the beginning of the year do a budget, and they allocate so much money per show," he says. "It's your job to make sure that each of the elements [fit] the budget – it could be the amount of money available for set, costumes, hiring specialist equipment for lighting and sound."
While the ACT government assists with rent, maintenance and upkeep of Theatre 3, funding largely comes from the public.
"Ticket sales are your major source," Mal says. "Donations are very important to us, we need more and more and more."
"But ticket sales, certainly," adds Rep council member Sam Hannan-Morrow. "It's what ultimately keeps us going as a company."
Sam is here today wearing his actor's hat, and is filling out the personal particulars form to try out for the roles of Arnold and perhaps also Clem Pepp – which worries me no end.
Sam, 35, has been acting for well over a decade, although he was "prone to putting on impromptu shows" as a toddler.
A public servant by trade, he has appeared in numerous Rep productions, including its 2012 shows Pride and Prejudice and Speaking in Tongues. Even so, the stage veteran confesses he still gets nervous before an audition.
"Nerves are a constant problem. When I was auditioning for Pride and Prejudice, I was literally shaking. But that can't change what you're doing," he says. "Basically, for me, you just ride the fear."
Any anxiety is well-concealed when Sam strolls into the auditorium and confidently takes the stage in front of director Corille Fraser.
"Feeling a bit nerdy today?" Corille asks, seated in the front row.
"Actually, I think I'm more interested in Arnold," replies Sam. "I like the constant thread he provides, particularly when everybody else starts jumping off the deep end in act two."
"Yes, it's a nice balance," Corille agrees, spending a few minutes discussing Arnold's motivations to assess Sam's grasp of the character.
Improbable Fiction marks Corille's 30th anniversary as a Rep director. While friendly and unintimidating, she leaves no question as to what she wants from each character – and the auditioning actor – with her direction.
Sam's readings for both roles are impressive, however, earning Corille's high praise – and a spot in tomorrow's group audition.
Afterwards, I sit down for a debrief with Sam and his partner, Heather Spong, a seasoned Rep actor herself.
"I think one of the tricks for an audition is to go in not too heavily rehearsed," Sam explains. "Because if the director wants you to do it a different way, you need to be in a position to do what they want."
Heather, who has also earned a call back for her audition today, agrees that flexibility is crucial – but warns against under-preparation.
"If the director wants the lines to be learnt, then there's a lot of time of typing things out, printing them off and putting them in spots where you spend a lot of time – like the back of the toilet door," she says.
"With this [audition], it was 'be familiar with' – basically, every time you've got a spare five or 10 minutes, you read either the parts you're having to read, or the entire play."
Heather works full-time in the Rep office during the week, fondly describing the organisation as "an extended, crazy family" – and, in fact, met Sam while they were both working on the Rep's production of Life x3 last year.
"We've had a lot of people who have met here and have subsequently got married," Heather says. "Later in the year one of my friends from uni, she and her partner didn't meet here, but they've been so heavily involved in Rep they're actually getting married here. We've had a couple of weddings here. When old members die, we've actually held wakes here, because it's a family thing."
The time has come, then, for me to attempt to join the family. I'm beckoned back into the theatre, where Corille asks how familiar I am with the play. I tell her the truth. She does not seem impressed.
I take the stage, script in shaking hand, and sit down opposite the designated line-reader, Naoné Carrel. It's my first mistake.
"Your character is presenting his work to the writers' group," Corille says. "So I think you'd be better off standing up."
I comply, and take a deep breath before commencing. Corille interrupts before I've reached the end of the first page. I need to stop shuffling my feet and project my voice to the back of the room. Clem Pepp is enjoying his moment in the spotlight, Corille explains, and should be dominating the other characters.
"From the top," she instructs.
I try again. More interruptions. And again. We reach the end of the extract. Corille asks me to skip through to the interrogation scene. This is not a good sign.
"'Instead of picking up those glasses, your own glasses, you picked up these glasses –'"
"Stop. 'You picked up these glasses'," Corille intones. "You have her on the spot, right where you want her. You're turning the screws and enjoying it."
I'm sweating. My mouth is going dry. Christ, I've lost my place in the script.
"There," I continue after a long pause, "you took off your reading glasses whilst you attacked her –"
"Circle around behind Naoné," Corille instructs. "You should be intimidating her, relishing this moment."
"In short, you took the wrong glasses, Miss Green –"
"Thank you, Douglas," Corille says. "We'll let you know."
There it is. The euphemism of death. A relieving moment for all involved.
It's this weeding process, of course, that guarantees a passionate (and proficient) performance by the Canberra Repertory ensemble when Improbable Fiction opens on November 22.
Improbable Fiction runs at the Canberra Repertory Theatre from November 22 to December 8.
A: Theatre 3, 3 Repertory Lane, Acton
P: 6247 4222 W: canberrarep.org.au
Most Viewed in Entertainment