Artists pair up for a real funghi time
What do you get when you team a lithographer with a glass artist? Mystical-looking mushrooms, of course.
Emilie Patteson, a graduate of the ANU School of Art, was more than a little apprehensive when she was teamed with a printmaker she had never met as part of an artist-in-residency at the Canberra Glassworks. But as soon as she met with fellow Canberra artist Annika Romeyn, who studied Fine Arts at Morgan State University in Baltimore, Maryland, US, it was clear someone had made the right choice.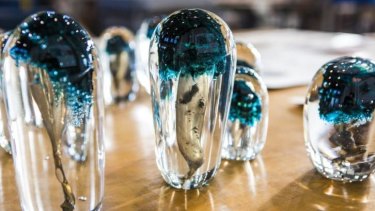 ''Annika and I just really gelled with our work,'' she said. ''We have a lot of overlapping themes. We're both really interested in nature, particularly in really fine details of the natural world.''
The GLINT project – a combination of glass and print – is a collaboration between the glassworks and the neighbouring Megalo Print Studio, to encourage artists from both disciplines to learn more about each other's practice.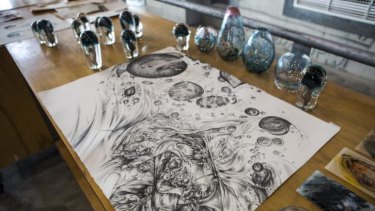 And when it came to nutting out some themes to focus on for their project, Patteson and Romeyn didn't have far to go.
For a pair of nature-obsessed, detail-oriented artists, the regular crop of mushrooms outside the Megalo studio, such a familiar feature of autumn in Canberra, became a focal point.
''That was just something really fun that happened quite organically in the first few days of the residency, to start finding some shared interests,'' Romeyn said.
''There were some amazing crops of mushrooms popping up right outside Megalo's doorstep. They were all interesting colours, so we thought, rather than trying to fit in with each of our own particular subjects that we'd been working with, it was good to have a middle ground, where we could use it as a starting point for drawings and try putting them inside the glass.''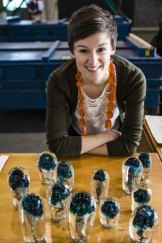 They began by sketching the mushrooms simultaneously, with very different results, and then decided to take them into the hotshop in the Glassworks to see what would happen.
''Often in my work I burn the organic material – normally I use eucalypts or wattle or other plant matter. But I'd never done mushrooms before, so that was pretty exciting,'' Patteson said.
''They're trapped in the glass and they burn and gas, and they colour the glass these beautiful colours, and the remnants get trapped inside.''
The results of the glass-encased mushrooms inspired the pair to create a large-scale lithograph of the results – an image drawn onto a slab of limestone using a greasy crayon, which is then used to transfer the ink version onto paper.
As a final touch, they experimented with copper powder within the glass pieces, creating smoky, bright blue mushroom heads to top off the real glass-encased mushrooms.
''We really loved it. They're so easy to identify but they're also quite otherworldly, like they'd glow in the dark, or something,'' Patteson said.
She said the residency had gone so well that the pair were already planning future collaborations together.
''It's so interesting talking to someone who doesn't really know the limitations of what you can do,'' she said.
''So much of my degree was talking about what temperatures you can take the glass to and what materials you can add, but having someone come in fresh and say, 'What if we do this or that?' It gets you excited again.''
Their mushrooms, along with the work created by three other pairs of artists as part of the residency, will be on show at the Canberra Glassworks from July 2 until August 3.
Sally Pryor is a reporter at The Canberra Times.
Most Viewed in Entertainment