Carlson impresses with her art of gold
Growing up on the banks of the Deua River south of Moruya on the NSW south coast, artist Sarah Carlson was constantly inspired by her surroundings.
''I was literally in the bush every day and it's been a massive influence on my work and it still is to this day,'' she said.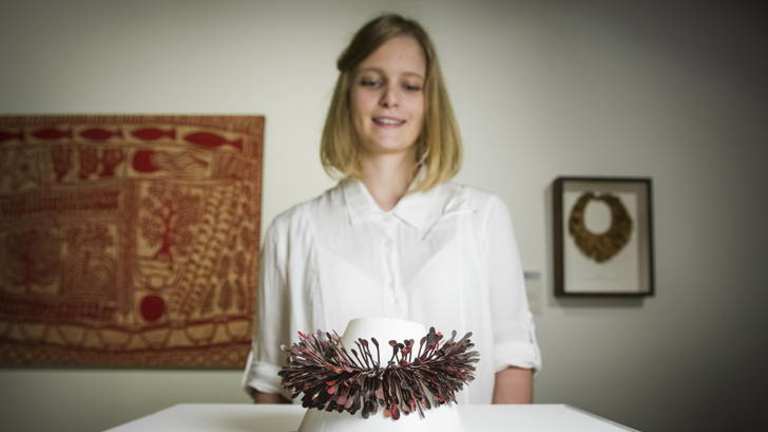 ''When I need new inspiration, I go home.''
Carlson, 22, is now living in Canberra after finishing her studies in gold and silversmithing at the Australian National University School of Art and scoring a new job at the National Gallery, working with its foundation.
A stunning example of her work - a copper and 18 carat gold necklace modelled after the correa plant - is now on show at the National Archives as part of the Waterhouse Natural History Art Prize.
Thirty-two of the winning and highly commended artworks from what is the richest natural history art prize in Australia will be on display at the archives until November.
Carlson's work, Correa Leaves Collar, was second-place winner in the Waterhouse Youth Art Prize. Like the other works, it is for sale. It has a price tag of $8000. The necklace took Carlson 200 hours to make, ultimately to replicate the repetition and movement of the correa leaves.
''I'm just very passionate about Australian botanics. I think they're incredibly beautiful and I hope to draw people's attention to them and for people to even have a brief encounter with them and experience their beauty,'' she said.
The art prize was started by the South Australian Museum 10 years ago.
Its manager of temporary exhibitions Tim Gilchrist said the competition allowed each artist to celebrate the beauty and fragility of nature in any medium.
There are feathers fashioned from corrugated iron as a comment on development encroaching on green space and birdlife. The weeping face of a Tasmanian devil to highlight the facial tumour disease afflicting the iconic animal. A chair that has grown beautiful pink anemone.
The competition is named after the museum's first curator from the 1860s, Frederick George Waterhouse, who was also a leading naturalist.
''Our head of public programs had the idea to start a competition to look at nature and build a connection between science and art,'' Mr Gilchrist said.
''As a natural history museum, we're science-focused but there's obviously a lot of art throughout history connected with science and nature.''
The competition has a prize pool of $114,500 including a $50,000 first prize which this year went to a painting, Anatye (Bush Potato) by indigenous artist Margaret Loy Pula.
Canberra artist, Jenni Kemarre Martinello, was highly commended for her glass piece, Rushes Eel Trap, in the sculpture and objects category.
The exhibition will be on show at the National Archives from today to November 11. Entry is free.
Most Viewed in Entertainment