Erarta Museum and Galleries of Contemporary Art in St Petersburg
With the collapse of the Soviet Union in about 1989, Russian art became flavour of the month in the West and with several private art collectors.
A few artists, including Ilya Kabakov, Erik Bulatov, Vitaly Komar​ and Alexander Melamid, Evgeny Chubarov and Ernst Neizvestny​ have become widely recognised in the West and have retained their popularity, but general interest in Russian art has waned in recent years, especially with the new wave of Russophobia that has been fanned by some American and European political leaders.
As with several other petro economies, the Russian economy has contracted over the past few years and disposable income for art collectors has been among the earliest casualties. However, possibly as part of the Soviet heritage, popular interest in the arts in Russia remains immense, especially in the visual arts. This was witnessed in January this year when about half a million people queued in Moscow, sometimes for hours in the snow and freezing temperatures, to see a retrospective exhibition of the Russian "Impressionist" painter, Valentin Serov during the 3½-month showing at the Tretyakov Modern Gallery. Serov, who could be described as Russia's equivalent to Australia's Rupert Bunny, drew huge crowds that included Russian president Vladimir Putin.
One of the most remarkable recent developments in the display of contemporary Russian art has been the establishment of the Erarta Museum and Galleries of Contemporary Art in St Petersburg that first opened its doors in late 2010. It now occupies a large five-storey building and has satellite art galleries showing and selling contemporary Russian art in London, New York, Zurich and Hong Kong. Erarta was founded by Dr Marina Varvarina, the media-shy widow of murdered Russian business magnate, Dmitry Varvarin, who was founder and co-owner of the Orimi holding company, with interests including timber, construction, meat imports, tea, oil and transport, and who was shot dead in St Petersburg in March 2000. It is one of several private museums in Russia founded by wealthy business personalities, including Aslan Chekhoyev's Novy Museum in St Petersburg and Alexei Ananyev's Institute of Russian Realist Art in central Moscow. Of all of these, Erarta is the most spectacular, professional and far-sighted.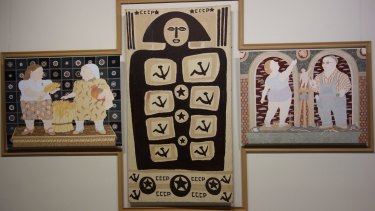 Erarta, the name possibly a play on Era of Art or the Love of Art, is housed in a large Stalinist-style neo-classical building on Vasilievsky Island in central St Petersburg. It is huge and boasts a collection of more than 2300 works of art by more than 250 Russian artists from 1945 to the present. There is a floor space of 10,000 square metres over the five storeys, with eight new temporary exhibitions every three months and about 300 lectures and events held annually in its 800-seat auditorium. Everything is very professional, the art well lit, the bilingual labels are intelligent and presented in flawless English and the staff helpful, plentiful and well-informed. The museum shop, library and restaurant add to the impression of an accomplished modern institution.
The biggest surprise is not only the calibre of the art, but also its breadth and diversity. There is no single prevailing orthodoxy and while I cannot claim equal enthusiasm about all of the exhibits, there was much here by artists whom I have never seen before and a large number of works drawn directly from artists' studios from throughout Russia, with a particularly strong showing at the time of my visit by artists from Novosibirsk, Nizhny Novgorod, Yekaterinburg and Kostroma as well as the better-known artists from Moscow and St Petersburg. Downstairs there is also a commercial art gallery space selling the work by some contemporary Russian artists that is also available through Erarta galleries abroad. Erarta boasts of being the largest private museum of contemporary art in Russia and is certainly one of the finest and as of a few months ago became also accessible digitally through the Google Cultural Institute Project.
The opening hours are generous, 10am to 10pm, and after a full day I remained very impressed by the intelligence of the display and the friendly access to the collection. Photography is not only allowed, but encouraged. Unlike many of the other private Russian art collections, this one is completely catholic in its taste with a sprawling interactive installation by Dmitry Kawarga, brilliant expressionist paintings by Nikolay Sazhin, an exhibition of minimalist, conceptual art, poster art, Moscow art from the Mars Collection, Russian Fluxus and grunge art. There is film, photography as well as a huge sculptural installation by Sergey Karev titled Track of a Worm.
Erarta is one of the most important developments for the advocacy of Russian art in recent years and has become a must-see attraction for anyone interested in contemporary art.
Erarta Museum and Galleries of Contemporary Art, Number 2, 29th Line, Vasilievsky Ostrov, St Petersburg, Russia.
Most Viewed in Entertainment