Faces from all walks of life
An exhibition marks 60 years of Judy Cassab as a great portrait painter, writes Sally Pryor.
If all the portraits Judy Cassab has ever painted were compiled in one room, they would tell the history of Australia over the past 60 years - a history of faces and of people, from all walks of life.
''Business people, church people, socialites, models, artists, actors, composers, opera singers - you name them, she's painted them,'' says Joanna Gilmour, who is curating an exhibition of Cassab's portraits opening this week at the National Portrait Gallery.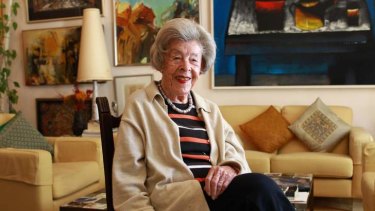 One of Australia's most successful and prolific portrait artists, Cassab has been painting portraits since she arrived in Sydney from war-torn Europe in 1951. She has had more than 50 solo shows, in most Australian cities as well as London and Paris, and has won the Archibald Prize twice. Now, at the age of 93, she is being celebrated in institutions in Sydney, Melbourne and Canberra to mark 60 years since her first show.
The artist's diary profiles six decades of Cassab's work, from her earliest commissions in Australia in the 1950s to later works that have cemented her reputation as one of the country's most accomplished portrait painters.
It's a show that Gilmour has been dreaming of for some time, although her personal dream of collecting all Cassab's works in public collections together is only half fulfilled this time. To fill an entire room with Cassab, she would need to borrow from other galleries and collections, many of which, including the Sydney Opera House and the Sydney Jewish Museum, are displaying their own Cassab acquisitions as part of the major national retrospective.
Aside from the diary of Australian life that is her oeuvre, Cassab also has a fascinating life story. Born into a Jewish Hungarian family in 1920 in Vienna, she lost many family members in the Holocaust, but managed to live out World War II under an assumed identity. While her husband was put into a forced labour camp in Russia, she worked in a factory in Budapest using the identity of her Catholic housemaid.
When Hungary was taken over by the Communist regime after the war, she and her husband, along with their two young sons, migrated to Australia, and Cassab established herself as a portrait painter almost immediately.
During a 60-year career, she has received commissions from political figures, celebrities and private citizens, as well as members of the British royal family and the Queen of Thailand.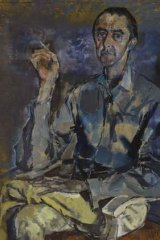 Cassab, who kept diaries during the war and has several recorded oral histories in the National Library in Canberra, studied art in Prague and Budapest in the 1930s and 40s, and always knew she wanted to be an artist. ''She actually still has in her possession the first portrait that she ever did, when she was 12 - a drawing of her grandmother,'' Gilmour says.
''From a very young age, she's been a very talented artist, and has also always known that that was her passion and that was what she'd always wanted to do, and she's been doing it for most of her 93 years.''
Although Cassab is best known for her portraits, she's also an accomplished landscape painter, with several entries in the Wynne Prize at the Art Gallery of NSW.
''She started travelling to central Australia in the 1950s and '60s, and even though she could hardly speak English at that time and found the landscape completely bizarre, she was just totally inspired by it, and has done a number of paintings,'' says Gilmour.
But it's her vivid, modernist portraits that have made their mark in the Australian art canon. When Cassab won the Archibald Prize for the first time in 1960, she was only the second woman to do so, after Nora Heysen more than 20 years earlier. Her portrait, of fellow artist and migrant Stan Rapotec, stood out from what was then the usual stodgy, male-dominated fare on offer at the time.
''It's a very distinct style. You can always tell a Judy Cassab, I think,'' Gilmour says.
''There's, to me, this wonderful blend of configuration and abstraction, a really wonderful incorporation of abstract notions and elements into her work.''
The style is even more distinctive, she says, when compared with Cassab's contemporaries, who were also vying for the Archibald in the 1960s.
''The paintings that basically were the sort of paintings that were winning the Archibald at that time [were] these very brown, conservative pictures of blokes in suits, painted by male artists, of course, pretty much from the time the Archibald started in 1921,'' she says.
''Until the '50s and '60s, there were four or five male artists who seemed to have a lock on the prize, all of them accomplished painters but very much working in this very traditional sort of idiom. So people like Judy, when you see her paintings and you put them in that context, are a real sort of breath of fresh air. There's this wonderful colour and sensitivity. There's not this slavish, academic attention to a sitter. It's much more lively, much more exciting, I suppose.
''You can see the way she handles the paint very vigorously. They've just got this freshness and vivacity that makes them stand out.''
Cassab is also known for her ability to put her sitters at ease - a useful talent when asking someone to sit for long periods, and one that comes through in her finished works.
The exhibition combines two streams of her work - the official commissions and the sitters she painted for the love of it. The result, Gilmour says, is a fascinating record of a whole cross-section of Australian society over six decades, in a modern style that began well ahead of its time.
The National Library will also be displaying seven of Cassab's works in the Pictures and Manuscripts Reading Room, including a recently acquired portrait of the writer Thomas Keneally, and one of the Australian writer Morris West.
The artist's diary: portraits by Judy Cassab, is showing at the National Portrait Gallery until March 10.
Most Viewed in Entertainment