How Klaus Moje changed Canberra's glass art
German-born glass artist Klaus Moje created his own aesthetic language and his legacy as a teacher continues to influence Australian artists.
In 1976 the Museum fur Kunst und Gewerbe in Hamburg acquired what would be the first publicly held work of art by German-born glass artist Klaus Moje. It was a small oval bowl just over 17 centimetres in length formed from a simple honeycomb patterning of white mosaic glass. Moje was then 39 and was working out of a small studio in nearby Danziger Strasse, building a reputation and experimenting with new techniques. The bowl was one of the first pieces he made in the mosaic technique which he would go on to use in larger and more complex works over the course of his career. Now Moje's work attracts worldwide recognition and is held in more than 60 public collections. But there is always something intriguing about beginnings. If seen today, would this small white bowl possess a little of the magic that links it to the great arc of an artist's career, or would it be simply a notable but diminutive beginning?
Thinking back to those days Moje remembers the wealth of art exhibitions, museum collections and theatre productions which underpinned the vibrant cultural life of Germany in the post-war decades. Modernism was enjoyed and re-assessed while the Documenta shows heralded the wide and wonderful potential of conceptual painting and sculpture. Museums were building their collections: in Hamburg, the art museum (Kunsthalle) was augmenting its holdings with gems from the early modernists such as Klee, Kandinsky, Munch, Kirchner and Nolde and bringing in major international shows. The great applied arts collections of the Museum fur Kunst und Gewerbe featured exceptional work by the masters of art deco, art nouveau and the Bauhaus, while the splendid neo-classical theatre hall, the Deutsches Schauspielhaus, offered a rich and varied program. "It was fantastic", remembers Moje, "you could sit for $2 up on the rail and watch the shows". Contemporary art, design, theatre, music and poetry would continue to play a large part in Moje's life and work: the heroic qualities of Schiller, Shakespeare, Brecht and Homer emerge as undercurrents of expansive but controlled energy in his later work while the expressive potential of modernism would remain a major part of his visual language.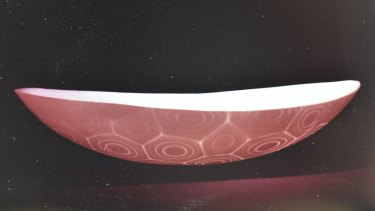 In the 1970s Moje and his then wife Isgard Moje-Wohlgemuth worked from a joint studio in the inner Hamburg suburb of St Georg. Moje had developed part of this studio into a small gallery – the Werkstatt Galerie – unique for its time because there were no other commercial galleries in Germany set up to carry what was then becoming known internationally as "studio glass". In doing so Moje tapped into the momentum that was gathering across the United States and Europe in which growing numbers of artists were working independently of the large glass manufacturing houses. Through the Werkstatt Galerie exhibition program Moje introduced the work of many of these now well-known studio glass artists to Germany. In turn his own work was gaining an increased profile through overseas exhibitions and workshops.
In 1980 the Museum fur Kunst und Gewerbe mounted a joint retrospective of his and Isgard's work. The show was an early milestone and included some of Moje's first mosaic work whose strength at that time lay a simple bold confidence of colour and pattern. This would be the last time the artists showed jointly. By the time of the show the two had separated and Isgard had moved to establish her own practice in Bremen. Moje's second solo show followed in 1982 at Galerie SM in Frankfurt. By then his work had exploded into brilliant colours of abstract mosaic that was literally unlike anything seen before and which would continue to be a cornerstone of his future work. In the meantime Moje had been head-hunted by the Australian National University School of Art director Udo Sellbach to establish the school's new glass workshop. Moje and his partner, ceramicist Brigitte Enders, arrived in Australia in 1982 and Moje spent the next 10 years building the school's glass program with a blend of open inquiry and technical discipline that has given the school a worldwide reputation. After 10 years Moje left the school to focus again solely on his own studio work and over the subsequent decades there have been awards, commissions, acquisitions and international shows, including the most recent major touring retrospectives in Australia (2006) and the United States (2008). Added to the list of exhibitions this year were two shows in Berlin: a two-person show with Richard Whiteley at the Berlin Gallery Lorch+Seidel and a joint show of Australian artists working in glass at the Australian Embassy. The show at the Australian Embassy in Berlin testified to Moje's ongoing legacy as a teacher as it featured work by two generations of Australian artists who have had direct links to his teaching at the Canberra School of Art.
Over these years Moje has been led by a single-minded commitment to his own vision which I would describe as something akin to the critic Jed Perl's description of Cezanne's life work as a "slow-building power". There is no doubt that Moje, beginning his career in Germany, valued the great European traditions of glass such as those embodied in art noveau, art deco, the later Wiener Werkstätte and the long standing traditions of Scandinavia and Bohemia, so much a part of European foundations but so scarcely remarked by the early American studio glass. At the same time Moje was intent on creating his own particular aesthetic language, that vibrant mix of saturated colour and geometry that continues to inform his work today.
Moje has fond memories of many of his pieces, even those made very early on in his career. Lionel Trilling speaks of Tolstoy showing an endearing "consistent affection for his characters", and Moje shows a similar loyalty to these early works, as only an artist so quickly sure of his vision can be. When I did finally see Moje's small white bowl, carefully brought out for me from the storage shelves in the Hamburg museum, I should really not have been surprised. It was a beautiful piece that had not lost one ounce of magic.
Nola Anderson is an arts curator and writer currently writing a book on the life and work of glass artist Klaus Moje. Anderson has recently been awarded grants from the Federal Republic of Germany in Canberra and the ACT Arts Fund 2016 project funding to complete her research. Recent works by Klaus Moje will be on display in a solo show at Sabbia Gallery, Sydney, opening on November 5.
Most Viewed in Entertainment