Memories stem from plants
The Nature of Memory. Jess Dare. Bilk Gallery, Manuka. Tuesday to Friday, 11am-5pm, Saturday 11am-4pm. Until July 5. See bilkgallery.wordpress.com
Jess Dare's exhibition invites us into another space beyond that of its visible objects. Following her reference to the influence of the Blaschka father and son partnership on her work, I spent an informative afternoon learning more about these remarkable German craftsmen (Leopold Blaschka, 1822-1895, and Rudolf Blaschka, 1857-1939). Between 1887 and 1936 they made lifelike glass replicas of small invertebrates for natural history museums as well as the astonishing collection of 3000 botanical specimens that comprise the Ware Collection for Harvard University. Using lamp-working techniques, the two men were able to replicate in their three-dimensional models all the intricacy, colour and detail that other methods for preserving species were not able to achieve.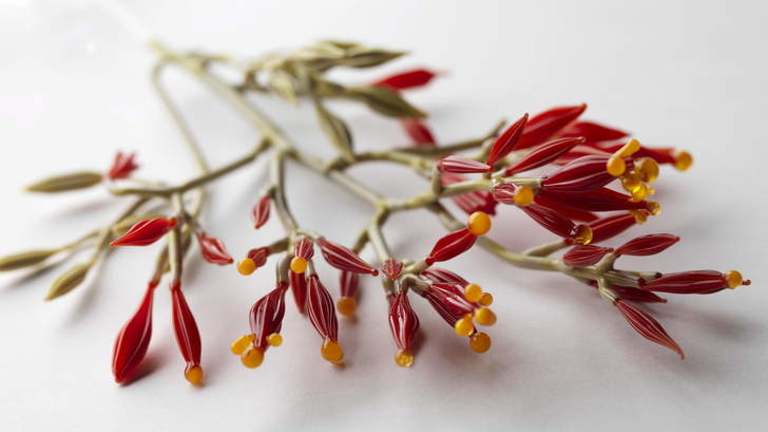 Dare is also intrigued by preservation, not only of the outward appearance of objects, but of their resonance in the memory of place and time. Her grandfather, whose death in 2011 affected her response to the passage of time, also felt the need to preserve the minutiae of each day. As his commonplace books in the exhibition reveal, he had an intense interest in gardening and the vagaries of weather, with temperature and rainfall being meticulously recorded along with the coming and goings of everyday life.
Dare endeavours to preserve the memory of plants and flowers by rendering an account of their actual forms through lamp-worked glass in the same spirit that the Blaschka craftsmen reproduced their models. Lamp-working is where direct heat (in contemporary work it is usually a blow torch) is used to melt borosilicate glass, which is then manipulated by hand and formed with tools. It is an age-old method of working with glass used for beads and paper weights as well as small decorative objects. Dare has learnt her considerable skills working with Loren Stump, an American who is one of the foremost exponents in this field.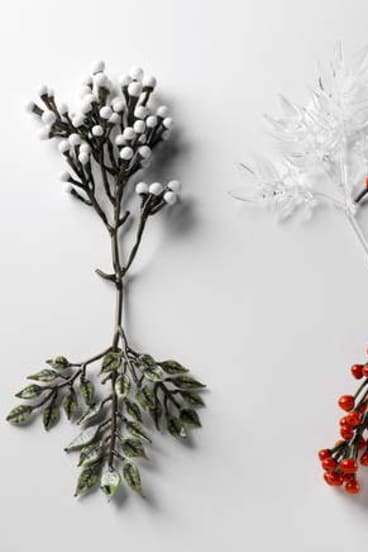 Dare's series Conceptual Flowering Plants Collection consists of miniature imaginary glass flowering plants with tiny berries, flowers and intricate root systems. I wondered how these could be displayed because of their obvious fragility. The artist suggests they could be shown in glass domes, the way specimens were in Victorian times, or in modern shadow boxes. I would have liked to see an example of this in the exhibition. Likewise Dare's very impressive photographs of botanical specimens, which relate so pertinently to her work, could have been enlarged and given more prominence.
Dare also makes jewellery and is a partner in the well known Grey Street Workshop and Gallery in Adelaide. The exhibition demonstrates the close link between her glass botanic models that function as decorative objects and her other objects that function as wearable jewellery. The neckpieces, brooches and earrings that make up the jewellery collection are much more robust and subservient to the strictures of design than the glass models of plants. They demonstrates how Dare can abstract the essential nature of a natural object and then make jewellery that references the natural object but moves beyond its representation into elegant and contemporary design.
The jewellery consists of two series - the Xylem series, which is inspired by the transport system of plant tissue that carries water within the plant and the Epicormic series, which is based on the nodes within a plant that lie dormant until regenerated by external forces of nature.
The jewellery is made from powder-coated brass and copper with glass being used in some cases to provide a colourful decorative accent. The long necklaces in either black or white enamel sections are made in two parts - the half that sits at the back of the neck is the more flexible, while the other half that forms the bottom is more rigid. While this means they have some degree of flexibility, they do in general tend to form themselves to the body contours so they sit rather than hang on the body. Their association with plants also suggests the idea of wreaths, particularly in the works where there are twisted knots and branching forms like roots and stems systems. This perhaps may hearken back to Dare's childhood habit of making necklaces and earrings from natural materials in the garden.
The Xylem series of brooches and earrings in white enamel are made from twisted and articulated links that look like vascular systems. The brooches of the Epicormic series appealed to me the most. In contrast to the rather chalky look of the white enamel used in the Xylem series, these brooches are sleek and shiny with their black forms punctuated by little colourful glass nodes that strike a pleasing decorative note.
We all have the desire to preserve the ephemeral nature of our memories. Dare sees interesting parallels to this need in the way people have attempted to preserve the beauty of nature through the collecting and preserving of botanical specimens. Of course in the end nothing can be preserved for ever. Even the Blaschka glass models are now showing signs of deterioration.
Jess Dare's exhibition is one of those exhibitions that you leave feeling you have gained an empathetic insight into the work of an artist with something meaningful to say.
Dare is one of the finalists in the 2013 Waterhouse Natural Science Prize. Selected works from the prize will be on exhibition from July 20 to September 8 in Adelaide and will travel to the National Archives of Australia in Canberra at a date to be announced.
Most Viewed in Entertainment