Packing a punch
One poster sums up a master's genius, Emilie Owens writes
Henri de Toulouse-Lautrec was an extraordinary poster artist. Though he made just 30 posters in his short life, they are the works for which is he is best known. One of the things that I find most exciting about the National Gallery's Toulouse Lautrec: Paris & the Moulin Rouge is that 17 of these posters are being displayed together. A friend of Lautrec's once likened the impact of his posters to ''a fist in the face''. When you walk into the fourth room of the show and are faced with the large posters hung together on the walls, you can certainly see where he was coming from.
Lautrec was known for his wicked sense of humour and biting satirical wit. He was a skilful caricaturist and could reveal the personality of his subject with a few swift strokes. This ability, which made him unpopular with society ladies who refused to have him paint their portraits for fear he would make them look ugly, is clearly shown in my favourite work from the exhibition, Queen of pleasure [Reine de joie]. Lautrec made the poster to advertise a novel that tells the story of a courtesan, Alice Lamy, and a wealthy banker with whom she makes a deal: a fashionable apartment and monthly allowance along with jewellery and other gifts in exchange for her services.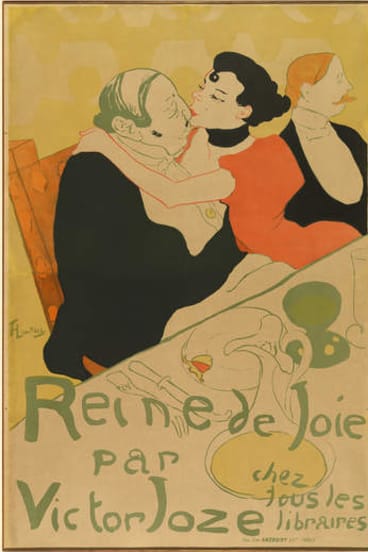 The poster is brutally honest in its depiction of the couple. Lautrec has chosen to show the moment of the novel at which the deal is sealed - the banker has just slipped Alice the contract for her new apartment and she leaps to embrace him. Overweight, balding, his plate emptied, wine glass full and with the carafe in easy reach, the banker is a stark contrast to the much younger woman with her jet black hair curled fashionably on her forehead and rosebud lips complementing her vivid red dress. With his eyes closed in contentment and arms folded across his ample belly, he seems oblivious to the just perceptible look of satisfaction in the slightly opened eye of Alice.
Queen of pleasure caused quite a stir when it appeared on the streets. It is my favourite work for its frank and humorous treatment of a common subject to which the bourgeoisie attempted to turn a blind eye. Imagine walking past this huge poster on a Parisian boulevard in 1892! The young gentleman in the right of the image turns away from the couple's exaggerated display of affection with knowing disdain. When I look at him, I picture a similar, more violent, reaction from the upper-class ladies and gentlemen out for their daily promenades.
Another reason the poster appeals to me is for its treatment of Alice. While contemporary critics maligned her character as a sordid object of vice, to me Alice appears a woman in control. Lautrec never flinched from the truth in his art. He depicted his subjects - particularly those from the underbelly of Paris - with honesty and often tenderness. Here he shows the courtesan literally grasping the opportunity afforded her by this doddering older man, an opportunity that would keep her fed, off the streets and out of the maisons d'abbatage - or ''slaughterhouses'' - as the brothels of the lower-classes were known. While wealthier people may have turned up their nose at Alice, the grim reality of life in the Parisian underclass should have given them pause. Part of Lautrec's brilliance consisted of his rejection of such moralising.
Emilie Owens is assistant curator, Kenneth Tyler Collection International Prints, Drawings & Illustrated Books at the National Gallery of Australia
Most Viewed in Entertainment
Morning & Afternoon Newsletter
Delivered Mon–Fri.