Shaun Gladwell skates into Campbelltown Arts Centre with new video
The teenagers who hang out at Campbelltown Skate Park know to be wary of artists bearing gifts.
So they were on guard when Shaun Gladwell showed up in June with an entourage of dancers dressed vaguely in military-style uniforms offering new skateboard wheels in exchange for their old ones.
''The guys we ended up hanging out with were very inquisitive,'' Gladwell says. ''They wanted to know if we were working for the arts centre, where these new wheels come from, were there any strings attached.''
But the skateboarders were also pragmatic. ''They were like, 'If this is some weird art project, we don't care.' We just want the new wheels.''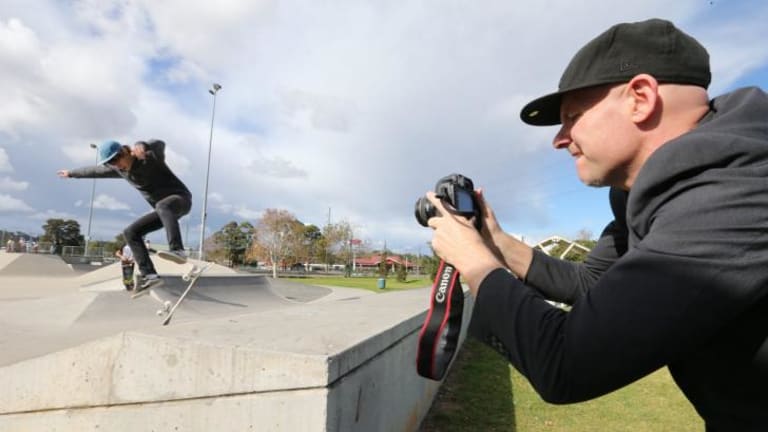 And a "weird art project" is what it was, the beginning of a piece that pairs a video showing footage of the interaction between the military-clad dancers and the skaters, and the old skateboard wheels themselves, which will be physically present (dialogue in the video will be translated and dubbed over in Japanese and in the indigenous language of Coonamble, to reflect Campbelltown's sister cities of Coonamble and Koshigaya).
The work will be shown, along with another work showing Gladwell doing bike stands around Campbelltown, at Campbelltown Arts Centre as part of The List exhibition, which opens on August 8.
Designed to chart youth culture in western Sydney, The List features new works by 13 artists who worked with young people at organisations like Mission Australia and Macarthur Disability Services as well as local schools.
Michaela Gleave's performance work is based on stories of bullying and mental health, while Zanny Begg's video explores ideas of utopia with the inmates of the Reiby Juvenile Justice Centre.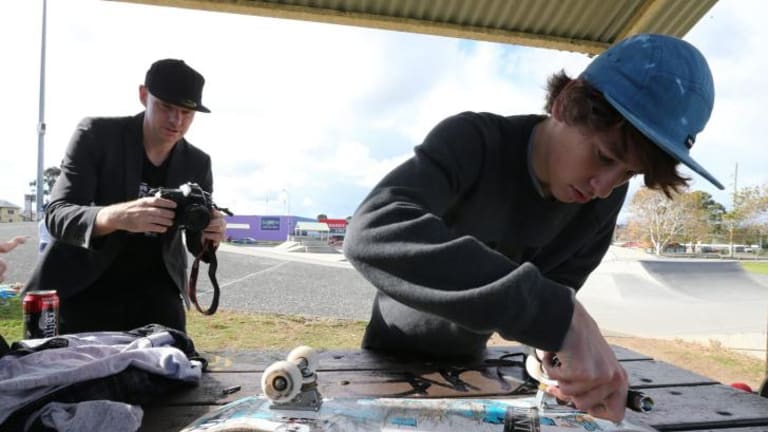 The director of the Campbelltown Arts Centre, Michael Dagostino, says the video art in the show ''capture[s] the dialogue of youth culture today in real time''.
Other works reflect ''communal understandings and exchanges between the artists and young people'', he says.
A former pro-skater who often depicts extreme sports in his digital art, Gladwell is the most distinguished artist in the exhibition, having represented Australia at the 2009 Venice Biennale.
He visited Campbelltown Skate Park a decade ago to create the 2005 video He was f---ing his shoes up so I gave him mine (D.C's).
Gladwell says his experiment with gift-giving was based on the ''hearts and minds'' military strategy he witnessed while in Afghanistan as a war artist, where soldiers enter a community, provide a service or gifts and leave without a trace.
Gladwell describes the apparent kindness of soldiers as ''insidious'' because it is both community work and a very deliberate military tactic that can compromise the recipient.
''I wanted to set up the same process of people coming into a space unannounced and then offering something that seems appealing at the time,'' he says.
Dagostino says Gladwell's project was designed to create a ''conceptual portrait'' of the park and this community. ''Shaun's work is responsive to the demographic realities of Campbelltown and the power of youth culture, influence and ownership, which is the rationale of The List,'' he says.
Gladwell can talk philosophy and art history but he says his skate park project was humble in its aims.
''It wasn't a cataclysmic conceptual move that I was hoping to crack some nut open about art being in the community,'' he says. ''It was just an experiment: What happens when someone comes into a space and offers something you weren't expecting?''
Gladwell recently created a dance work for the Keir Choreographic Award, while a coming work reimagines Wagner's opera The Flying Dutchman as a surf film shot at Bronte Beach.
''If Wagner was alive he probably would have been a good surfer … because of the drama, the sense of the sublime,'' he says.
Now based in London, Gladwell says he expects to return to the skate park for future art projects.
''Every eight, nine, 10 years, I'll keep going to this place kind of like, I don't know, Monet going to the Rouen cathedral facade or visiting haystacks,'' he says.
''The same thing again and again, in different ways, with different approaches, looking at how the location changes.
''I do like that idea that it becomes a special location for me.''
The List is at Campbelltown Arts Centre from August 8 to October 12.

Andrew Taylor is a Senior Reporter for The Sydney Morning Herald.
Most Viewed in Entertainment
Morning & Afternoon Newsletter
Delivered Mon–Fri.