Sound and colour dance a duet
Colour Music – A fusion of the senses. ANU Drill Hall Gallery, Kingsley Street, Acton
Closes September 25, Wed-Sun, noon-5pm
th century, synaesthesia in the visual arts, like theosophy to which it was contemporary, was all the rage on the international modern art scene. Somehow, after the first burst of enthusiasm, at least by the 1950s the initial excitement for both synaesthesia and theosophy petered out and they became buried in history books.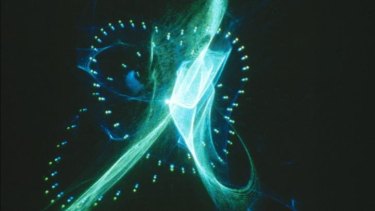 Synaesthesia, when discussed in the context of the visual arts, has generally two meanings. The first deals with art made by people experiencing a neurological phenomenon, where a sensory pathway leads to an unexpected, involuntary experience in a second sensory pathway. They may experience a vision or hear sounds and relate this in an artwork. The second is more broadly based and less scientific, where an artist plays with physiological stimuli that may evoke a secondary response. In a famous passage, Wassily Kandinsky wrote "Colour is the keyboard, the eyes are the hammers, the soul is the piano with many strings. The artist is the hands which plays, touching one key or another purposively to cause vibrations in the Soul." This exhibition focuses primarily on this second meaning of synaesthesia and the intentional intersection between image and sound. What is explored is the multi-sensory explorations which extend into visual music and audio-visual art.
The show is incredibly ambitious in its scope and examines several generations of Australian artists who have responded to the challenge of synaesthesia. The highlight of the exhibition is the early generation of Australian modernists, particularly Ludwig Hirschfeld-Mack and Roy de Maistre. Hirschfeld-Mack worked at the Bauhaus at Weimar in the 1920s where he furthered the cause of the "Farblichtmusiken" ("coloured-light-music"), which sought a visual translation of music. He fled Hitler's Germany to seek refuge in England, but soon found himself interned as an enemy alien and deported to Australia on the Dunera. Britain's loss was Australia's gain and for many years "Dr Hirschfeld" taught as the art master at Geelong Grammar and inspired a couple of generations of future Australian artists. This exhibition brings together his very early work from the 1920s, through to his later teaching pieces and reconstructions. His significance has only been fully realised over the past couple of decades.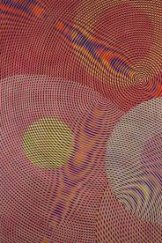 Roy de Maistre was Australian-born and was Hirschfeld-Mack's exact contemporary. He trained both as a musician and painter and may have embarked on colour as therapy for shell-shocked soldiers during the Great War. His colour charts, showing the correspondence of musical notes to specific colour hues, proved influential amongst modernists in Sydney until de Maistre left Australia for good in 1930 and settled in London, where became close friends with Patrick White and Francis Bacon. In the work of both de Maistre and Hirschfeld-Mack there is a beautiful simplicity and a conviction in the "scientific" basis of their work. They were part of an international movement and were convinced that they were uncovering a basic truth about human creativity.
In the subsequent part of the exhibition much of the certainty seems to evaporate and there are a number of individual players pulling in very different directions. The temperamental Stan Ostoja-Kotkowski developed his chromasonics, pioneered experiments with laser kinetics and "sound and image" manipulations and generally attempted to marry technology with art production, so that you could see the sounds and hear the colours. Frank Hinder also developed an interest in colour and music, especially after his return from America, and it was an important facet in his multifaceted career.
The curator of this exhibition, Tony Oates, has also extended his interests in synaesthesia into the practice of contemporary artists, including the painters Cathy Blanchflower and John Aslanidis. Although to some extent the link can be seen as a logical progression, this becomes a very rich field for exploration that embraces most artists who are interested in sound and colour.
This is a fantastically rich exhibition that encourages repeat visits. The whole psychedelic tendency in art is ultimately a grandchild of early experiments in synaesthesia.
Most Viewed in Entertainment