Support from within
Yass Valley's art scene is vibrant thanks to a group of local artists, Jennifer Kingma writes
Just one hour from Canberra in the Yass Valley is the home of YASSarts, a vibrant non-profit community organisation driven by passionate volunteers.
Symbolist artist and community activator Kim Nelson is one of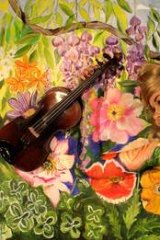 them. On Australia Day, Nelson was named the Yass Valley shire's 2013 citizen of the year.
''The award came from nowhere and it's embarrassing especially when you know as many good people as I do,'' he says. ''But [the award] helps to shine light on so many who are talented and who forget to tell others what they do. The award is an opportunity for me to do this on their behalf.''
Nelson is also a finalist in the $40,000 John Glover Art Prize, the largest prize for landscape art in Australia. The winner will be announced in March.
Thanks to Nelson, YASSarts has a website that features the YASSarts Arts Trail, an annual weekend expose in
November of artists' studios, exhibitions, music, dance, poetry, writers' workshops and theatre.
YASSarts is hopeful of receiving adequate funding and sponsorship in the future.
''I spoke to Yass council and tried to get financial support but it wasn't forthcoming,'' Nelson says. ''At the same time I thought we could go ahead anyway. So it's still very much in its infancy and at the stage where there are certain expectations to make it more professional.''
Nelson's spacious gallery and studio, once a wool store, is in Oddfellows' Hall in the main street of Yass.
In 2011 Nelson's uncle, the landscape artist, Leonard Long OAM, turned 100. It was appropriate that Long's centenary exhibition should be in Oddfellows' Hall and be curated by his nephew.
Nelson acknowledges the talented YASSarts team.
''Chief among the movers and shakers is Al Phemister, an indefatigable spirit and a real character,'' Nelson says. ''Other organisers who've come on board recently are Marie Nicole Meunier, Lizz Murphy and Robyn Sykes.
Phemister, a sculptor, has fresh ideas for the 2013 Arts Trail. He has found a 10-acre field that would work well for Sculpture in the Field with a track around the outside.
''It's used for stock most of the year and is a little bit undulating,'' Phemister says. ''It's a nice aspect on the edge of town and gives views towards the hills to Canberra. The paddock is suitable for a sculpture walk and with time it might turn into something more - maybe an exhibition and prize.''
Originally from Ireland, poet and writer Lizz Murphy came to Binalong 31 years ago. She is about to have Portraits, her seventh book of poetry, released.
''We were very attracted to the idea of a healthy lifestyle in a beautiful environment,'' she says. ''We discovered Binalong by chance and totally fell in love with it.''
Once Murphy was a visual artist but became a poet because she commuted with a notebook and pencil, not an easel, from Binalong to Canberra for work.
''We've just started readings at the Binalong general store with Libby and George Elliott, Samantha Jane and Robyn Sykes. It's open to singers and musicians as well,'' Murphy says.
Murphy is pleased to be associated with Sykes, a bush poet. Sykes has been writing bush poetry for a long time and Murphy says, ''is picking up all sorts of championships including Golden Damper [awards]. She's just published her first book and CD.
''Robyn and I had such a good time with The Story Teller in the Arts Trail last year. We're interested in making The Story Teller a regular Arts Trail event.''
The Story Teller developed through Nelson investigating the work of the prolific bush poet John O'Brien, otherwise known as Father Patrick Hartigan, a Yass parish priest.
According to Nelson the youth in country towns are often forgotten but not in Yass Valley.
''A bunch of Christian bikies moved to Yass and that's been the greatest thing,'' he says. ''One of them, Kim Wood, works at restoring planes at the war memorial and set up a youth centre called Zac's Place. It's funny because it's a Christian drop-in centre and you just see bikies standing out the front. They're interested in looking after the youth of the town so they have graffiti painting and air-brushing.''
Nelson's daughter Caitlin is one of the youth movers and shakers. She was head of the youth council, worked hard to get a skate park for Yass and to encourage youth buskers.
''We've really tried to bring on the youth side of things as part of the Arts Trail and having people like Alice [Giles] out there means that musically talented kids can also get involved,'' Nelson says.
''Up until now YASSarts has been a benevolent dictatorship but I'm keen for it to become a democracy and I believe enough good people have come together now to achieve this. This is my hope for 2013.''
Most Viewed in Entertainment