Beveridge's humour relieves jealous ruminations
DEVADATTA'S POEMS
By Judith Beveridge. Giramondo. $24.
With Devadatta's Poems, her fifth collection since The Domesticity of Giraffes in 1987, Judith Beveridge seems to have now completed a series of sequences dealing with Buddha and his teachings, as seen from contrasting viewpoints.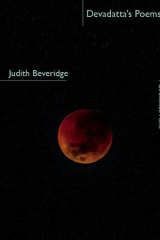 First we had The Buddha Cycle in Accidental Grace (1996). It dealt with the somewhat bemused, even antagonistic responses to his teachings during his lifetime. Then, in Wolf Notes (2003), we were given the long sequence, Between the Palace and the Bodhi Tree, which covers, in 38 poems, the wanderings of the former Prince Siddhattha in the years leading up to his enlightenment and becoming the Buddha.
Now in Devadatta's Poems, we are given the other side of the coin, as it were.
Based on the Pali canon, with some important variations, Beveridge offers 48 monologues spoken by the Buddha's cousin, Devadatta. He is a very different character from Siddhattha, but almost certainly closer in temperament to many of the book's potential readers.
Some years after Buddha begins to preach, Devadatta joins his cousin's disconcertingly ascetic order in pursuit of enlightenment. Engagingly, however, Devadatta proves to be a very defective monk, eaten by jealousy and, as a former warrior, with no taste for the mendicant life.
Although some accounts list Devadatta as the brother of Yasodhara, the beautiful abandoned wife of Siddhattha, Beveridge prefers those writers who place him as an unsuccessful rival for Yasodhara's hand in marriage.
Thus Devadatta is not only jealous of his cousin's innate goodness and self-discipline, but also fantasises at length about his leader's abandoned wife, although it does not seem to occur to him to rejoin the court and try his luck. Instead, Devadatta attempts to disrupt his cousin's monastic order and even, on three occasions, to kill him.
Readers might be tempted to think that 48 poems from such a ''loser'' might be 47 too many, but they would be mistaken.
The monologues are all written in the highly polished, metaphorical style we are used to in Beveridge's work, but this time are just a little less dense, which may be as well, given the need to maintain narrative momentum.
Many readers will also identify with Devadatta's scepticism and his reluctance to follow the hard road his cousin insists upon. They may even have also had the experience of living in the shadow of someone considered more admirable, and the experience of pining elaborately after someone inaccessible.
A further recurrent motif is seen in Karma, where Devadatta confesses: ''I'm sick of your words Siddhattha, sick of your impeccable / gestures, of seeing how much the townsfolk love you; / how women swoon whenever they see you gather up / the folds of your robe with a lithe, muscular arm before / you cross the street to beg among the bamboo houses.''
At times such jealousy can reach almost comic levels, as in Rocks, Vultures Park, where Devadatta yet again tries unsuccessfully to kill his widely beloved cousin: ''Ah, one day Siddhattha, I'll pick the right spot, / I'll pick the right rock and I won't baulk the timing. / I know how the story will go: 'Slipping schist kills / local altruist.' 'Leader of cult, brained by basalt.'/ 'Religious moderate, crushed by conglomerate.'''
These anachronistic headlines are a sample of the liberties Beveridge is prepared to take to tell her story more entertainingly.
An even more amusing example is at the end of The Hermit, where Devadatta's lonely interlocutor says: ''Devadatta, / you talk such trash! as if he knows he can put this lot /down to my grandiloquent manner, my theatrical panache, / perhaps to my overconsumption of his Nepalese hash.''
To secular and worldly readers, disinclined to the rigours of The Way, Devadatta's Poems may prove a pleasant antidote to what can seem like excessive spiritual demands.
The book is also a sign that Beveridge, for all the genuine metaphysical and moral insight seen throughout her career, does not take herself too seriously.
It is worth mentioning too, in this connection, that Canberra poet Subhash Jaireth, as if to fill out the picture, has published a collection from Yasodhara's point of view (Yasodhara: Six Season's Without You, Wild Peony Poetry, 2003).
Most Viewed in Entertainment