Book review: The Beach Volcano, by Nigel Featherstone
THE BEACH VOLCANO
By Nigel Featherstone
Blemish Books. 141pp. $24.95.
Nigel Featherstone's accomplished third novella, The Beach Volcano, I'm Ready Now and Fall on Me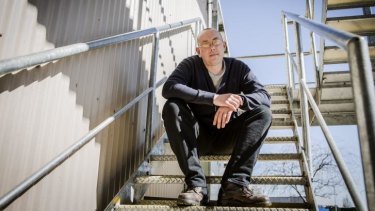 Part of the latest book was written in the Gatekeeper's Cottage, at the mouth of the Cataract Gorge in Launceston. It is in that small city that the internationally famous singer and songwriter, Mick Dark to the trade, has sequestered himself. A sold-out European tour is imminent. One of his recent works has been described as 'one of the most important records of the new century'. Yet he has a shorter journey to make first, one that he makes deliberately uncomfortable, by plane across Bass Strait and then by a slow train to Sydney. Under his birth name of Canning Albury, he will be returning to the family mansion of Weerewa Hall, after an absence of 25 years. The occasion is the 80th birthday festivities for his father Vernon, former barrister, magistrate and vice-chancellor at several Australian universities. Canning's apprehensions are keen, but as yet unfocused: 'How should we deal with what's lost, or what's in the process of being lost?
Assembled at dinner when Canning arrives late, and ready with reproofs, are Vernon, his wife Erina ('for years she ran government departments') and his two siblings, Victoria and Harriet. He is soon attacked for all the life of the family that he has absented himself from, for his sometimes lurid professional appearances and – of course – for coming back at all. His return is both desired and resented. His mother has the sharpest early remarks: 'It's not what this family has ever considered real music'; 'you became someone we never intended'. Canning is a disruptive revenant, one who comes back to a family that has accommodated to his absence and lacks the means or will to include him again. His particular agency is more damaging than some of the family expect. Canning has learned from Florence, his father's younger and long-estranged sister, of the reason for the breach between her and Vernon. However this is the second of the guilty secrets that bedevil the Albury family.
This plot device is the staple of stage and literary melodrama. The revelation of the second secret in this case threatens the ruin of the reputation of the patriarch of the family and the consequent damage to those of his children – that is, his daughters – to whom this would be a cause of shame. Back in the 1970s, Vernon had been questioned about the alibi that he afforded Lionel Reba, his old friend and fellow member of the Magistrates' Court. Later Reba would be found guilty of violent sexual assault on three under-age boys. In 1994 the events that were covered up concerned 'a boy called Pavao Lobro and a certain afternoon sail up to Pittwater'. This is the story with which Florence has armed Canning to confront his father. How he decides to make the revelation, and the moral and emotional complications that might cause, Featherstone handles convincingly.
There is a good deal else to admire in The Beach Volcano, whose title metaphor points to a key element in the plot of the novel, as well as to a lost childhood time that, it seems, can only be destructively revived in the present. Mick Dark's musical career is imagined in economical and vivid detail, Featherstone even managing the very difficult task of giving us a sense of how key songs were born, and might sound. The author's personal life is described in an altogether sketchier fashion, whether this involves twin daughters in Germany or a son in Australia with whom he has little contact, or his fey friend Simeon Feint, companion of Canning's boat trips up the Tamar in Launceston. Yet the family dynamic – of pride, concealment, ambition – is persuasively presented, not least in the unconscionable burdens that each of the Alburys feels obliged to accept. Featherstone has once more exploited to advantage the taut, intense fictional range in which he works best.
Most Viewed in Entertainment