Journos make it all up in The Marmalade Files
Journalists are often accused of making it all up, but in the case of two veteran Canberra political journalists, they insist their work is pure fiction.
Steve Lewis and Chris Uhlmann's satirical political thriller set in Canberra, The Marmalade Files, was published today and promises ''an explosive novel of lies, lust and political bastardry''.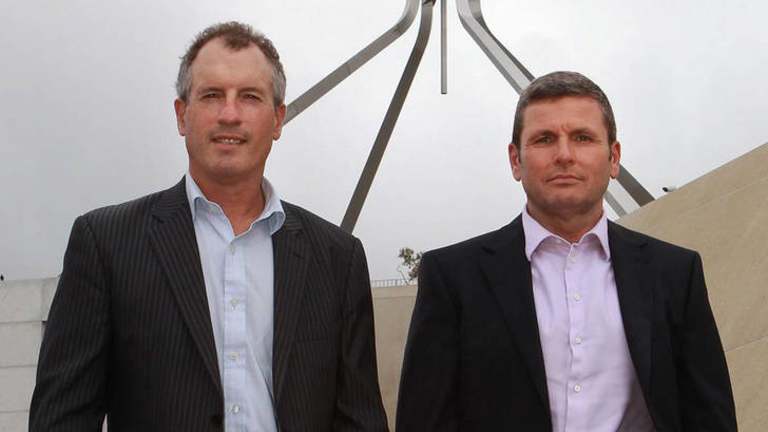 But, say the pair, any resemblance by the novel's characters to real political figures is totally off beam: ''This talks about things that are very current, but the characters are works of fiction.
''Obviously we do take some elements of characters of people we've met over a combined 40 years . . . [but] these are fictional characters inhabiting a landscape that's very well known,'' ABC 7.30 political editor Uhlmann and News Ltd political correspondent Lewis insist.
So when readers come across an ex-prime minister, now foreign minister who survives on minimal sleep, is ''a gifted Chinese scholar, fluent in Mandarin'', perpetually calls for briefing papers which are then discarded – and so on – they should not think Kevin Rudd.
And just to make that clear, the foreign minister is not a he, but a she.
Readers are perhaps less likely to be misled into imagining a real-life counterpart for an imposing but unconvincing transvestite who is the best analyst in the Defence Signals Directorate, ''a man who wore the sharpest dresses in Australian intelligence''.
The hero, like the authors themselves, is a press gallery veteran who is on the track of some dodgy spy business between Australia and China involving the defence minister, a hook-handed former workers' champion described as ''Hawkie without the charisma''.
If it all sounds like a laugh a minute, there is also a serious side to the novel. Among its big themes are Australia's relationship with the United States and China, the changing nature of the relationship between the media and politics, and questions about leadership and power.
And even as the page-turning story progresses, the authors manage to cunningly sneak in a romantic scene between the opposition (Liberal) leader and the future (Labor) prime minister, in which their mutual seduction centres on a discussion of the political philosophies of their opposing parties.
As for romance, one of the more difficult aspects of the novel, the pair say, was the sex scenes. Neither is owning up to who wrote them – ''every word is shared'' – but they did take advice from female colleagues and did their best to avoid being tacky.
In fact, says Lewis, ''we're now going to describe our book as Two Shades of Grey''.
But for those wondering about the official title, the ''Marmalade Files'' are – or were – files at the Department of Foreign Affairs and Trade containing entertaining reports about things that happened to diplomats on postings.


Most Viewed in Entertainment