The Gruffalo author Julia Donaldson reveals where ideas bubble up from
Cecconi's
61 Flinders Lane, Melbourne; 8663 0500
Mon-Fri 12pm-late; Sat 5.30pm-late
Julia Donaldson does her best thinking in the bath. Sinking into a heavy clawfoot tub, those rhyming couplets seemingly cascade a little more easily, while new characters bubble up to the surface to say hello.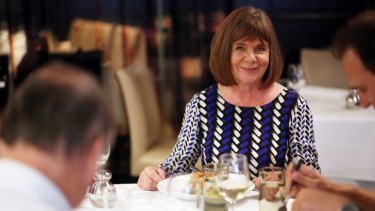 Her actual office is a more standard writerly nook – a pokey study with a mix of decorative totems for inspiration – but her true working space? "It's got two taps," she says, smiling. "A hot and a cold."
The wildly successful children's book author knows you have to spend time at a desk brainstorming and wrestling with ideas. But still, there is something about lying down – or moving about – that just works.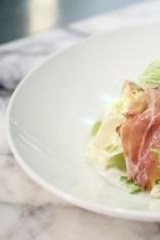 "Your body is busy, but your mind is getting a chance to relax, and somehow your subconscious comes up with the solutions," she said. "I think you have to put in the grist, but when I take a bath problems often get solved."
One would do well to listen, for Donaldson is the author of the critically acclaimed kids' book, The Gruffalo. Since it was published in 1999, it has sold more than 13 million copies and been translated into 58 languages, the most recent of which was Maori.
In fact, Donaldson has just come from New Zealand where she met Maori leaders and acted out scenes from the book at a packed church hall in Wellington. She is on an eight-week trip that began in Hong Kong, took in Melbourne and Sydney – including a performance hosted by the Wheeler Centre – before a holiday on Lord Howe Island and a children's book festival in Dubai.
We meet in the muted but luxe basement space of Cecconi's, off Flinders Lane, and immediately dive into a small salad prosciutto with burrata and fresh fig, with a side serving of calamari in rice flour, with garlic aioli.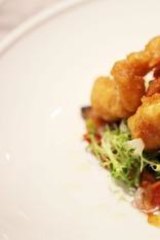 Donaldson is enjoying the warm weather, which makes sense. She called Glasgow home for 25 years, until moving last summer to the south coast of England.
th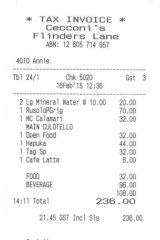 A typical baby boomer, Donaldson was born in 1948 and grew up in London near Hampstead Heath. There were always trees to climb, but still, it was in many ways a pockmarked post-war landscape.
"There were these places we used to play that were almost quarries," she said. "I never knew what it meant, but I know now. They were bomb sites."
Her father had been a prisoner of war, her mother a member of the Wrens, but she knows little about their experiences. "Grown-ups didn't really talk about the war, so I'm not quite clear on how it affected them. I wish I knew now. I suppose they just wanted to get on with their lives."
It was hard to leave behind completely though. British families experienced rationing well into the 1950s. Sweets were a big treat, and dinners were not so opulent as the dishes in front of us today – a tender fillet of hapuka with eggplant and tempura prawn, or my squid ink tagliatelle with baby octopus, cherry tomatoes and chilli. We share a bottle of Italian pinot grigio.
Donaldson went to secondary school and university in the 1960s, and can heartily "recommend that era". The Beatles were huge and she adored their music, but she reserved her youthful crush for Mick Jagger.
"And I kept trying to devise ways of meeting him – schemes to accidentally cross paths. I found out where he lived, and I was going to knock on his door and pretend to be doing market research. I thought I could ask his views on love, and somehow seduce him."
She studied drama and French and wanted to be an actress. Performing is still a passion. She met her husband through music. Malcolm is now a paediatrician, but then he was just a young medical student who knew more guitar chords. They used to busk with friends in Paris, and married at 24.
They sang with other folk musicians and in cabaret clubs, all of which led her to writing songs – occasionally – for children. That turned into sporadic work composing music for BBC Children's Television, but she also worked in publishing and did teacher training – and wrote a few musicals.
Her big break came in 1993 when one of her songs was made into her first book: A Squash and a Squeeze.
"I was very lucky that I was approached, rather than submitting masses of work," she says. "I mean, I've had my fair share of rejection letters, so that was a very happy occurrence."
From there Donaldson went on a publishing run that continues today and has produced roughly a book a year, amassing lifetime sales worth more than £90 million ($178 million) in the United Kingdom, where she was made Children's Laureate in 2011.
That position led to the mother of three boys being misquoted about the value of reading, when attempting to make a statement about pushy parents. Her point was that we shouldn't worry so much if a teenager drifts away from books.
"I don't actually feel that everyone has to love reading," she says. "I do think they would be missing out, but I'm not very athletic and I think some sporty people would feel I've missed out.
"Of course, reading is important – books expand your mind and offer different points of view, assist your imagination and expression. But if you think of it in those terms it sounds like a duty instead of a pleasure."
As a child she used to buy second-hand books with her best friend, then they would go to each other's house and swap stories. She loved The Railway Children by Edith Nesbit, and The Borrowers by Mary Norton.
The change in scale in the latter – this idea of an entire world under the floorboards where a postage stamp would be big enough to be a portrait on the wall – was especially appealing. She loves real places and scenarios with one little element of fantasy – a wishing fairy perhaps, whose wishes always go wrong.
"It's best when the world isn't a complete wonderland. I love that combination of magic and everyday life."
Her boys provided some inspiration. Reading bedtime stories was almost like research, and she would run ideas by them as well. One son was a collector of everything from stamps to conkers.
"He'd go to jumble sales and collect hideous china ornaments and think that he was going to sell them. He even would collect cigarette ends and get the tobacco out – he thought he could make them into new cigarettes." (Donaldson eventually wrote a book – The Giants and the Joneses – about a child who is a collector and in turn gets "collected" by a giant.)
But one of the greatest influence on her work – and this would surprise no one who has read Room on the Broom or Zog or another other Donaldson titles – is poetry and the musicality of language itself.
Early schooling meant singing two hymns at every assembly. She devoured nursery rhymes. Like most children of that era, she was required to memorise certain lengthy poems. (The Rime of the Ancient Mariner stands out in her memory.)
"In the past almost everyone could have broken into verse or written a little limerick," she said. "It was common – and I seem to have managed to retain that."
The result is a catalogue of work that is rich with dialogue and rhythm. She will always be summarised in headlines as "Gruffalo author", but if she had to pick a favourite of her books it would be The Highway Rat, or The Snail and the Whale, or her teenage novel Running on the Cracks, which is older and darker than her picture stories.
Most good tales, she says, put characters outside their comfort zone. Authors know they have to make the protagonist an orphan, or a runaway, or strand them somewhere. For that reason she never liked the Famous Five.
"They seemed a bit far-fetched," she says. "But I've always loved books about someone who has only got 17 shillings and sixpence – that's an adventure in the real world."
LIFE AND TIMES
1948 – Born in London and grows up in a Victorian terrace near Hampstead Heath
1970 – Graduates from Bristol University, where she studied drama and French
1972 – Marries husband Malcolm, who performs with her and is also a paediatrician
1974 – Begins writing songs for BBC Children's Television programs
1978 – First son, Hamish, is born, followed by Alastair (1981) and Jesse (1987)
1993 – Her first book – A Squash and a Squeeze – is based on one of her songs
1999 – The Gruffalo meets with critical acclaim and goes on to sell 13 million copies
2011 – Appointed Children's Laureate for the United Kingdom
Konrad Marshall is a senior writer
Most Viewed in Entertainment