Celebrating seasonal drama
Gardeners can be divided into those who insist on order and those who prefer a lick of lawlessness. Michael McCoy is definitely in the latter camp. Floating hazes of seed heads, perennials popping up in paths, clouds of flowering grasses, McCoy adores it all.
Give him unapologetic drama over polite constraint any day.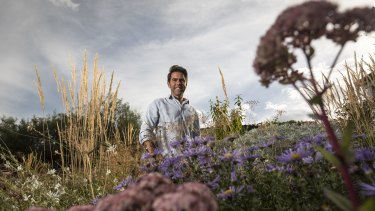 But McCoy, who has spent 25 years designing and writing about gardens, isn't content to just know that he likes highly seasonal, perennial-filled landscapes that are so freewheeling and floriferous they can swallow a person up. He wants to burrow right down into exactly why that is.
"I'm intensely curious," he says. Especially so about the work coming out of the Netherlands and Germany that is "totally transforming the way we're thinking about planting".
But information on growing naturalistic spreads of perennials in Australia is light on the ground. While dynamic and playful herbaceous schemes have been spilling across Europe and America for decades, they haven't taken off here to the same extent and McCoy says people are hungry for discussion about them.
To "kick-start thinking" around this style of gardening in Australia, McCoy has organised a symposium to tease out what makes a good perennial planting and to thrash out its opportunities and limitations in our climate.
Called 'Perennials in Australia – The New Naturalism' it will be held in Macedon and will include lectures and panel conversations by designers, nurserymen, horticultural academics and others who have a taste for gardens that feel wild and immersive, and for plants that look as good as they die off as when they first start to emerge.
One of the points of discussion will be the way these seasonal rhythms include a time – between the cutback in winter and when everything starts to unfurl in spring – when there is nothing at all.
McCoy says it's one thing to have the High Line in New York bare in winter when it is too cold to linger but another matter in the Australian climate when "we can be sitting outside on a winter's evening". In places with milder winters, he says the addition of evergreen plants is critical to ensure there is interest even when the perennials are "cut down to zero".
"That to me is a matter of lightweight fine-tuning and not undermining the validity of the aesthetic of this style."
Another area of potential adaptation is the plant palette. McCoy says this movement has "released us" to use Australian natives in a way they have never been used before, and to also celebrate other plants that, while modest on their own, are "amazing team players".
"I am not suggesting this type of planting should only be about modest plants but I feel like this movement is unlocking the key to using plants that are otherwise too modest to put in our gardens."
McCoy's own Woodend garden is a perfect example of how perennial plantings create alive-feeling spaces that never stand still. After a dry, hot few months the garden's beauty stems from its inherent fragility. Aster x frikartii 'Monch' and Pentstemon 'Blackbird' are in full, vivid flower but the Sedum 'Matrona' blooms are aging to crimson and the Calamagrostis 'Karl Foerster' ones to golden brown.
In his low-lying "steppe" area, the loose purple flowers of Allium carinatum subsp pulchellum hover above repeat plantings of Euphorbia rigida with Stipa gigantea adding airy bleached height and the flat-topped Italian cypress as permanent punctuation.
While McCoy has no mains water and irrigates only sparingly – and in his "steppe" not at all – he says he has been motivated by aesthetics and that it is a mistake to think that naturalistic perennial plantings must cope without water as if this was their "primary form of validation".
"My drive has been to get aesthetic outcomes . . . I am a sucker for the drama of these plantings, the notion of seasonal tides of stuff that can be over my head in summer and tickling my toes in winter. It calls you to be in the moment. But my physical reality is that we have two tanks and a family of five and really only enough water for domestic purposes."
He says he has spent his "entire gardening journey" desperate to learn more and that he can only assume others are just as curious, which is why he is putting on the symposium.
Go to thegardenist.com.au/special-events/ for more information about the symposium on March 30.
Most Viewed in Entertainment