Guy Sebastian hits the right notes with kids in Perth's south east
In his dressing room Guy Sebastian playfully cringes when he hears the cacophony of bangs and clashes coming from the primary school student orchestra sound checking before a concert he is headlining in Perth back in May.
He's smiling because even though there are a few stray notes, it's a gargantuan improvement on what the children could muster nine months earlier.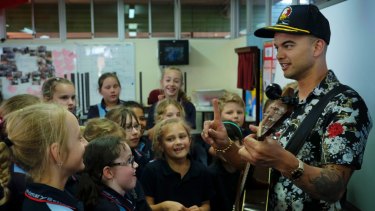 "We've seen a fair bit of change throughout this time from when I first came, it was pretty dismal musically. They sang Twinkle Twinkle Little Star and it was so bad. No one could sing in time or in tune, no one was singing in the same key," he tells WAtoday backstage ahead of the Don't Stop the Music concert at the Perth Concert Hall in May.
The concert is the culmination of a nine month documentary series featuring Sebastian and a musical strike force that included brain scientists and Australian music legend James Morrison.
The team banded together to teach music to students from Challis Community Primary School in Perth's south east and they documented the wider benefits that came with it.
Cameras followed the students at school and home the whole way through as they practiced, struggled and gathered the courage to perform in front of a sold out concert.
"I've definitely seen a vast improvement in the kids skills but also just on a personal level with them being challenged with something like this concert," Sebastian says.
"It's not just a wealthy private school that comes from privilege playing in a concert hall with this orchestra and James Morrison and myself.
"This is Challis. It's a school that doesn't have all those resources and these funds and these kids will never forget this moment.
"Even if they're not musical and they don't end up doing something musical they've tackled something, they've learnt to deal with the anxiety that comes with the huge grandeur of an event like this and it's a huge battle that people are overcoming tonight.
"They're not all going to be in an orchestra but that's not the whole point of what we're trying to do with this program.
"It's trying to educate people that music has so many other benefits to it than just the actual notes and song."
Taking notes
Sebastian has been in the music education trenches himself. Before his 2003 Australian Idol win Sebastian was a music teacher in Adelaide, but even he was surprised at how much the Don't Stop the Music team achieved.
Leading music educators, including Micheál McCarthy from the WA Academy of Performing Arts, used all manner of techniques to turn the kids into musical prodigies.
"It changed so much. It's this dude Micheál who went in and taught the kids how to sing and the teachers how to teach music," Sebastian says.
"It's these little things. There's a bit of a science behind it. When you're in there in your mind you think 'what the heck is this, what am I watching? This is weird.'
"But I snapped out of it pretty quickly because every kid was singing perfectly in tune.
"He goes up in steps and he uses humour and things that the kids are familiar with like 'nah, nah, nah, nah, nahhh'.
"He sings it in these melodies and he changes the melodies and goes up a key and these kids are learning how to move through the different scales.
"They were all doing it, no joke, in perfect unison, bar one kid who's still tone deaf. I don't think there's anyone helping that kid."
Music has always played second fiddle to traditional school curriculum embellishments like sport and technology.
It's an area that doesn't even attract much research interest; the last concrete figure on the prevalence of music programs in Australian schools was from 2005. According to that statistic 63 per cent of schools didn't offer any form of music in their curriculum.
Brain scientist Anita Collins headed the Don't Stop the Music program and says the science is in on the benefits of music to child development.
"Two decades of frenzied research has now found that music education grows, hones and permanently improves neural networks like no other activity," she says.
"Children who undertake formal, ongoing musical education have significantly higher levels of cognitive capacity, specifically in their language acquisition and numerical problem-solving skills.
"They also continue in education for longer, reverse the cognitive issues related to disadvantage, and earn and contribute more on average across their lifetime."
Challis principal Lee Musumeci said the visits from Sebastian and Collins have taken the school's music program from average to outstanding.
"They've added incredible professional learning to the teachers learning base," she said.
Ms Musumeci said it was difficult to quantify the academic impact of the music program but NAPLAN results had greatly improved and, importantly, children were more focused and happier at school.
"It's hard for me to say what degree of impact music has had but our results are fantastic and it has had a noticeable impact on enjoyment at school... they're happier and more attentive," she said.
Musical impact
Sebastian started singing at the age of 14 but his affinity for music started at the tender age of four when he would record his favourite songs on cassette. He says has personally seen the transformative effect music can have on students.
"Music gave me confidence in many areas where it was lacking. Personally, I set myself goals to become a better musician and vocalist," Sebastian says.
"I would try things that at first seemed impossible but when I would conquer them I experienced a huge amount of elation and accomplishment. Tackling these tasks in music set a mental precedent for other hurdles I faced in school life.
"I also existed in a community with a mix of people I likely would have never had a connection with if it wasn't for our shared passion for music. Playing in orchestras, bands, choirs etc really does teach you how to co-exist and co-operate in unity to achieve a goal."
Sebastian is dismayed as its lack of presence in Australian schools and hopes the documentary will inspire schools around the country to kick start their own music programs.
"Of course it could be better. So often in cases where there is an obvious need within the school system, views are raised which suggest that there are other "more important" things to address," he says.
"While I agree that things like numeracy and literacy are extremely important, I don't think that these things should be used to reduce the importance of other issues.
"The benefits of a great music program in schools should be viewed on its own and if there are methods that arise which can combat this problem, then we should do everything in our power to ensure our kids gain access to the same opportunities regardless of economic disparity."
WHAT Don't Stop The Music – Part 1
WHEN Sunday November 11, 7.40pm, ABC and ABC iview
Hamish Hastie is WAtoday's business reporter.
Most Viewed in Entertainment