In my wardrobe: Arianwen Parkes-Lockwood talks taste and habit with Georgina Safe
An actor who recently starred in Channel Seven's period drama A Place to Call Home, Arianwen Parkes-Lockwood is a strict vegan who eschews leather and fur clothing and loves British designer Stella McCartney for her animal-friendly designs.
MY STYLE SLOGAN IS …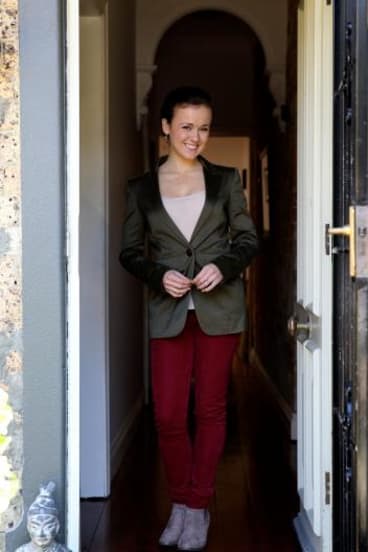 Wear what makes you happy.
I WOULD NEVER WEAR ...
Fluoro colours. [They're] for highlighting your scripts, not for putting anywhere near your skin - unless you're riding a bicycle, in which case safety first and fluoro-up!
I WOULD NEVER LEAVE THE HOUSE WITHOUT …
Putting on a pair of heels. Unless I'm planning on doing some serious pavement pounding, I always love having a clip-clop soundtrack to my day.
THE MOST TREASURED PIECE IN MY WARDROBE IS ...
My Burberry jacket. It's the first piece of really fancy-pants expensive clothing I ever bought myself, and I vividly remember that moment. I was in Los Angeles for a callback for the part of Khaleesi in Game of Thrones and when I tried on that jacket it made me feel like a movie star and I had to have it. The role didn't go my way but the jacket still gives me a lovely buzz.
MY GUILTY PLEASURE IS …
Ultra-cushioned running socks that have a left foot and a right foot. I swear they make me run faster!
THE BEST FASHION ADVICE I HAVE RECEIVED IS ...
From my dad, who taught me when I was three that trousers go on your legs and should only be worn as a hat on very special occasions.
MY MOST EMBARRASSING FASHION PURCHASE WAS …
Buying my first bra as a young girl in a small country town with my mum shouting out across a store that was inevitably full of kids I knew from school: "What about this one? Looks more comfortable!"
I AM CURRENTLY COVETING ...
My new Oroton sunglasses. They are still in that crystal clear, scratch-free, newly-bought stage, but that won't last long because I'm totally clumsy and will inevitably drop them down a flight of concrete stairs in the near future.
THE MOST STYLISH WOMEN I KNOW ARE ...
Cats. They make wearing nothing look effortless and always know how to strike the perfect pose when you're watching them.
I WOULD NEVER WEAR …
Dead animals. I try to avoid not just fur but also leather, because there is nothing sexy about the cruelty involved.
IF I HAD A FASHION DINNER PARTY I WOULD INVITE …
Alin le Kal, the Melbourne-based designer behind my utterly divine gold-beaded Logies dress this year; Coco Chanel for some retro French chic; and my mum, who is the best op-shop fashionista I know.
I AM INSPIRED BY …
British designer Stella McCartney: her vegetarian shoes are sublime.
I LOVE TO SHOP AT …
My idea shopping date involves a casual wander along King Street in Newtown, where I particularly like the gorgeous dresses at Elise Boutique and Mulberry Street.
WHERE DO YOU FIND FASHION INSPIRATION?
My style is very eclectic, and it's a mystery even unto myself what I will or won't like – but Frankie Magazine generally hits the spot!
IF I HAD TO TAKE FIVE THINGS TO A DESERT ISLAND …
I would pack a knife to cut open coconuts, my blue Balinese sarong to use as a picnic blanket in the evening and a shade cloth during the day, my Oroton sunglasses and a yacht so I can sail home when I miss my husband. And my dad to man the yacht so I don't get lost at sea on the way home.

Georgina Safe is National Fashion Editor.
Most Viewed in Entertainment
Morning & Afternoon Newsletter
Delivered Mon–Fri.