Love, tears and laughter as Kylie Minogue shines on 60 Minutes
There are not many people who can make Karl Stefanovic squirm, but on Sunday night during an interview for 60 Minutes, a snorting Kylie Minogue left the larrikin presenter red faced.
Stefanovic set out to confirm a near 30-year-old entertainment industry rumour that INXS frontman Michael Hutchence used a "legendary pick up" line on Minogue when they first met in the late 1980s.
"There's an urban myth about a certain line he said to you, something along the lines of, oh I don't know," he stammered before Minogue suggested role play.
"You be him and I'll be me," she said.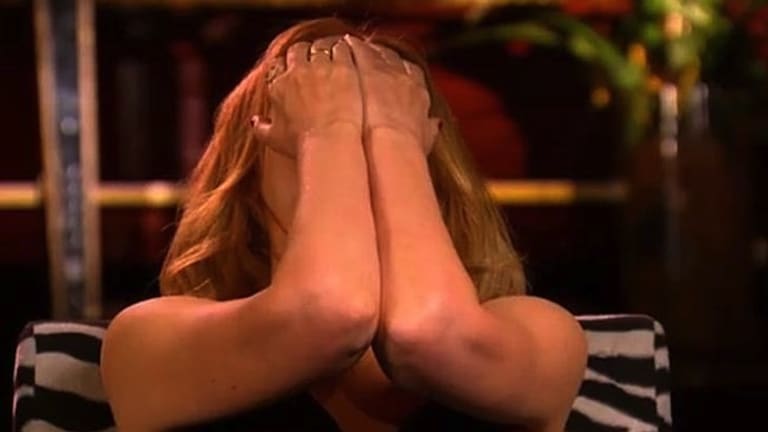 "I don't have the charisma, of course, but just let me have a little go … 'Kylie, I don't know whether to take you to lunch or to have sex with you'," he said as the 46-year-old singer snorted with laughter and the pair collapsed into a fit of giggles not seen since that infamous post-Logies broadcast in 2009.
The line was also used earlier this year in the Channel Seven miniseries INXS: Never Tear Us Apart, but despite her candour, Minogue refused to set the record straight.
"I'm not going to say what the line was because I like that it was something just between him and I. It was something like that and I was probably taken aback but quite intrigued," she said.
Minogue, who is gearing up for a national tour next year, went on to add the "uber cool" Hutchence taught her "many things, many things and the ways of the world" during their two-year romance before he unceremoniously dumped her for Danish supermodel Helena Christensen.
She then reportedly rebounded with rocker Lenny Kravitz, who told The Mirror, "She has the best arse in Britain … and I can attest to that."
"It was great love and it was true heartbreak," Minogue summed up the relationship before breaking down when asked about her battle with breast cancer in 2005.
"I learned many things. I know I have strength but when you're fighting something when there's a lot of unknown, it's a mixture of emotion and memories," she said.
Her good humour returned when Stefanovic asked what was next for The Voice judge.
"I keep thinking there will be a growth spurt," the petite 1.57m star said as Stefanovic roared with laughter once more.

Jenna Clarke is fashion and lifestyle writer/editor with Fairfax Media.
Most Viewed in Entertainment
Morning & Afternoon Newsletter
Delivered Mon–Fri.