Private Sydney: Peter Greste and Christine Jackman are the new media power couple
When news outlet Crikey updated its catalogue of media power couples last month, there was one dynamic duo left off the list: Peter Greste and Christine Jackman.
Greste, journalism's man of the moment, was released from jail in Egypt last February after being incarcerated for more than a year on bogus charges of damaging the country's reputation while he was working for al-Jazeera.
Jackman is a former journalist and now communications director for Liberal Party strategists Crosby Textor (whose co-founder Lynton Crosby was recently named "Australian of the Year in the UK"). She is also an ex-wife of The Australian's recently departed headkicker-in-chief Chris Mitchell.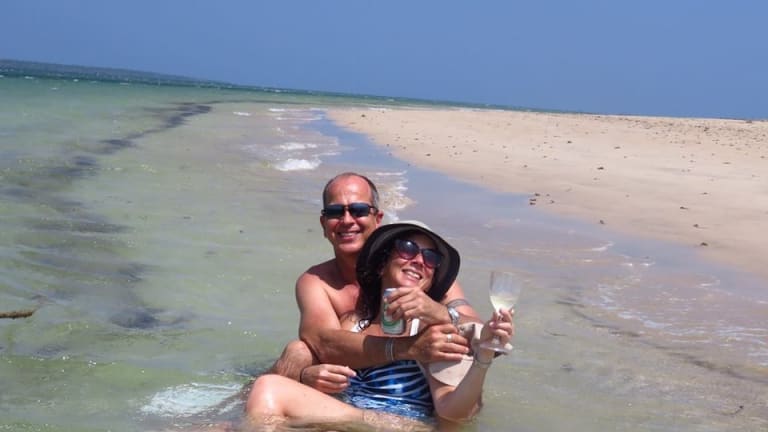 "They're definitely dating, that's a given," a source said. PS hears the pair have been seeing each other for at least three months, although Facebook photos from a recent holiday to Kenya suggest the romance may be much more advanced.
Greste has now apparently joined Jackman in Brisbane, where she is raising two children from her marriage to Mitchell.
For his part, Mitchell will have extra time to spend with the kids now that he has abandoned the reins of the Oz. There have been a number of senior departures at the national broadsheet, most recently editor Clive Mathieson, who was overlooked for Mitchell's old job. He's leaving to work for Liberal NSW Premier Mike Baird.
Meanwhile, the rumour mill inside the Holt Street bunker has been in overdrive as to who will replace Mathieson. The bookies are suggesting that John Lehmann, who was appointed deputy editor in September, could be in line for another promotion. That would certainly rattle the editorial floor, where Lehmann is not on everyone's Christmas card list.
But none of that will worry Greste and Jackman.
Aussie beats Kiwis to ScarJo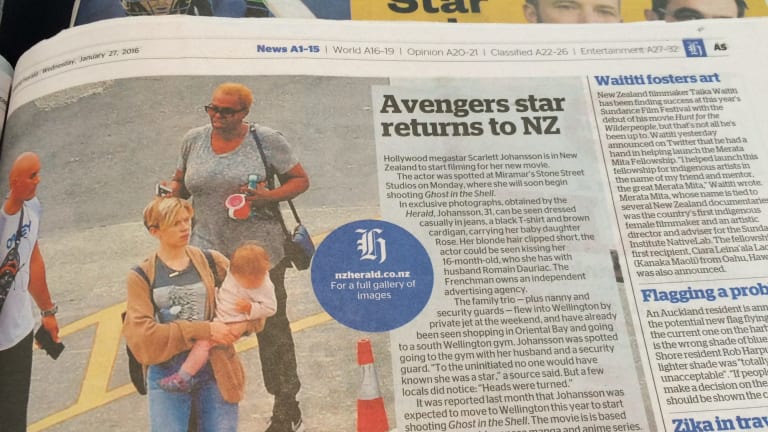 Wellington might be New Zealand's capital city, but excitement is rarely on the menu in the sleepy town of some 400,000.
So when superstar Scarlett Johansson jetted into town late last month, there was little chance local media wouldn't get its knickers in a twist.
Reporters have been banging down the doors of local gyms, cafes and the actor's rumoured neighbours, one of whom admitted: "I'd like to see anyone famous."
Johansson, who is in Wellington to film sci-fi blockbuster Ghost in the Shell, has reportedly been less than thrilled with the reception, complaining about New Zealand's paparazzi and beefing up her security.
But Kiwi photographers are the least of the Johansson's woes. Rather, it was notorious Sydney paparazzo Jamie Fawcett who flew across the ditch to snap pictures of the actor – as well as big-league director Peter Jackson, who was spotted in a typically dishevelled state jumping into his top-of-the-line Tesla.
Wellington snappers have complained Jackson is rarely seen, but Fawcett told PS he had no trouble tracking down the Oscar winner – nor the camera-shy Johansson – and said the Kiwis needed to lift their game.
"It was a couple of fun-loving Australians who thought they would go over there and get the jump on their New Zealand colleagues," he said.
Fawcett is no stranger to getting in people's faces. Over the years he has made enemies of countless celebs including Nicole Kidman, former Spice Girl Mel B and more recently Katy Perry.
During a Sydney sojourn in 2014, the US singer singled out Fawcett in an incendiary tweet alleging he was among a group of photographers posing as nude sunbathers in order to photograph her in her swimsuit.
Legal noses out of joint in Sydney Uni stoush
They might be several decades out of school, but passions are still sky high among Sydney's legal fraternity when it comes to their beloved Sydney University.
A much-maligned plan to slash the number of alumni representatives on the institution's governing board has become the talk of the town up on Phillip Street, where several Sydney silks are furious about the changes made by their alma mater.
Jeffrey Phillips, SC, a former patron of St John's College, labelled the move "a slap in the face" to alumni, many of whom were among the university's most generous donors. "It's a silly thing to do to upset a key group," he told PS.
Former High Court Justice Michael Kirby – no stranger to speaking his mind, both on and off the bench – accused the university's leadership of "untransparent, even secretive" conduct in passing the motion just before Christmas, without consulting the alumni community.
"This is the University of Sydney, established 1850 – it is not Tammany Hall!" Kirby said, referring to the corrupt and nepotistic political organisation that sprung up in 18th century New York.
The recently retired John Garnsey, QC, fired off a letter to Education Minister Adrian Piccoli demanding the decision be put on ice less the senate become a "self-perpetuating oligarchy".
But, as ever, there is dissent among the ranks. Barrister turned corporate honcho Bruce McWilliam, an alumnus and friend of the university's chancellor Belinda Hutchinson, told PS he had no strong feelings about the changes.
"I don't really understand it, to tell you the truth," he said.
McWilliam, commercial director at Channel Seven, is also a cousin of Sydney University professor and senate fellow Marian Baird. She voted against the proposal, alongside fellow academic Chris Murphy and editor of the Sydney Review of Books, Catriona Menzies-Pike.
Indeed, the city's media elite has also become embroiled in the controversy. Prominent Fairfax Media journalists Kate McClymont and Peter FitzSimons are alumni representatives on the senate, and were part of the 16-3 majority that backed the change.
That prompted Phillips to suggest they had been "duchessed, wined, dined and seduced" by the university's leadership.
To which FitzSimons replied: "Duchessed? I can assure my friend Jeff that, as chair of the Australian Republican Movement, if someone with a tiara had wined me, dined me, and put her hand on my knee, I would not only remember it, but be duty bound to report it!"
McClymont said that under the new system, the Alumni Council will be involved in a widely-publicised selection of the four alumni representatives on the senate. "No doubt Mr Phillips, Mr Kirby and Mr Garnsey will be offering their services," she said.
Tropfest in trouble again as fundraiser falters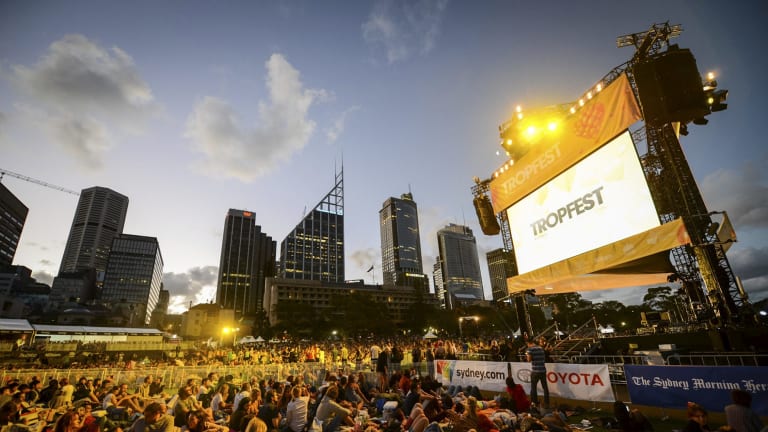 When Sydney short film festival Tropfest was cancelled in November last year, founder John Polson was taken aback by the level of goodwill and support. "The phone literally hasn't stopped ringing," he told the Herald at the time.
The phone might be ringing, but the cash register is not. A crowd-funding campaign started by organisers a week ago is well short of its $100,000 target, having raised just over $4000 from about 100 supporters as of Friday.
That was despite some none-too-shabby promotion from the ABC, Nova, several arts websites and Russell Crowe.
Fans were shocked when the planned December festival was ditched a few weeks beforehand. Polson blamed "terrible and irresponsible management" by the company contracted to manage the event, leading to a six-figure financial discrepancy.
Polson got lucky when insurance outfit CGU bailed out the 24-year-old festival, ensuring it will go ahead next weekend. It was "the comeback story of the decade", he said – although the lifeline was far from permanent.
The Pozible fundraising campaign is supposed to help secure the festival's long-term future. Those who chip in $25 or more receive a "shout out" on social media, while for a paltry $10,000, true fans can spend the day of Tropfest tagging behind Polson.
Organisers say the contributions will be spent on a strategic review, market research and developing a more robust fundraising plan. Perhaps the promise of focus groups and collection plates has failed to inspire the masses to dig deep.
No doubt Polson and co are counting on a giant donation drive during the live Tropfest show, which takes place next Saturday night in Centennial Park. It's Valentine's Day, too – show 'em some love.
Baldwin's anti-bullying appearance off the agenda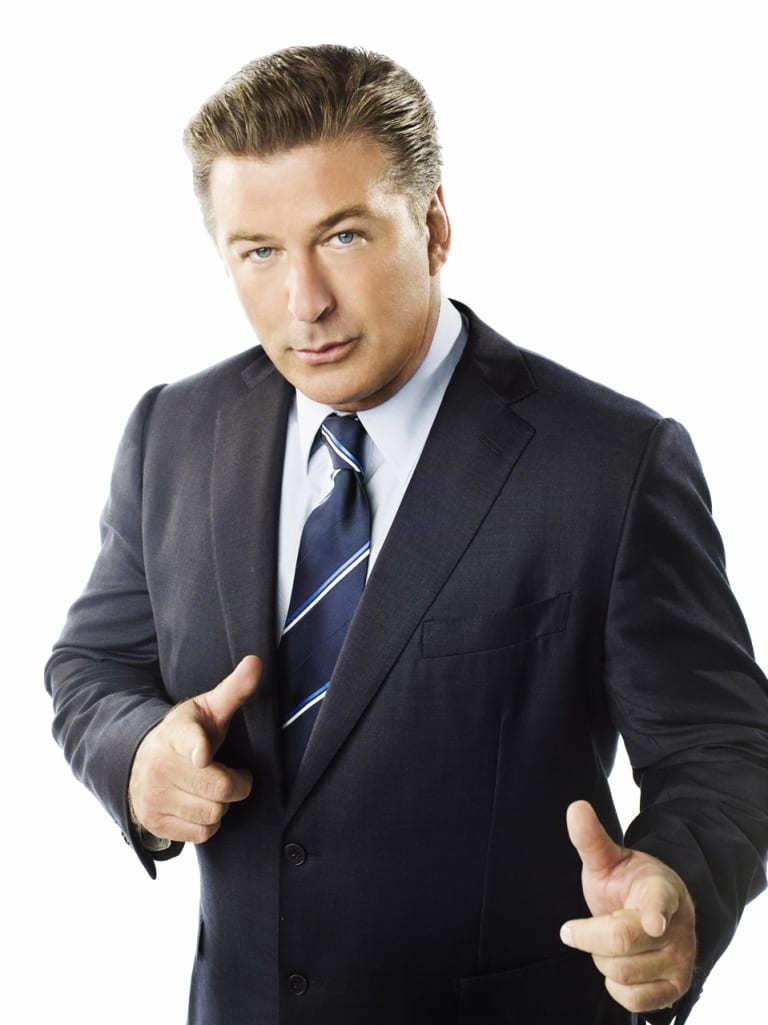 Hollywood bad boy Alec Baldwin was due to touch down in Australia in a few weeks as the guest of honour at a charity gala for Italian society La Dolce Italia.
But on Thursday, the actor unexpectedly cancelled, leaving festival director Connie Paglianiti "dismayed" and floundering for "an equally - if not more - famous Hollywood star", according to her flaks.
Of course, Baldwin was always an odd choice for an event whose profits are to be directed to a foundation called "Bully Zero Australia".
As a crusader against bullying, Baldwin's credentials are fairly limited. His back catalogue is bulging with sexist, racist and homophobic slurs, not to mention aggressive outbursts. In 2014 he was charged with disorderly conduct after abusing police who asked him for ID.
When PS made inquiries in November, both organisations defended Baldwin, insisting he was "a changed man". Sadly we won't get to see Affectionate Alec on our shores.
Hadley gets shock treatment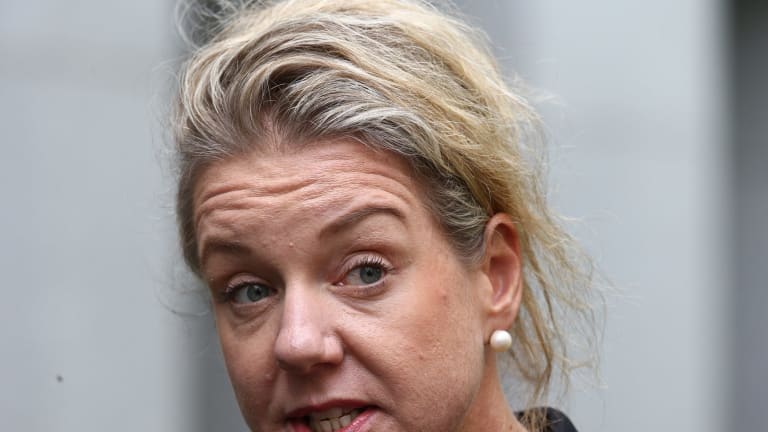 From one bully to another. Sydney's scariest shock jock Ray Hadley unleashed himself on Canberra on Wednesday night, as part of a start-of-year love-in between commercial radio types and politicians.
The People's Champion was in fine form, joking that he was glad not to be on Twitter because "I'd be worse than Todd Carney". But it wasn't all smooth sailing, according to PS' spies in the capital.
While railing against media ownership laws that prevent his bosses expanding their empire, Hadley spotted National Party senator Bridget McKenzie taking a photograph.
"Hey love, you'll get your photo," the ever-charming Hadley assured. "I'm not your 'love', I'm a senator," McKenzie snapped back.
The senator told PS she was actually trying to take a photograph of her staffer, not the shock jock. Hadley must have thought it was all about him. Quelle surprise.

Michael Koziol is the immigration and legal affairs reporter for the Sydney Morning Herald and The Age, based in Parliament House
Most Viewed in Entertainment
Morning & Afternoon Newsletter
Delivered Mon–Fri.