Rihanna and Chris Brown back together
The rocky relationship of Chris Brown and Rihanna rebounds at a basketball match as the couple share Christmas Day together.
On and off and... apparently game on again.
The never ending tale of Rihanna, 24 and Chris Brown, 23 continues with the couple reuniting to watch an LA Lakers game together on Christmas Day. The couple were pictured giggling, cuddling and sharing popcorn while they watched the game.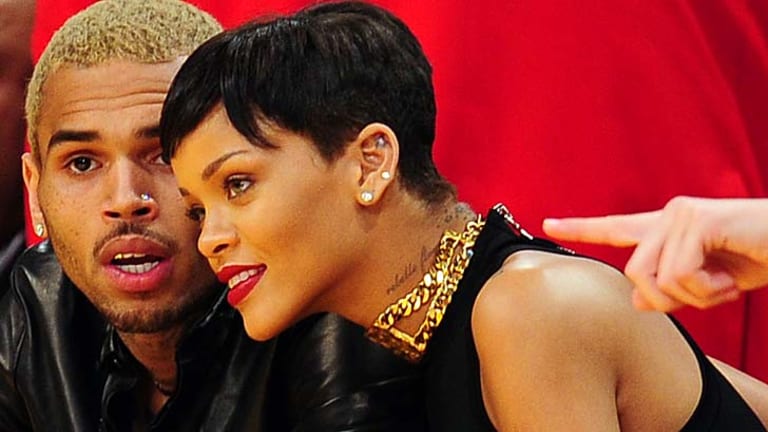 Rihanna then posted a picture of the two together, with a caption that read: "ThugLife #merryChristmas"
Thug life indeed. Brown is still on probation for physically assaulting the singer in 2009. Since his restraining order expired last year the couple has been spotted regularly together.
While speculation about the status of their relationship has been rife, it has been further complicated by the presence of Brown's other on-off girlfriend, model Karrueche Tran.
Only a week ago Rihanna uploaded a post on Instagram saying "Being single sucks. The only thing I get to do anymore is whatever the f*ck I want to do."
The post came on the back of an interview by, Tran's good friend, singer Christina Milian, who told a US chat show host that Brown and Tran were still together.
"You know what, from what I've always known, [Karrueche is] his girlfriend. And that's where it lies for me," she said. "I see everything in the media. I really don't get into the detail of it, but I think everybody has their own life and how they deal with things. They have the right to handle it how they want."
But, no sooner was that said, that it appears the tables have been turned. Yet again.
Fickle as their relationship status may be, Rihanna's affection for the controversial singer has never wavered. Earlier this year she told Oprah Winfrey that Chris is the "love of my life". She also said she had forgiven him for the 2009 attack.
"I had to forgive him because I cared about him still. And the minute I let go of that, I started living again."
smh.com.au
Most Viewed in Entertainment
Morning & Afternoon Newsletter
Delivered Mon–Fri.